The Animal Balance team arrived in Santa Cruz, Galapagos on Ocotber 28th to begin a two-week vaccination and sterilization campaign, in partnership with Agencia de Regulación y Control de la Bioseguridad para Galápagos ( ABG), the lcoal agency tasked with managing all biodiversity on the Galapagos islands.
Although Animal Balance has been working on the Galapagos for 14 years, this campaign was significant in the fact that it is the first in which we have been allowed to provide vaccinations for dogs, protecting them against distemper, parvo, leptospirosis and other preventable diseases. This is a huge landmark in social change for the communities on the Galapagos, who over the years have shifted their view of how to humanely manage cat and dog populations from using poison to control street animals, to adopting ideas of including animals as part of the family. Animal Balance has played a pivotal role in igniting this movement and we are so proud of the communities for making this change happen. We are incredibly grateful to all of our dedicated volunteers, 14 of whom travelled thousands of miles, generously donating their time and travel expenses to participate in this project, and to all of our donors who provide the resources to make this campaign happen.
The campaign ran from October 28 through November 12, focusing efforts on the two most populated islands of the Galapagos, Santa Cruz and San Cristobal. Animal Balance sterilized 386 cats and dogs, and as part of their treatments, all dogs were given a DHLPP vaccination. ABG provided vaccinations to hundreds more dogs that did not need to be sterilized.
It was obvious from the first day that there was a great deal of community support for this project. Turnout was high at the clinics on both of the islands, and the teams worked long days to ensure that we provided care for as many animals as possible.
Project Highlights :
- "Max" Cardena was the first dog vaccinated on the Galapagos Islands. ABG's Dra. Lisette smiled after giving the vaccine, as everyone gathered around cheered at what we hope will mean the end of dogs suffering from preventable diseases like parvo, distemper and leptospirosis.
- "Nana Iris" is an older dog that was brought in by a good samaritan, after he saw her wander into the street and get hit by a car. Not only was Iris vaccinated thanks to the vaccines purchased through our campaign, but our veterinarians were able to address several medical concerns for her, and our team was able to find this older dog an amazign home with a local friend of ours.
- Our Saturday Neighborhood Clinic was held at a local soccer court on Santa Cruz, ensuring that vaccines were accessible to those who did not have the ability to bring their dogs to the clinic during the week. 128 dogs were vaccinated that day and the AB team worked with the ABG team to share some low-stress dog handling skills. Everyone had a great time getting to know the community and their dogs.
- We did outreach in costume! Halloween fell in the middle of our clinic, so we capitalized on the opportunity to don costumes while spreading the word about our clinic. We quickly realized that our outrageous costumes were great icebreakers with the people, especially when we foudn language barriers challenging. There were lots of smiles, and we saw a lot of people arrive at the clinic as a result of passing out flyers in town.
- Groundwork was laid to continue this project with another campaign in the spring of 2018, tentatively set to serve the islands of San Cristobal and Isabela, where residents have less access to vet care than the busier island of Santa Cruz.
Overall, this campaign was incredibly successful, and demonstrates continued improvement in the quality of life for animals on the Galapagos Islands. The cooperation displayed between the local authorities, Animal Balance, and the community provides a superb model on how to ignite social change. Through the support we receive from our GlobalGiving Campaign, we will be able to continue to do this life-saving work and save more animals around the world.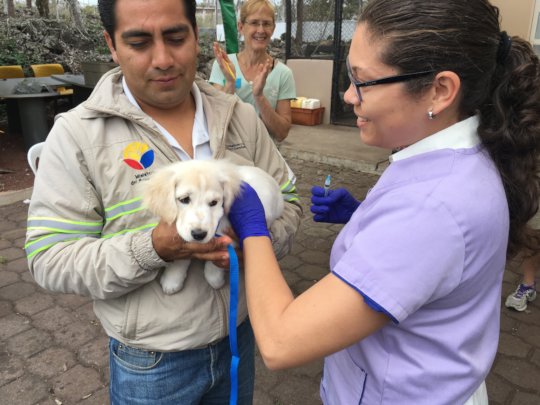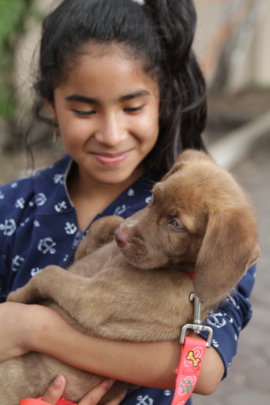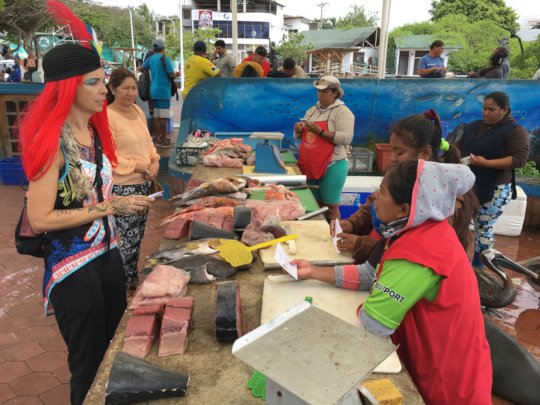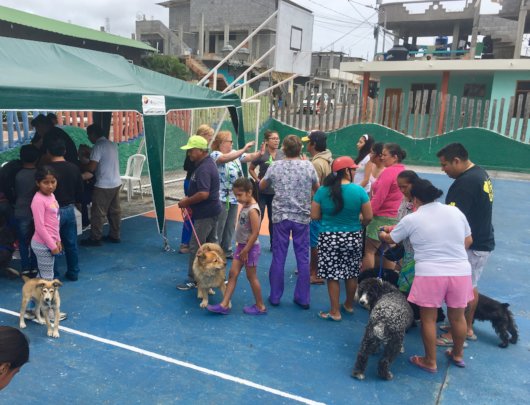 Links: