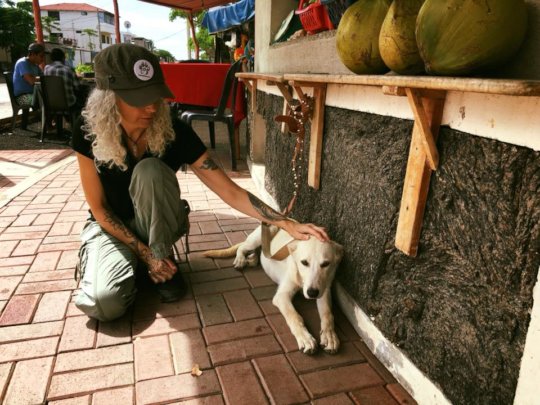 In 2019, the Animal Balance Galapagos program is placing its full focus on one island, San Cristobal. In recent years, AB has been concerned with the increase in free-roaming cats seen on San Cristobal Island, and we have taken steps to address this by introducing humane cat traps, and veterinary training on high-quality, high-volume spay/neuter for ABG veterinarians, including for the new, permanently assigned San Cristobal ABG vet. Unfortunately, ABG budget cuts in the last quarter of 2018, eliminated the veterinary position on San Cristobal, and extinguished the expectation that cat population growth could be addressed with a combination of ongoing cat spay/neuter on the island and AB's annual high-volume sterilization campaigns.
Since 2004, when AB introduced cat and dog spay/neuter as the centerpiece of a comprehensive humane animal management framework for the Galapagos Islands, we have actively collaborated with local agencies to methodically reach and maintain a 70%-80% sterilization rate that keeps the population in check. Because sterilization surgeries on San Cristobal are not keeping pace with population growth, especially in cats, we believe it is critically important to undertake a focused and intensive multi-year intervention, including humane education, sterilization of large numbers of cats (and unfixed dogs as needed), and implementation of an ongoing cat count that introduces a permanent method for monitoring the cat population and percentage of cats that are sterilized on San Cristobal. An additional component of this year's AB plan is to provide our ABG partners with humane dog traps and expert training on their use, as there is a need to protect local wildlife from loose dogs, and to be able to return the dogs to their guardians with education on responsible pet care.
2019 San Cristobal AB Project Components
San Cristobal Cat Count Introduction and Training

Humane Education and Vaccination Campaign (Late Summer)

Two-Week Sterilization Campaign: 1,000 Cats/300 Dogs (Early December)

Humane Dog Traps/Training
The San Cristobal Cat Count
Working in consultation with biologist and biostatistician John Boone, PhD, Animal Balance is introducing a method to quantitatively document the state of free-roaming cats on San Cristobal Island, employing relatively simple standardized cat monitoring protocols (i.e. cat counting), similar to those being developed as part of the D.C. Cat Count Project (see www.dccatcount.org). The protocols employ a combination of periodic counts in predetermined areas, and ongoing population occupancy monitoring. These techniques will allow AB/ABG to document program impacts, adjust program efforts as needed in order to maximize these impacts, and to understand why these impacts occurred. Also, once we have fine-tuned our approach on San Cristobal, we will expand the cat count to Isabela and Santa Cruz islands.
The initial and future periodic counts will be carried out before and after intensive sterilization efforts, and then at predetermined intervals, most likely quarterly or semi-annually. Information that will be recorded will include exact location, age (adult or kitten), sterilization status (based on presence of an ear tip or not), and a body condition estimate of each cat that is seen, along with the capability to take a linked photograph of the cat and record any ancillary observations.
Ongoing population occupancy monitoring will be done on a more frequent monthly basis, by individuals who are familiar with the cats. This will allow these individuals to record whether known, recognizable individuals are seen in the designated area or not, and to also note the appearance of any previously unrecorded cats that are individually recognizable.
The AB Ecuadorian-based Galapagos Liaison will oversee the cat count, and recruit volunteers to provide the ongoing occupancy monitoring counts. Mobile devices will be used for the cat counts, and where there is no cell coverage, cat counters are able to upload data gathered when a wifi network becomes available. Undertaking ongoing cat monitoring, and including appropriately trained community members in this activity, will provide a means for community members to actively participate in promoting that San Cristobal cats are healthy and sterilized.
Humane Education and Vaccination Campaign
The joint AB/ABG humane education and vaccination campaign will prepare San Cristobal for a massive Animal Balance cat (and dog) sterilization campaign later in 2019. We will use this outreach with vaccinations and deparacitation for pets, to stress the importance of sterilizing cats, and having their ears tipped to denote it. We will also identify community members who want to participate in the ongoing cat counts.
During this campaign we will also provide much-needed basic veterinary care, provided by the beloved native San Cristobal veterinarian who was recently laid off from ABG (he now practices in Quito). And we will finalize with ABG a project and communications plan that will map out how to get 1,000 cats to the MASH clinics to be sterilized, and that will also help identify which dogs need sterilization.
High-Volume MASH Sterilization Campaign
In the last quarter of 2019, AB will bring into San Cristobal a veterinary team expert in high-quality, high-volume spay/neuter to sterilize up to 1,000 cats and 300 dogs. This aggressive but necessary goal is achievable with the coordinated and intensive outreach by ABG/AB and local cat count volunteers. A post-campaign cat count will be conducted to measure the campaign's effect on the observed sterilization rate, which will inform strategies and decisions for future campaigns.
Outreach and spay/neuter in 2019 will be promoted in the entire island, however, sensitive areas will be targeted as highest priority (proximity to sea lion colonies, for example). Then, working out from these locations in concentric circles.
Humane Dog Traps and Training
Recently, our ABG partners on San Cristobal have noticed an increased number of dogs loose on the streets and beach, and instances of dog bites and threats to local wildlife. These dogs are elusive and ABG has no ability to capture them.
To provide ABG with resources and training for the safe capture of these dogs (for return to their homes with education for their guardians), Animal Balance will bring humane dog traps to San Cristobal, and provide training by expert trapper Consie von Gontard, Director of Training for the Florida State Animal Response Coalition. Ms. Von Gontard has worked with Animal Balance on challenging street-dog campaigns, and trapped dogs for spay/neuter from the Bahamas to Samoa. Dog traps and the ability to use them safely and effectively will provide the ABG team with an essential tool for protecting wildlife and the community, while also educating dog guardians about responsible care of their pets.
Conclusion
With its intensive focus on humane education and sterilization for cats (and dogs) on San Cristobal in 2019, Animal Balance expects to once again improve the health status of and stabilize the cat and dog population on San Cristobal Island. Dog traps and training will enhance ABG's ability to protect wildlife and the community in general from free-roaming dogs, and will help support the success of ABG's ongoing "I am a responsible pet owner" campaign.
And institutionalizing the cat count will provide ABG and AB with analytics that will help inform future strategies and focus, allowing us to accurately track the cat population over time. And citizen involvement in this project will create a new level of engagement by community members with the cats and dogs on their island.