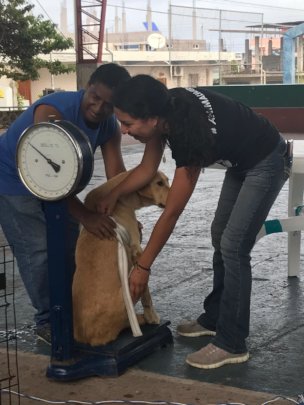 Animal Balance (AB) has worked in the Galapagos Islands since 2004, and is dedicated to resolving conflicts between people, wildlife, and domestic animals. The most ethical and effective solution to these conflicts is reducing the dog and cat population through sterilization utilizing a community-based model. We collaborate with local partners to provide strategies on humane population management, veterinary and technician training, population mapping and census collection, targeted sterilization and vaccination clinics, humane animal handling training and interactive community events to celebrate the human-animal bond.
Animal Balance's work on the Galapagos Islands serves as a global model demonstrating our mission: to collaborate with communities in need to create sustainable and humane animal management programs, in order to prevent suffering and ignite social change.
For 16 years Animal Balance has been using a grassroots community-based model to positively impact overpopulation on the Galapagos Islands. We created a cat and dog animal population control program for the Municipal areas of the three main islands in 2004, in partnership with ABG, the Municipality and the Park. Within a year, the program ignited social change and enabled the community to choose to take responsibility for their pets. The ability for local residents to provide basic veterinary care for their cats and dogs also protects the delicate species, like marine iguanas, who share the islands. The communities on each island embraced the cat and dog program, making it their own. The endemic and native species were better protected, and the community was able to take control of their cats and dogs and have a life-long relationship with them as 'pets'.
As of January 2019, the authorities have not secured funding for a veterinarian for San Cristobal. ABG has sent over the Santa Cruz vet every few months for treatments, but there is no veterinarian on the island to serve the community on a full-time basis. Unfortunately that means there are no opportunities for the community to provide basic veterinary care for their pets, other than the occasional visit by ABG vet from Santa Cruz. There was not a census carried out in 2019, but just from a visual standpoint, Animal Balance and the authorities can see that the population of dogs is increasing. ABG did conduct a census in December 2019 and we are awaiting those results.
Now, as we enter 2020, the Municipality on San Cristobal has taken a positive step further with the creation of an ordinance for mandatory spay/neuter for 100% of the cats and dogs on the island, to be enforced in two years. The ordinance also requires that animals not be running loose on the streets, but confined to their yards. Animal Balance will play a key role in the implementation of this ordinance through hosting a free high quality, high volume spay/neuter clinic in May of 2020. This campaign will be the catalyst for the new ordinance, bringing awareness to the community as well as the opportunity for action.
In addition to the need for free spay/neuter, there is a need for vaccinations. Prior to our May clinic, a small team of volunteers from Animal Balance will travel to the community of San Cristobal to provide DHPP vaccinations and other basic veterinary care for local dogs. Distemper in particular has been a problem on the island recently, so by vaccinating dogs in February and again in May, the overall population will be healthier and will make better candidates for surgery.
As mentioned above, the need for this project stems from a complete lack of veterinarians on San Cristobal. In response to the lack of available veterinary care on the island, Animal Balance has created a Visiting Vet Rotation program. This program will commence when we arrive in February. Our first Visiting Veterinarian is an Animal Balance Alumna who has traveled with us on multiple campaigns, Dr. Mary McKinney. She will be living on San Cristobal for two weeks and working alongside Dr. Isa, who is from Colombia and has also worked with Animal Balance on similar projects. Together they will provide free care for animals in need.
As part of our ten-year agreement with ABG, we will work together to host the upcoming free spay/neuter clinic in May. We have an excellent site in which to host our clinics, and the community has become quite adept at spreading the word via word of mouth as soon as we announce our arrival date. Our goal is to host five days of clinic where we will sterilize and vaccinate up to 350 dogs and cats. During the clinic we will also distribute leashes and collars so that everyone will be able to keep their pets from roaming the streets as per the new ordinance.
In addition to providing leashes and collars, Animal Balance is launching a new program called Green Footprint, or Huella Verde. There are 2 components to this new program and we expect it to grow organically as more volunteers and NGOs become involved. The program will aid with the implementation of new ordinance, as it is a recycling and repurposing program that helps with animal management. The components are; Bottles to Bricks and T-shirts to Totes. We will be implementing these programs through 2020, step by step.
The Bottles To Bricks program will initially focus on recycling and repurposing plastics used in our clinics, ABG, Municipality, a local School and a local hotel. If there is sufficient local participation, it will extend further into the community. Beginning in February, all single use plastics will be put into larger plastic bottles and turned into "bricks" which will then be used to construct free, humane containment walls for local residents to keep dogs in their yards. The plastics will be collected from February to May and then during the MASH clinic in May, a team will build dog houses for the community from the plastic bricks and pallets. One of our Columbian vets suggested the idea in 2019 as she had successfully implemented it in her clinic and in December, we were given permission by the authorities to start the program on San Cristobal.
The T-Shirt to Totes program focuses on replacing plastic bags. Volunteers throughout the USA have been making totes from their t-shirts and we currently have 500 made to go. The Huella Verde Program logo features the iconic dancing Blue Footed Boobie, but with green feet instead of blue, and the international recycling logo on his stomach. All of the bags will include this logo as well as the Animal Balance logo. We will give these totes out in February to key shopkeepers to see if people will use them. In May, when we return, we will take more and also set up a bin at the airport for tourists to drop off their unwanted shirts as they leave.
Eventually we would like to add a third element to this program, that will allow us to repurpose plastics in a self contained unit, to turn plastics into dog collars and food bowls etc. We are researching this at this time and hope to have a plan by mid-year. At this time though, we have collected hundreds of collars and leashes and will give them to the community in May as a reward for sterilizing their pets.
One of the greatest challenges that the local community faces in adhering to the new ordinance is that it is incredibly expensive to purchase leashes and collars on the island, and even more expensive to build a fence capable of humanely confining a dog as required by the new ordinance. By bringing leashes and collars in to distribute for free to the community and creating the new Huella Verde Program, we are able to address both issues and help the community comply with the new ordinance.
In order to provide even further spay/neuter services, Animal Balance has reached out to World Vets, an organization whose mission is to improve the health and well being of animals by providing veterinary aid, training and disaster relief worldwide, to continue providing free spay/neuter clinics on the island of San Cristobal. World Vets has agreed to host a three-week campaign in August and will also return in 2021 and possibly into the future as needed. Animal Balance also plans to return for another round of clinics in late 2020 and again in 2021. The Visiting Vet Rotation program will continue to be managed by Animal Balance and will be an ongoing program, bridging the gap between high quality, high volume sterilization campaigns hosted by Animal Balance and World Vets.
Animal Balance is requesting $10,000 from the Galapagos Conservancy in order to plan and implement our upcoming May clinic on San Cristobal. Without this campaign, the Municipality will struggle to get momentum behind their new ordinance. Animal Balance would like to help make the launch of the new ordinance a huge success, and can do that by utilizing our existing relationships in the community, as well as through providing free services, fun activities and education for the community so that everyone knows what to expect and how to comply with the new ordinance.
2020 Objectives for Animal Balance and ABG
February 2020: Host an outreach campaign on San Cristobal where we provide vaccinations and other basic veterinary care as well as education regarding the upcoming ordinance. This project will include Animal Balance's first Visiting Veterinarian who will work alongside Dr. Isa from Colombia to provide care for animals who currently have no access to veterinary care. This program will be ongoing through 2020 so that the island of San Cristobal always has access to a veterinarian.
Introduce the Huella Verde Program to the community of San Cristobal and give a presentation to the Municipality of Santa Cruz regarding the program.
The community collects plastics and creates plastic bricks.
The shopkeepers give out Totes.
May 2020: Animal Balance will work with ABG to host a high quality, high volume sterilization and vaccination campaign over a five day period, sterilizing 350 animals and promoting the new spay/neuter ordinance. We will be distributing free leashes and collars to community members to help them comply with the new ordinance.
A construction team will take the collected plastic bricks and pallets and build dog houses for people.
August 2020: Animal Balance has consulted with World Vets who will be sending a team in for a three week sterilization/vaccination clinic.
Late 2020: Animal Balance will return for another sterilization/vaccination campaign.
Thank you for the opportunity to share our plans and for the invitation to request support from The Galapagos Conservation. Your continued support is the key to making these programs become a reality for the people, animals and the environment of the Galapagos Islands.