Day by day families of children with disabilities feel harassed in the streets because they are subject to accusing or pitying looks that over time affect their mental health, reaching to a point where these families hide the child with disabilities. That is why the families of Wasi Esperanza participate in the marches that serve to raise awareness of the issue of disability towards the general public.
In the last march Max Alfredo was the star of the day since he was in the car greeting everyone. His mother looked at him from afar smiling for his son.
Max is 5 years old, he is a very curious child, he is always attentive to what is happening around him, he is also very sensitive. The psychologist and the rest of the team are working hard to improve His concentration and to be able to go to school. His parents and sister support him a lot.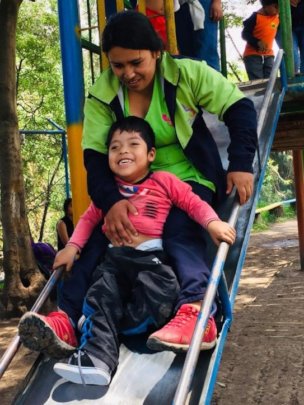 Last Thursday, February 28, we went to the zoo with a group of children as part of their plan of learning and socialization activities.
It was a very fun day for everyone, but without doubt the one who enjoyed it the most was Leonel. He is 5 years old and very intelligent, unfortunately he can not walk because he has hydrocephalus and does not have sensation in his legs nor control of his sphincters- so he will use the wheelchair and diapers indefinitely.
Here in Ayacucho, the zoo is located in a ravine and has ramps for access, but they are very steep and if in the future that doesn't improve, Leonel will not be able to go on his own when he is older, even though he handles very well his wheelchair.
Leonel's mother had him at age 17, she works in a bar every night and after work goes home, has breakfast with Leonel and then takes him to the institution's daycare so she can go to the university where she studies. Leonel is a very happy and intelligent child, has a great memory and his favorite character is the Lightning McQween of the movie Cars.
Leonel and her mother have no support from the rest of their family, they only have each other so they try hard to overcome this situation; in that they have the support of the psychologist whom does accompaniment with both of them. We hope that at the end of her career Vivian - Mama de Leonel - can have a better job and Leonel can enter the education system and access to better future opportunities.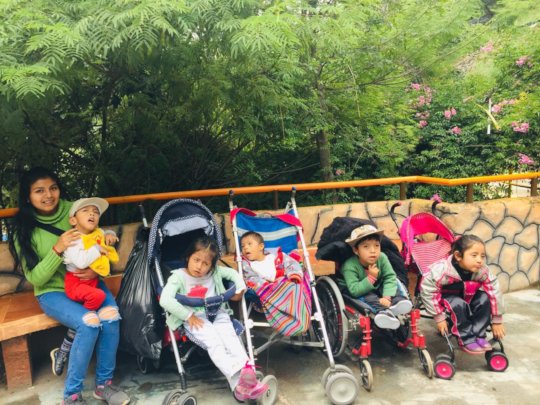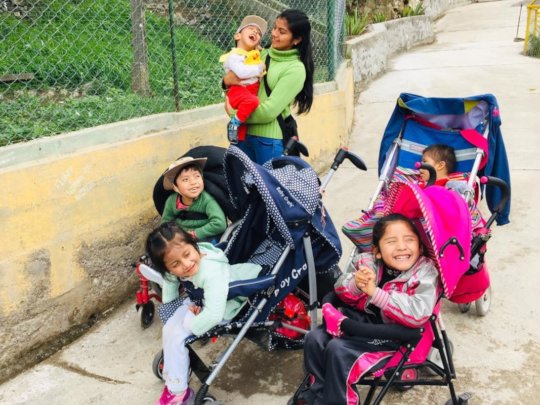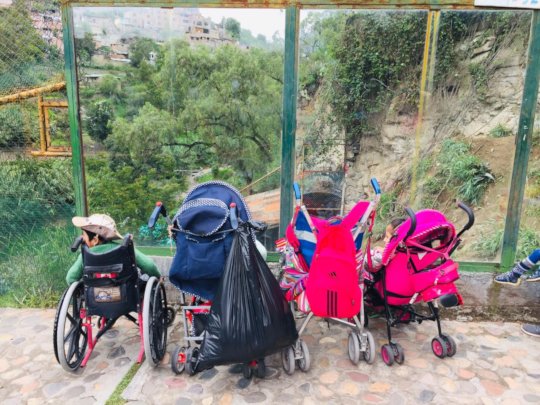 Links: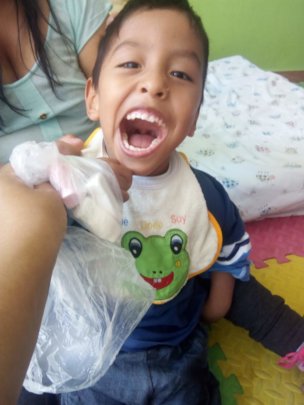 THREE WAYS
In Wasi Esperanza, we currently have a day centre called "Centro de Día", which is a place similar to a nursery. To enter the day centre, evaluations are realised to select the patients from Wasi Esperanza who need this day care the most. The social workers are in charge of these evaluations. In the day centre, there are children with different diagnostics and heath problems. Currently the day centre has 7 children in their facilities, all with different health problems and physical and/ or mental disabilities. All children in the day centre receive Physiotherapy, Psychotherapy and Educational Therapy in order to improve their quality of life. While they are in the day centre, the parents of these children can go to work, in order the provide a livelihood for their families. Eduardo, Ingrid and Kerly are 3 of the 7 children who are in the Day Centre each with different health problems and different dreams… Eduardo is a 5-year-old boy, he entered the day centre 1 year ago. He is diagnosed with severe Cerebral Palsy. Therefore, he gets relaxation therapies, postural control and positioning from his physiotherapist in Wasi Esperanza. Eduardo has a twin sister who does not have any heath problem. Currently Eduardo lives with his parents, who have to work very hard every day to give their children an adequate quality of life. Nowadays, Eduardo has problems with his respiratory system causing problems with pictures of pneumonia. Eduardo is a very cheerful kid and likes to be with his friends at the day centre, he likes to watch the series "Pepa Pig". In the last months, his heath condition worsened by the pneumonia, therefore both Eduardo's parents and the staff of Wasi Esperanza are emotionally and psychologically preparing to expect bad news. Ingrid is a 3-year-old girl, she entered the day centre about 1 year ago. She is diagnosed with Down syndrome. She lives with her parents and het elder brothers and is the youngest of all. She is the most beloved by her brothers and the family. Ingrid joined the day centre when she was wearing diapers, but she learned to go to the toilet and now she is not using diapers anymore. The girl likes to play with dolls and she always helps all her friends from the day centre. Since this year, she is trying to talk. Ingrid is included in Educational - and Psychomotor Therapies in Wasi Esperanza. In these therapies Ingrid took the chance to prepare and to adapt, because next year she is going to integrate in kindergarten. Both her parents and the staff in Wasi Esperanza are excited because she is about to enter kindergarten, we hope she does very well. Kerly is a 5-year-old girl, she arrived at the day centre 1 year ago. She is diagnosed with hip displacement and microcephaly. During the time she have been admitted in Wasi Esperanza, she was operated twice at her hips. After her last operation, which went very well, her hips were well aligned. Now she gets weekly physiotherapy in order to stand up and to walk independently. Kerly lives with her mother, who is very young. Kerly's mother works while she is studying, to be able to give her daughter a better quality of life. Kerly is a very cheerful girl, with an unusual hobby: she likes to open and close the door. She loves ceviche and eats very well. This year, Kerly started to say her first words, which was a very satisfactory achievement for the whole team of Wasi Esperanza and her mother. 3 children with contemporary ages, 3 lives that come together under the same roof. They share smiles, good experiences and anecdotes. Perhaps the happy ending is for fairy tales, but the hard work that is done by the children is reality.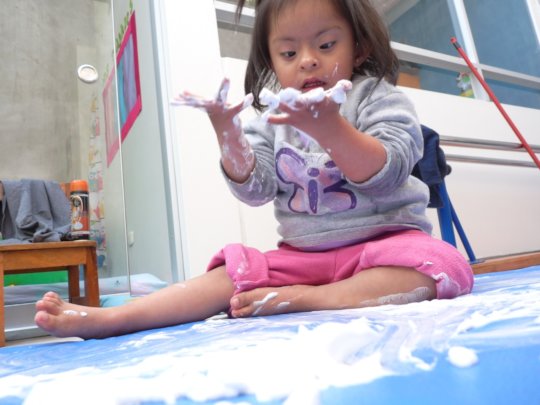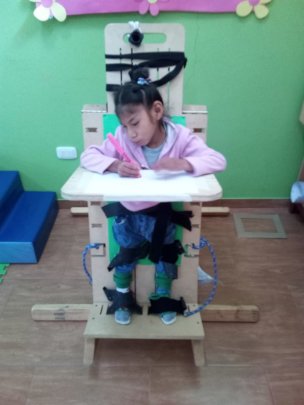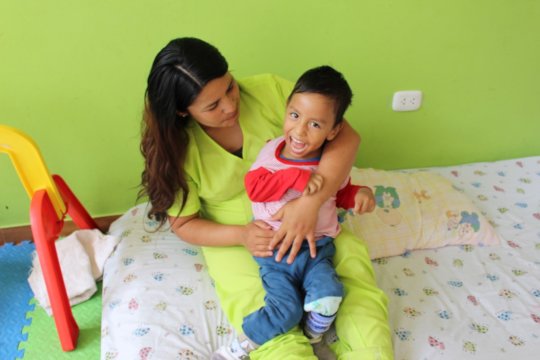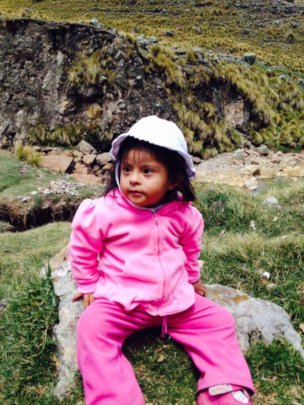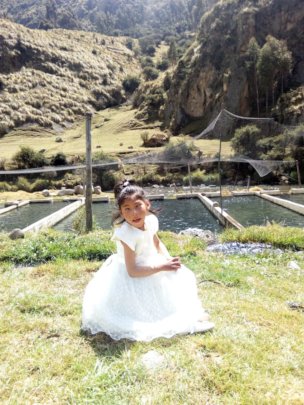 WARNING: Javascript is currently disabled or is not available in your browser. GlobalGiving makes extensive use of Javascript and will not function properly with Javascript disabled.
Please enable Javascript
and refresh this page.