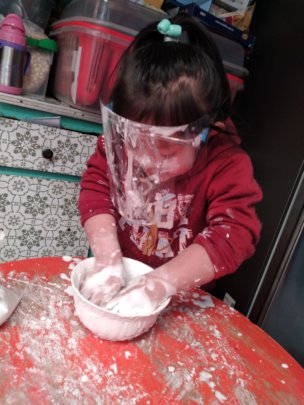 Ingrid is 05 years old and playful, impatient, skillful, but above all charismatic. She likes board games and any other flashy stuff.
Her diagnosis is Down Syndrome, she lives with her family, which consists of her older siblings and parents, who give her a lot of love, affection and patience.
Ingrid's parents sought us out for help when she was 2 years old, at that time she had hypotonia, did not communicate, had attention problems, among other signs and symptoms of her condition.
She is receiving help in the areas of Physical Rehabilitation, Day Center, Psychology and Education over the years Ingrid has had many achievements and successes such as:
- Walk alone, be able to support her body and have balance. Now she jumps and runs with her older brothers and makes them sweat.
- Adquire a linguistic language (Vocabulary: Bread, water, mom, dad among other words and some sounds). This helps her interact with more people.
- Follows basic instructions such as: "take", "give me", "take this to ...", bring the ... "and more.
- Dresses independently: put on shoes, headbands, shirts and pants. She performs higher performance exercises, such as eat solid foods, go to the bathroom, among others.

Ingrid is a little girl who learns very fast and imitates some situations at the learning level in the present time. She makes recognition of clothes, fruits, some colors, the human body and actions in daily life. She is also learning about emotions and the correct use of the pencil and painting. She is about to learn other topics such as vowel recognition, numbers, which is now a challenge that we hope to achieve the support of parents.
In 2018, she started attending a regular school I.E.P. 320 "San Miguelito Arcángel" and managed to be accepted when she was 3 years old. These past 2 years Ingrid was integrated into a new environment, thus getting to know her new classmates, teacher, new learnings in her day to day life. The teachers of San Miguelito Arcángel love her very much and also include her in all their activities.
Due to the pandemic and quarantine, she has stopped attending her classes, thus leading virtual classes where the family helps her with her homework supporting the education area, and adapting the work.
The work at Wasi Esperanza is through visits to her home to provide sessions from the Education and Psychology area, each session Ingrid awaits us with a smile, joy and desire to work. While working on issues of behavior, language stimulation and learning.