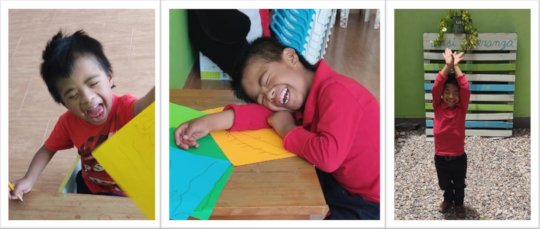 Today we will introduce you to Santiago, he is 7 years old, he likes to paint, draw, dance, make friends in and out of the kindergarten, he is very active and affectionate. Santi is always happy and shows it with a big smile.
2 years ago (2018) Santiago was included in the "Niño Manuelito" kindergarten that is close to his house, at first, he isolated himself and played alone but little by little he improved his interpersonal skills, now he plays with the children, shares and He is happy, when the classes were face-to-face, he was happy and did everything he could to learn, with the help of the teachers and his mother, Santiago has shown great progress.
Now with the virtual modality the mother helps him a lot at home, Santiago has made remarkable progress and it is because of the mother's perseverance in all his therapies and classes, they are always punctual, committed and determined. In addition, they always comply with the recommendations at home.
Santiago is beginning to know and learn the vowels, colors and to improve the pronunciation of some words, before he had difficulty, but perseverance and determination made him progress day by day.
This is Santi, a child with a big smile for life, willing to achieve many goals and with the help of a great teammate, his mother.