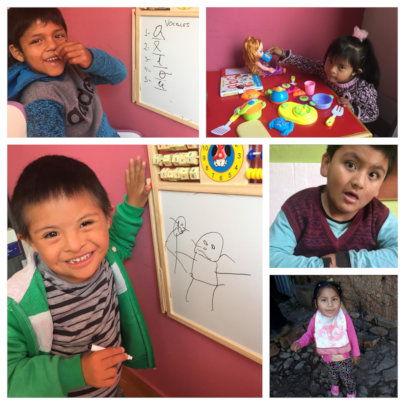 We begin a new year with best of energies! And we would like to introduce the kids whom the project will be attending this year:
- Araceli: This is a girl who will be attending the third year of elementary school. She doesn't know how to write or read yet, but she has a remarkable potential for doing it. Our objective is that she can read and write by the end of the year.
-Gustavo: He graduated from kindergarten successfully and he will attend the first year of elementary school this year. Our objective is that he can improve his writing skills. He recognizes vowels and part of the alphabet. We believe he can achieve what we propose and much more.
-Thiago: we worked with him last year taking into consideration his autism state, we achieved a lot about his sight concentration and about following basic rules, such as throwing the garbage away, be quiet on his seat or keep his toys.
- Santiago: This is his third year with us in inclusive education, his parents has been really involved with his progress, due to that we reached many notorious outcomes about his language and interpersonal skills. Santiago is able to be part of a group of kids and play freely with them, he can also say some words now.
- Ingrid: she now can differenciate basic colors , there is still a lot to do about her behaviour. She attends a regular kindergarten and she managed to adapt herself to the grupal activities. She is able to perform daily routine staff like dressing, feeding, going to the bathroom, etc.
-Mayumi: She is new in the organization and she will enroll kindergarten this year. He has got a lot of potential, but we need to work with her about he attention and concentration.
- Luz: She is a really talented girl despites her visual disability, she attends school and she needs lots of sensory stimulation in order to recognize her surroundings. On the other hand, teachers require special materials and assessment for working with her.
- Gabriela: This will be her second year with us in inclusive education, even when she understands and communicates properly, she was not able to enter a regular school because of her cerebral palsy. We will keep working on our objective of make awareness about inclusive education with her teachers.
-Kiara: She will attend the sixth grade of elementary school this year; however, she learned how to write and read recently. Now she needs to work on her comprehension skills and improve her communication skills.
- keyla: She is a girl with a regular IQ, her only limitation is motor. She understand her status, that's why she notices the difference between her and other children; thus, we will work on self esteem and self-knowledge with her.
- Alex : He is graduating from kindergarten this year, he had a bad behavior inside the classroom, but he has been improving this aspect as the time passed by. Now we need to focused on his communication skills and his interpersonal skills.
- Bryan: He has been able to recognize the vowels, after lots of effort. He also is more self confident than he was in the past about giving an opinion in the classroom.
- Valentina: She is a smiley and enthusiastic girl, she likes to learn new things. Our objective for her is that she can take the pencil in the correct way and recognize the alphabet. This year she will attend the school for the first time.