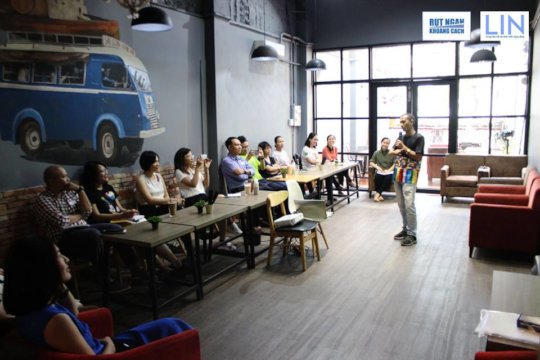 Dear our esteemed donor,
Following the success of our Narrow The Gap 2018, we are looking forward to a year full of significant activities in 2019, with a focus on positive impact and sustainable development for the prosperity of our community.
Prosperity of Community is the topic of Narrow the Gap 2019 with focus on 5 Sustainable Development Goals:
1. Clean and Sustainable Energy (Goal 7)
2. Decent Work and Economic Growth (Goal 8 )
3. Industry, Innovation and Infrastructure (Goal 9)
4. Reduced Inequalities (Goal 10)
5. Sustainable Cities and Communities (Goal 11)
This program covers projects based in HCMC or from Binh Thuan province to Ca Mau province. In this 1st round, we will distribute total 6 grants, with each grant awarded up to 75,000,000 VND/project.
In January, we kicked off Round 1 to call for project proposals from local nonprofit organizations. In February, we called for skilled volunteers to join our Grant Allocation Committee (GAC). GAC members support LIN to narrow down to the finalists with the most potential and sustainable projects to pitch their projects to a wider public audience.
The deadline of proposals finally came with total 21 proposals were submitted to the program, in which 3 proposals came from our Impact Accelerator co-hort (our Incubator program for NPO leaders), 2 proposals came from LIN's nonprofit partners using our Home for Nonprofits.
Our first kick-off meeting for GAC was organized successfully on 17 March 2019, the Grant Allocation Committee (GAC) of Narrow The Gap Round 1/2019 discussed the proposal evaluation process. The GAC of Round 1/2019 includes 30 members, who are Skilled Volunteers from a variety of fields such as Community Development, Human Resources, Communications, Finance, and Strategic Planning. The GAC take on board positions such as: GAC Advisor, LIN Representatives, Secretary and GAC members.
The Grant Allocation Committee will officially begin the project proposal review from March 18, 2019 and expects to have the results of finalists on April 8, 2019. The informed finalists will present their projects on Pitching Day, 21 April 2019 in Ho Chi Minh City.
Please stay tuned for more updates from our Pitching Day event where you will learn about the full result and this round's winners in our next report!
Your important support and donation allow this program to continue and ensure local nonprofit organizations in Vietnam will continue to receive the necessary support and funding opportunity from Narrow The Gap!
For more information and real time updates from Narrow The Gap, please follow our page at https://www.facebook.com/NarrowTheGapProgram/
On behalf of LIN team,
Kelly Vo, Head of Corporate Partnerships & Fundraising
Links: