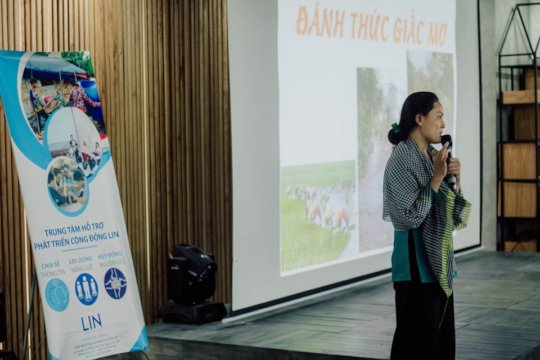 Dear valued donors and partners,
It has been three months since we updated you about our activities to support local nonprofits in Vietnam. And we believe changes speak louder than words, therefore, we are delighted to share with you three stories of change from one of our local nonprofit partners, a skilled-volunteer and a corporate partner participating in our programs and activities, thanks to your generous donations and support.
Vo Thi Hong Phuc, Director of the Vu Vo Phuong Nam Community Serving Group, who received a grant in Narrow The Gap Round 1/2019 shared with us:
"My personal change is the improvement in my ability to design projects and my ability to implement it. My next plan is to look for international funding. About my organization, it receives a lot of information from community services, and activities (not charity), therefore our organization will be renamed "Phung Su" - meaning serving the community, not only distributing. Prior to this, I didn't understand much, but after attending to more events by LIN, I understood more, I bring that knowledge to my organization and make sure the beneficiary group is aware. My final goal is to let the beneficiary group understand implementation.
The organization still has some short-comings, but [these are] decreasing. LIN considered how to change the thought process of the beneficiary group. For example the Ca Mau community, Dong Thap community, are now independent, they are building bridges with a small amount of support from our organization. They have changed and are still on the path to improve, but maybe they haven't realized it yet. They thought that they would travel on boats for the rest of their lives. But now they have builit many structures, one after another, slowly there will be electricity and internet, and that will lead to an even bigger change to the community of that area."
Hoang Trong An, who participated in our Mandala Night event for skilled-volunteers shared with us:
"I see the enthusiasm of the organizer, the NPOs, the volunteers of the program. Through this event and through the stories told alongside with personal experience, I want to remind everyone, especially the volunteers that want to contribute to the community, be strong, never be self-conscious because each and everyone of the volunteers have their own values and strengths. You can contribute with finance, skills, or with your own power. Learn from your precursor, be confident to fall and rise up again."
Phil MacLaurin, Business Unit Manager at Premier Oil Vietnam, one of LIN's long term corporate partners told everyone at Narrow The Gap's Launching event:
"What LIN does is incredibly simple. They talk to people and businesses who care but don't know how to show it. They talk to grassroots organisations who care but don't know how to get the support they need. And what happens next? We start to communicate with each other and develop partnerships, and together we grow stronger. I said "What LIN does is incredibly simple". That is not the same as "What LIN does is incredibly easy". LIN is doing something very difficult and are uniquely skilled at it. How do you motivate oil company executives on the 18th floor in District 1 to work with a few ordinary women in the marshes of District 8 so that we develop in partnership and grow together? LIN is bridging cultures. LIN must not be condescending to the local people. LIN must not forget that a business exists to create commercial advantage."
Thank you again for making all this happen. We hope you will not only continue to accompany us on this meaningful journey but you will also spread the word about our impact to your friends, family and your network by sharing this page to help our cause reach more people:
https://www.globalgiving.org/projects/journeyofaphilanthropist/
If you have any questions about LIN or our programs, please feel free to contact me directly at kelly.vo@linvn.org.
Sincerely,
Kelly Vo - Head of Corporate Partnerships & Fundraising.
Links: