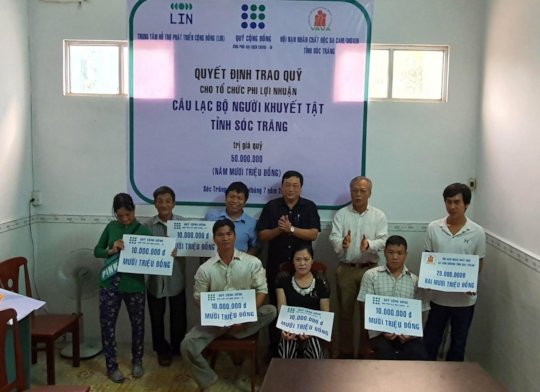 Dear friends and supporters,
We hope you are well and safe wherever you may be.
We count ourselves very lucky to be in Vietnam at the moment, the country has controlled not only one, but three community outbreaks, the latest one happened in Ho Chi Minh city, just two weeks ago. We were very worried that we might have to go back to social lockdown again and many people will lose their job while Tet (Lunar New Year) is coming. Even though the outbreaks were controlled, there is a lot of work we still need to do to support the affected people from the pandemic, especially vulnerable communities to build back better with their lives. And that couldn't be possible without local nonprofit organizations working tirelessly everyday to talk to the people and provide on-time support when needed.
And thanks to your generous donation, we were able to fundraise an enough amount to support a total of 10 local nonprofit organizations, equivalent to roughly VND 50 million per organization, including:
The Centre for Research and Education of the Deaf and Hard of Hearing
Tinh Than Program
ICS
Anh Duong Community Development and Support Centre
Thien An Shelter
Vava Cu Chi
Huynh Tan Phat Foundation
Knowhere Makerspace
Soc Trang Province Club for the Disabled
PFLAG
As we shared with you in the last report, we are going to work with the 10 nonprofits to evaluate the impact of the fund on the organization and their communities during the pandemic in the next couple weeks and will have many stories to share with you in the next report in March!
In the meantime, we are glad to quickly share with you one testimonial from Soc Trang Province Club for the Disabled, one of the NPOs received the funding in June:
"During the first social lockdown in April 2020, the income of people with disabilities households were severely affected, causing many households to stop working, some had to find any available temporary job and many households had to stop their own small business which is the main source of income for the whole family. The funding support from LIN's Covid-19 Response Community Fund came at the very right time, many households affected by social lockdown could receive the funding which help to maintain their economic activities to continue generate their own incomes, as a result, this has helped them maintain their lives and continue to participate in the activities of the Soc Trang Provincial Disability Club. This project has also greatly motivated members of the Club to continue their work and contribute to maintaining club activities.", Nguyen Thanh Hoai, the President of Soc Trang Province Club for the Disabled
We are very happy that this initiative managed to support at least 10 local nonprofit organizations to not only continue their meaningful work and but also create impact on lives of the many local communities in Vietnam. Please stay tuned with more updates from us.
I do hope this shall pass soon with the good news on the vaccine, and we all can feel safe to go out, meet, connect with each other and do things out door again. In the meantime, please stay safe and healthy during this unprecedented time.
Once again, on behalf of the LIN team and 10 selected NPOs, we thank you for your generosity and kindness. Should you have any question or need any further information in the meantime, please do let us know.
With gratitude,
Vo Ngoc Tuyen (Kelly)
Head of Corporate Partnerships & Fundraising