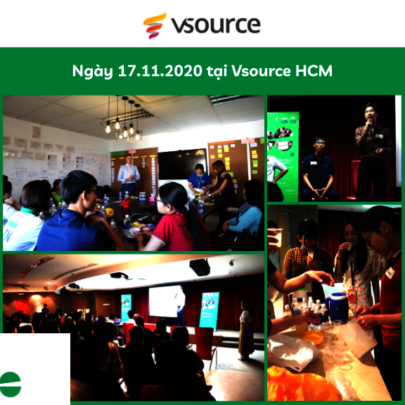 Dear friends,
I hope you are safe and well wherever you may be.
The recent outbreak in Vietnam before Tet holidays has caused some concerns for our programs and activities planning this year, however, we hope the situation will get well controlled again this time thanks to prompt actions by the government here.
Nevertheless, we would love to give you some positive updates about what happened to Narrow The Gap in the past three months since our last report. In November, we started another fundraising campaign to raise more funds and volunteering support from companies and communities to the three selected grantees, we also managed to successfully arrange visits at the offices of our two corporate partners, Premier Oil Vietnam and vsource, where the three grantees had the opportunity to share more about their projects to the companies' employees (with more than 80 employees participated in the two visits).
As a result, we are delighted to share with you a good news that vsource company agreed to help build a new website for WASH AND ACTION CAMPAIGN AGAINST COVID-19 FOR KHMER SCHOOLS by the Center for Rural Research and Development of An Giang University as well as donated some computers to all three grantees. Premier Oil Vietnam, in the meantime, is considering to provide some addition fund to one of the grantee in 2021, we will keep you posted about this in our next report. In addition to all of this, we also helped the three grantees making a video communicating about their projects for further support from the public, you can check out the three videos on our fanpage here https://www.facebook.com/NarrowTheGapProgram.
By doing this, we wanted to help build a stronger relationship between the grantees, corporate partners and public community beyond Narrow The Gap program.
Besides all the needed support the grantees get from the corporate visits, we are also very proud to receive very touching, heartwarming feedback from one of the nonprofit representatives from the visits: "For the first time in our life we had this unique experience, to visit, to be welcomed and to be listened from a big company in Saigon, we are from Ca Mau, a far away land, very few people know about what happening in our lives down there, so these were such invaluable learning opportunities and experiences for us", shared by Mrs. An, President of the Women's Union of Nguyen Viet Khai commune in Ca Mau who participated in the corporate visits for the first time.
As for 2021, despite the uncertainty with the pandemic, please rest assured that we will continue to do our best to provide suitable support to local grassroot nonprofits to address the issues in their own communities with our Narrow The Gap Program, we think it is even more important now with the Covid-19 are affecting many lives in Vietnam.
Therefore, thank you so much! This couldn't have been possible without your generous donation and support. You made all this happen!
We hope you will continue to support Narrow The Gap and help to spread a word to your friends and network so more people will know about Narrow The Gap and amazing works local nonprofits are doing in Vietnam.
Please stay safe!
Warmest Regards,
Vo Ngoc Tuyen (Kelly), Head of Philanthropy Services