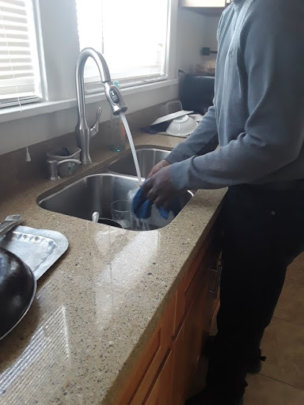 Thanks to your support and our committed staff, we have achieved tremendous success over the past year operating our Roots Oakland Homecoming residence! Oakland Homecoming offers stable housing concurrently with on-the-job training, counseling, and health navigation as a path to permanent stability for Oakland's unsheltered residents.
During the span of the Oakland Homecoming program, we have serviced 18 formerly homeless individuals with employment services and housing. Fifteen are accomplishing their goals of self-sufficiency and have graduated into stable employment progressing towards steady housing. Job training also includes learning financial stability skills.
Some highlights:
Twelve residents have opened up checking and savings accounts while learning strategies to save money.
One of our current residents has received numerous skills in job training and as a result, is gainfully employed full time. His goal is to obtain an apartment and thanks Oakland Homecoming for the opportunity to get back on his feet.
We congratulate two former residents on getting married since transitioning to stable housing from Oakland Homecoming!
One resident has gone on to higher education while working full time.
Another resident lived at Oakland Homecoming for five months, secured full-time employment, and saved money to not only purchase car but become a homeowner! The resident described his experience as "the freedom I never experienced, to be able to have a room of my own and to be able to make meals in my own space." Oakland Homecoming has allowed this resident to make a smooth transition into society while having a sense of community and family away from home.
Currently Oakland Homecoming has four residents with current availability for four more. We have achieved great results during the past year with Oakland Homecoming in providing residents with a pathway to stability. Please share and refer unhoused Oakland residents who are ready, willing and able to work.
Your continued support helps to expand this program to transition more individuals from Oakland's encampments into stable housing and employment. Please also consider donating - and asking your friends to do the same - as we continue to support unsheltered Oaklanders in their transition to self-sustainability!
With gratitude,
The Roots Family