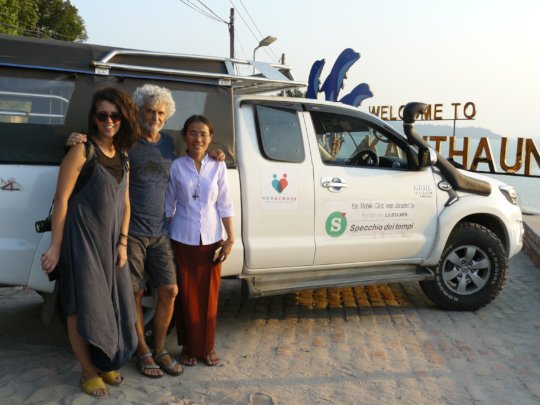 Dear friend,
we are happy to announce that, with the help of hundreds of small and big donors like you, Medacross had been able to donate a new Mobile Clinic vehicle that will allow our medical staff to visit rural villages and plantations 6 days/week.
Up to now, we are already treating more than 2.000 patients. After this achievement, Medacross will guarantee free medical services and medicines to over 5.000 people!
Everyday we dedicate our work to all the vulnerable children and families beliving in us to ensure better living conditions for the women and men of tomorrow.
But we are just at the beginning and there is still so much to do.
Dozens of villages to reach.
Hundreds kilometers to cover.
Thousands of children to save.
My name is Rain Soe, I almost have two years and I was born in a rubber plantation, near the burmise border with Thailand. Mom and Dad got married very young in a small village just across Yangon's river and after a few months my older sister, Thida, who is now 9 years old, has arrived. I also have two more brothers aged 7 and 4. My dad used to work on fishing boats. Thida always tells me that it was hard work because you have to live on the ship for several weeks without being able to go home. When I was still in the mother's tummy, my dad left, he's missing from home since two years now. Thida says that the monsoon took him away with him and that he will never come back, but I hope she's wrong because I'd love to know him. Just before I was born my mum's friend told her that they were looking for workers on a rubber plantation in the south of the country, near Kawthaung. Mom's friend was moving there and we went with her. I was born there, inside a bamboo palafitte without electricity on a rainy night.
Fortunately, my mother was not alone. As soon as we arrived at the plantation, the doctors of Medacross visited it and asked the village chief to call them immediately, as soon as the labour would have begun. And so it happened! When the pain started, a doctor and a nurse left from the Basic Health Clinic that Medacross renovated at Kawthaung, bringing with them all the necessary equipment and medicines. They faced a two-hour drive under the pouring rain, without even the light of the moon to illuminate the dirt roads full of holes that run through the forest. That evening everything went well having them close to mummy and I'm now growing healthy.
But do you want to know another great news? A few months ago, Medacross friends came to visit us during one of the visits of the Mobile Clinic and they told us how, thanks to your contribution, hundreds of other children like me can receive free treatment without having to face a long journey by foot to reach the nearest clinic. Some of them are not as lucky as I am, having received care and assistance since my first day. Some of them had never been visited by a doctor, but now they have hope. They can grow and grow up!
I want to thank you friends, if I can always count on Medacross and feel protected, it's thanks to you.
One of the new sites we visit since May 2018 is Chan Phan village, an high densely populated village near the rubber plantation. During a visit of the Mobile Clinic, we discovered the case of Ming Pyae, an11 years old boy suffering from a cranial malformation: the back of the cap did not close properly, causing a subcutaneous overhang of the brain that causes him a lot of pain. During our visit, his mither told us that when Ming Pyae was very young, she took him to the Kawthaung Hospital where, however, there is no neurosurgery department and therefore she had been advised to reach Yangon and bring her child to the pediatric city hospital. The journey, however, is very expensive, not counting the hospitalization costs and medicines, which Ming Pyae's family can not afford. His father works as daily labour in the plantations, as a bricklayer or fisherman as the village overlooks the Andaman Sea, but it is not always easy to find work. His mother has a physical disability while his older brother left school at age 10 to help the family earn their $ 150 dollars/month income, barely enough to survive.
Even today in the rural villages of Myanmar, half of the children do not reach the age of 5 because the bite of a mosquito, a domestic accident or a simple virus can be fatal without having prompt access to health care.
Hepl Medacross to cure them!
WARNING: Javascript is currently disabled or is not available in your browser. GlobalGiving makes extensive use of Javascript and will not function properly with Javascript disabled.
Please enable Javascript
and refresh this page.