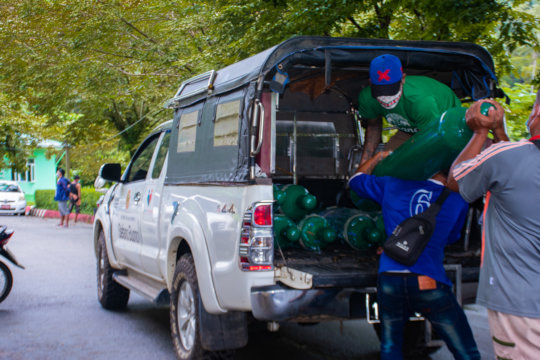 News from Burma is not encouraging:
Kawthaung hospital works with only 2 doctors, at the moment only the emergency room is operational.

For 7 months, surgery, basic care, and preventive actions have been suspended for millions of people. Without vaccines and with contagious variants, COVID is corroding the hopes of Burmese people.

In Kawthaung, patients with severe respiratory problems are treated by nurses who administer oxygen. Oxygen cylinders, like medicines, are paid for by patients.

To comply with the total lockdown imposed by the government, our activities are also suspended.

But when you know you can help, you can't really sit still. This is why our doctors have held many meetings to understand how to support the citizens of Kawthaung. At the moment we have already donated to the Kawthaung hospital:
10 CYLINDERS OF OXYGEN for patients of the covid exhibit

3 OXYGEN CONCENTRATORS

500 QUICK TESTS for covid

500 N95 MASKS and 500 VISORS for healthcare personnel
This is just a small step of solidarity from MedAcross staff. We are planning to do much, much more to help people in need of healthcare in Myanmar.
Keep giving your support to be able to help the most fragile people in Myanmar, spread our message!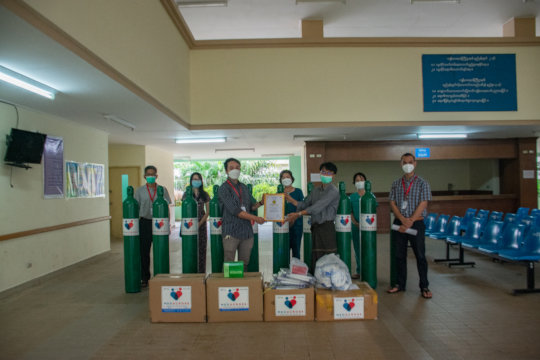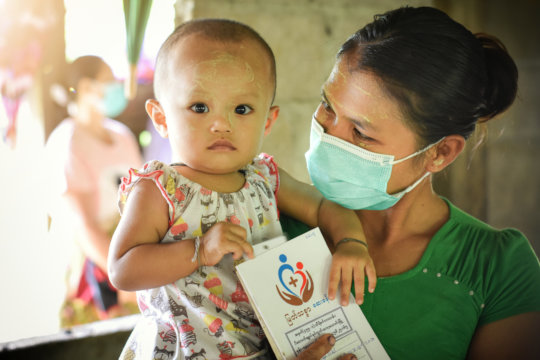 My name is Ma Yi, I am 27 years old and I live with my little girl in the village of Aung Thar Yar, on the border between Myanmar and Thailand, but this was not my project.
My plan was to reach the Thailand border to offer a better future for my daughter. Since I left my family, I have traveled 12.000 kilometers: by foot, bus, and bicycle. During the trip started the covid-19 pandemic, I had to stop my journey in a safe place since countries' borders were closed.
I gave birth in an isolated village with the help of a midwife, the hospital was too far away and I could not afford the transport costs. At the moment it is impossible to continue my journey, I prefer to stay in the south of Myanmar, even if living in a small rural village is difficult.
A family living close told me about MedAcross when my baby got sick, the little one had never seen a doctor before. Dr. Khant was kind and the nurses gave us the necessary medicines and vaccinations for my baby. The doctor told me that MedAcross is an Italian project, I am moved to know that people so far away are thinking of us!
Thank you so much
C. is one of our patients from the HIV Medacross program, she asks to respect her anonymity as there is a strong stigma among AIDS victims in Myanmar.
C. was born on an island close to the Irrawaddy delta, an area that has been hardly damaged by the Nargis cyclone in 2008. Her family house and the land she cultivated together with her community were suddenly destroyed. Overnight part of her family and friends disappeared in the float.
None of the places she grew up was recognizable so she and her sister decided to move south to find a better job that could help the family. When C. and her sister arrived in Kawthaung, they trust the wrong person that trapped them into sex work.
Eventually, C. meets a man and fell in love with him, they got married and change their lives, but traces of her past follow her and a few years later C. starts to feel always sick. She discovered to have AIDS, high hypertension, and diabetes. She lost her job and start living with AIDS stigma.
MedAcross doctors take care of her health: we take under control her chronic diseases for free and nurses help her registering to take national antiretroviral therapy. C. is grateful every time she came to MedAcross clinic "here doctors help me heal physically and emotionally. I've suffered a lot for be bad treated by people for this disease."
Thank to all our supporters we can help people like C. every month, offering medical visits, medicines, and counseling to live with this difficult illness. Your action of giving may take you few minutes, but helps lonely people for a year and we are committed to telling you the real impact we make together!
WARNING: Javascript is currently disabled or is not available in your browser. GlobalGiving makes extensive use of Javascript and will not function properly with Javascript disabled.
Please enable Javascript
and refresh this page.