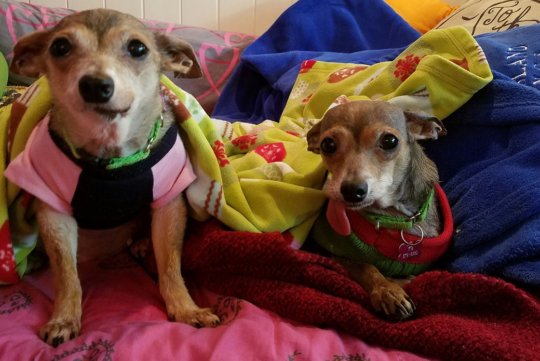 Karen and Grace were surrendered to the ASPCA Adoption Center with two other senior Chihuahuas in April 2016. The condition of the dogs suggested that they may have been involved in "backyard breeding" practices. The small dogs were in extremely poor condition: Grace was missing most of her teeth, while Karen was missing all of hers and had a hole in her palate. Neither had much fur, and both needed immediate medical attention.
After two months and four surgeries between the two pups, Grace and Karen were finally on the mend. Although the ASPCA's veterinarians determined that both dogs were hypothyroid and would require lifelong medication, no one could deny that these resilient seniors had made a great recovery. Everyone was eager to find the pair a permanent home together.
A month later, the perfect adopter found the sweet and timid pups. Ana N., who had adopted from the ASPCA once before, was planning to visit the Adoption Center to make a donation and visit some of the dogs. The mother of four other rescues, she had no intention of adopting again, but while checking our website for the Adoption Center's hours, she saw a video of Karen and Grace.
Ana knew in that moment that the purpose of her visit had changed: She was going to make the two pups part of her family. "I knew I was in love and that my family would be as well," Ana says. "If you have seen pictures of Grace and Karen, you can easily see why anyone would love these two senior ladies."
Ana went to the Adoption Center straight away, and the rest is history. Ana tells us that although Grace and Karen were initially timid and apprehensive of new interactions, they adapted to their new home immediately. Their fur even started to grow back very nicely!
"They are always sweet, and they now bark, run, play with toys and nap a lot in comfy beds that are situated in all corners of our home," Ana says. "They are healthy and happy. Even though they do not have a single tooth in their mouths, they eat their food like champs."
Grace and Karen found not only the perfect pet parent, but four furry brothers and sisters as well—including one who is their same age! Thanks to Ana and the team at the ASPCA, these two special seniors were able to transform from abandoned, sick strays into beloved pets.
Ana tells us that she believes in the many benefits of adopting senior pets and that she hopes others will follow her lead. "I would like to encourage any potential adopter to look at the older dogs and spend some time to see their personalities," she says. "Their personalities are developed, and they mostly want to snuggle and be loved and cared for."
Please note, the donation page for Marnie's Old Pals will soon be closed, but you can still support the ASPCA's mission to help dogs like Grace and Karen through Come To Their Rescue: https://www.globalgiving.org/dy/v2/pe/project-edit/edit-page-1.html?project.projId=19173. Thank you for your support!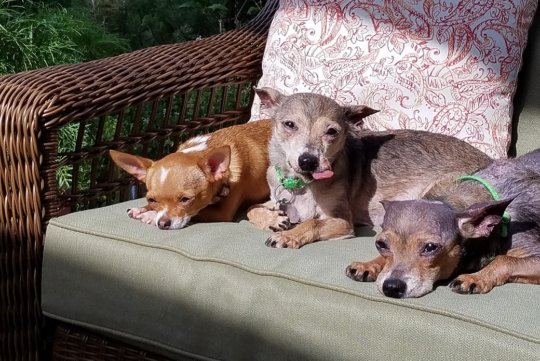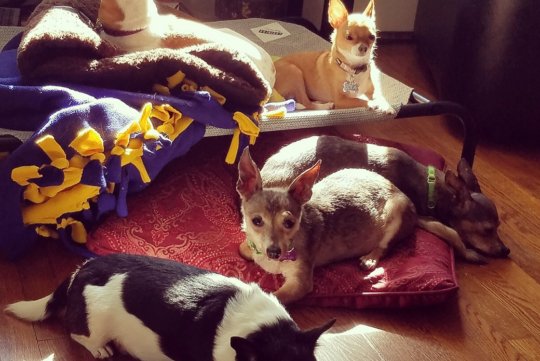 Links: