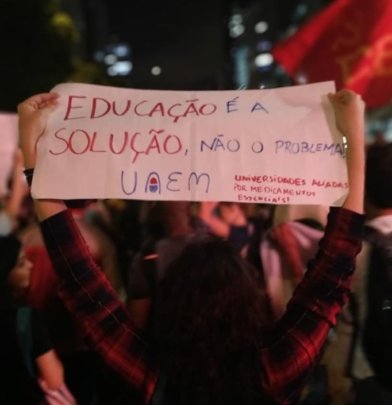 Brazil is making the news more than ever these days, and not always for the best reasons or causes. But although Brazil is facing difficult times, we have hope as young people are out there, doing their best to defend social justice and equity in health!
In Brazil, 95% of science is produced by public universities. Recently, the Federal Government has announced several budget cuts for federal universities, threatening their operation. In May, June and August, UAEMers joined national student movements in defense of Education and Science & Technology public policies. UAEM Brazil has, moreover, published an entire report explaining why public investments in research are essential to ensure the right to health - including the access to medicines.
In early August, during the 16th National Health Conference (CNS), in Brasília, our Brayzilian UAEMers had another great opportunity to defend its causes. The CNS is the event that best represents the "popular participation" in the Brazilian health policies decision-making processes. From August 4th to 7th, people discussed and selected proposals - originally raised during previous health conferences in Brazilian cities and states - to compose the 2020 - 2024 National Health Plan. UAEMers in Brasília, capital of Brazil, participated in the discussions and in the protest, in defense of the Brazilian Unified Health System (SUS) - a universal health system that celebrated its 30th anniversary last year.
We are grateful for all support to our young people as they fight for access to medicines, wherever! Thank you for supporting UAEM!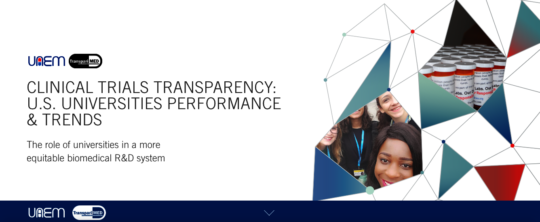 We are pleased to share that in late March UAEM North America, in partnership with TranspariMED, released a critical analysis of U.S. universities' continued failure to ensure public transparency of the results of their clinical research. In analyzing university compliance with a federal research transparency law, UAEM learned that only 15 of the 40 universities studied were in full compliance and that data for over 30% of trials was still missing. Failure to report clinical trial results in a timely manner has substantial negative consequences for patients and public health, and the significance of the findings was reinforced by media coverage of the release in major outlets including STAT, Nature (the world's leading science and technology publication), and Endpoints News.
In response to the report and UAEM's broader campaign to urge leading universities to become the first academic research institutions in the world to sign onto the World Health Organisation (WHO)'s Joint Statement on Clinical Trial Transparency, Director-General of the WHO Tedros Adhanom Ghebreyesus stated, "We advocate full transparency of which clinical trials are ongoing and ensuring all results are disclosed in a timely manner. This is consistent with the principal goal of medical research: to serve the betterment of humanity. In the case of clinical trials, full transparency on results advances both scientific understanding and timelines for product development and ultimately enables access to essential medicines. We would welcome Universities joining as signatories".
Immediately after the launch of our report we learned that several of the worst-performing universities called out scrambled to put their clinical trial data into the public domain where it belonged. This is a significant win for student advocacy! Further, some of the leading universities who were 100% compliant are now engaged with our student campaign team taking steps to consider if they can out-do their peers and be the first academic instiutions in the world to sign onto the WHO Statement for clinical trial transparency!
We urge you to explore the data and our microsite linked below to learn how these leading instutions could go further to protect the public and better safeguard access to medicines for the public good!
Links: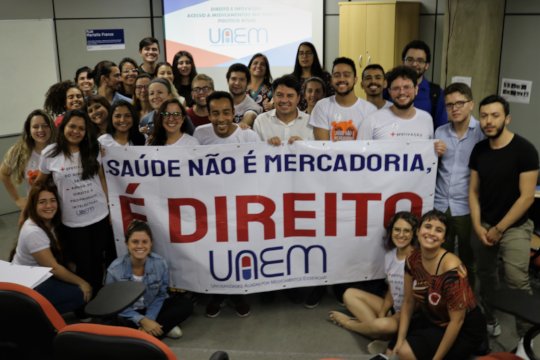 Our network is growing and we are happy to share with you some exciting news from Brazil.
In the end of March, UAEM Brazil held its annual meeting in the city of Rio de Janeiro. Members of all Brazilian chapters attended the meeting and it was the first time UAEMers from all countries where UAEM is present in Latin America were reunited! It was the UAEM Brazil Annual Meeting with the biggest participation of UAEMers from other countries: Argentina, Colombia and the United States. Students had the opportunity to discuss and learn about the importance of the Brazilian National Health System for the universal access to medicines in the country, neglected diseases and social determinants of health. It was also a moment to review UAEM's work in Latin America in 2018 and plan the future.
The new Coordinating Committee of UAEM Brazil was elected and, along with UAEM Global Campaign, three other topics were established for projects/campaigns in 2019: the defense of public researches and universities, antimicrobial resistance and the studen-driven empowerment of representatives of health councils to take action for the defense of the universal access of medicines.
Other good news are the efforts that have been made to reactivate UAEM chapters in two Brazilian cities: São Paulo and Pouso Alegre. An access to medicines seminar was held at the Law School of the University of São Paulo (USP) in the end of April and a conversation to start an UAEM chapter at the Medicine School of UNIVÁS in Pouso Alegre was initiated the with professors and the Academic Directory of the faculty.
We believe 2019 is going to be a very productive year for UAEM in Brazil.
Your support has made possible the growth of our network and we thank you for that. Together, we can empower students and their communities to take action for a better world.
Avante!
Luciana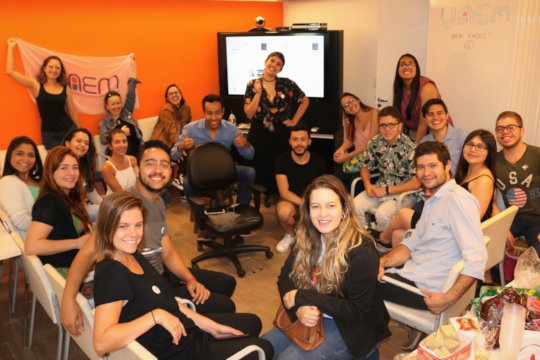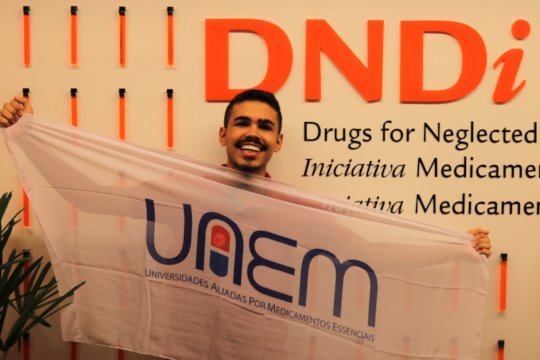 WARNING: Javascript is currently disabled or is not available in your browser. GlobalGiving makes extensive use of Javascript and will not function properly with Javascript disabled.
Please enable Javascript
and refresh this page.