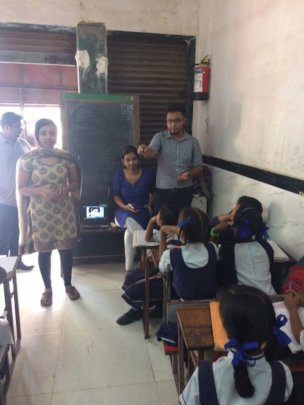 The following report is an update on the funds collected via GlobalGiving over the month of July 2017.
Expense Report
Total Funds Collected over GlobalGiving : 8,170 USD = Rs. 5,39,000 Approximately
Cost per child per month for meals served on 24 school days = Rs. 310/- i.e. 5 USD
Total Number of Children Served over July - 1600 Childen across 6 schools in Govandi and Mankhurd in Mumbai
Total Expenses over July - Rs. 4,96,000 i.e 7,515 USD
Total Balance by End of July - Rs. 43,320/- i.e 655 USD
Total Balance by End of August - Rs. 0/- (All funds collected over global giving were exhausted
Objectives Achieved from July 2017 to November 2017
1) Operations
2) Impact Evaluation and Data Collection
Health data for all 1973 students has been collected with height weight and BMI index
Subsequent, economic data of 950 parents has also been collected
3) Feedback from Beneficiaries
Schools have requested the programme coordinator to include eggs and protein rich ingredients in the meals served
4) Next Steps
All 1973 students will be provided meals till the end of the school year by using individual local donations we have been able to procure
Feedback from new school and all other managements will be taken
Inorder to boost the health of students in the community, the co-ordinator will now go to the community and select 50 parents who will be given additional knowledge and support on nutrition and health related issues
5) Health Checkups and Awareness Camps
DBM conducted Health checkups across all the schools under the programme to collect data about the students
Health awareness camps were conducted for students and parents with the help of volunteers from ITM college.
Current Impact report of the Students and the Community
In July 2017, collected data revealed - Of 1600 students, 20% highly undernourished, with BMI levels 23% below average BMI standards defined by the WHO.Now in November 2017, the children have moved from highly undernourished to mildly undernourished as the average undernourishment level is only 14% compared to 23% 6 months ago.
Data collected from Parents of these students reveals - Of 940 parents, 700 parents had all their children under the Mid Day Meal Programme. The remaining had 1 of many or a few of many children under the Mid Day Meal Programme. Data reveals that the parents who have children in the Mid Day Meal Programme, spend 10% lesser on food and health facilities compared to other parents/
Summary
Dharma Bharathi Mission is grateful to all its donors for their support. The above mentioned impact has only been possible because of your support. We thank you and look forward to additional support from all the donors in the future.
Overall, the MDM Programme has achieved its set objectives and will continue to adapt, learn and help in the progress of the community.