This year a large number of Sikh children are facing problems in paying thier fees for thier schools and colleges. Due to Pandemic, thier parents have suffered job / salary losses and business closures. The most vulnerable are the ones at the bottom of the strata - the taxi drivers, plumbers and carpenters etc, who despite low incomes were trying to educate thier children in good schools.
EduSikh is trying to help all these familes with whatever aid is possible. We are connecting these needy childen to Gursikhs who are desireous of supporting and even mentoiring such kids and youth. The donations through GlobalGiving are helping us in making this mission of helping these children take admissions and pay thier fees. We want to make sure that no child is deprievd of education due to financial stress.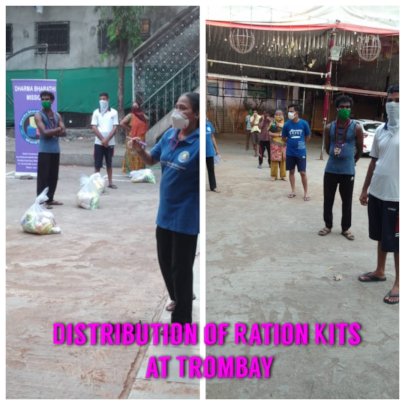 From March 2020, most of the schools were closed as the country went into a lockdown. These children supported by us, come from very vulnerable sections and even in normal times they were undernoursihed and not getting proper meals as thier parents are very poor.
Now thier parents lost thier jobs and earnings and so the food situation become very critical. So intsead of just feeding the children, we decided to support entire such families. We raised money and supplied Ration Kits consisting of Rice, flour, Oil, Lentils, salt, spices and other needy stuff so that it would suffice for a family of 4 for atleast 15 days.
The lockdwn was however extended to more than two months, so we had to do this 4 times. The condition of many familes was very critical and they needed more support. we tried to do our best and eveb supplied, things like Masks, Sanitaizers and even sanitary Pads as they could not afford these things.
In all with the support of our benevolent donors we were able to support a record 6040 families and the drive is still continuing. This translates to almost 1million meals !
Links:
The selection of needy and deserving students eligible for scholarship was continued all over India. After Mumbai and Pune, eligibility tests were conducted in Dehradun, Nalagarh, Kolkatta & Patiala. The target of reaching 550 students is being met steadily and surely.
After the selection, these students are being divided as per their standard, and mentors are being assigned for a block of students. Along with that weekly guidance classes are being held in subjects as per the requirements of the students. Guidance classes are also held for the parents to make them aware of the need to constantly motivate their kids as also to answer their queries if any. The whole attempt is to provide whatever is required to take these 550 kids to the next level of excellence.
In the summer holidays, the plan is to hold English and Punjabi improvement classes and expose them to reading quality books through programmes like library visits, reading sessions, meet the author etc.
We are extremely thankful to all our donors who have been extremely supportive of all our programmes and we look forward to your continued support and blessings.
WARNING: Javascript is currently disabled or is not available in your browser. GlobalGiving makes extensive use of Javascript and will not function properly with Javascript disabled.
Please enable Javascript
and refresh this page.