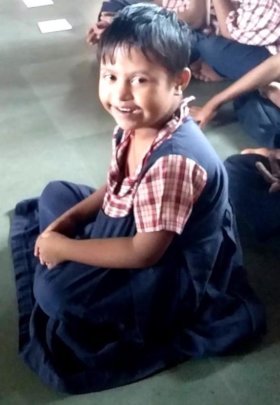 I am very thankful to present our fifth report of the project - Rehabilitate 250 disabled children in India via GlobalGiving.
We have received $1748 in the last quarter through the excellent support of kind hearted people.
We have begun a new academic year on 15th June 2018 after one and a half months of summer holidays with lots of preparations, enthusiasm and hope. We are aware that we are dealing with intellectually & physically disabled children who are in need of our attention and care. On 20th June 2018 we opened a vocational training centre to train the disabled children in various skills in Anugraha campus, Khed, Ratnagiri. There are 237 students getting trained in four schools.
Special education is designed in a way that all the activities in the campus are part of the learning process, curriculum aims at independence in self-help skills, academic skill development, economic rehabilitation and mainstreaming. Class teachers plan out Individual Education Program (I.E.P.) for every child in which child's current level is assessed and short term and long term goals are determined. Language alphabets, numbers, colors, good habits, basic concepts, good manners, reading and writing and general knowledge are taught. Special services like physiotherapy, occupational therapy, speech therapy etc. are given to the needy.
Some of the co-curricular activities conducted in this quarter…
On July 2nd Jeevdan students were introduced to paddy cultivation that they understand significance of agriculture and eco-friendly life style. On June 17th students presented cultural programs on the occasion of 18th anniversary of Jeevdan special school. On 21st June International Yoga Day was celebrated. On August 15th all the schools invariably celebrated Independence Day. Festival of Raksha Bandhan too was celebrated in the school. Large number of nursing students, college students and others visited the school and celebrated with students.
We are happy to share with you few success stories…
Ashwini (name changed) is a seven year old little girl with intellectual frailty and cerebral palsy affecting all four limbs amounting to 50 % disability. This girl child was admitted to Jeevdan Special School in 2017. Child was not able to get up, stand or move a step ahead without help at the time of admission. Her eye-hand co-ordination and fine motor functioning was very poor that she was not able to hold anything. After one year and two months of physiotherapy there is extraordinary progress in her gross and fine motor skills that she is able to get up, stand and walk independently and eat and drink with own hands. She studies in primary group. She has made remarkable advance in indicating her toilet needs and extended her duration of urine holding capacity from five minutes to one hour. Because of speech therapy she has improved her communication skills and tries to express her needs in simple words. She greets people and mixes well with peer group.
Ramesh (name changed) a 12 year old boy, was admitted to Jeevdan Special School in 2013. He was diagnosed with severe intellectual disability and autism (disability 80 %). Child did not develop speech and expressed his needs through gestures and sounds. Child found it difficult to mix with peer group and kept aloof or ran away from students and teachers. After four years of continued training, speech therapy and special education he improved very much. He has made significant improvement in self-help skills and is interested in music and dance. Parents are overwhelmed by the progress of the child.
We are very thankful to every one of you for helping us to help the children who need lots of care and attention. Thank you for taking this project as yours and travelling with us. Hope you will share about this project to your friends and expect they too will join us in future.
We expect many more like minded people to be part of this cause...