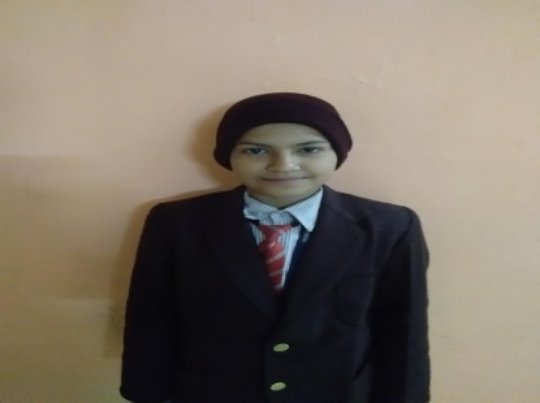 The fair-smiling boy [now at DESIRE Society Care Home ] was at home with his family. He has twin bother and sister younger to him. The 10 years old boy lost his mother when he was just 6years old. The cause of death turned out to be HIV positive case. After death of mother , the father diagnosed with HIV started looking for an orphanage.
The paternal family also wanted the children to be admitted in orphanage. Both his younger brother and himself was admitted in our care home. All the three children in family are diagnosed with HIV disease. We have taken up the task of HIV testing and ART usage for him.
Recently he lost his father too and performed the last rites being the eldest boy as per family tradition.We are committed to work for such children so he will be taken care by all means.
The primary task of nutritive food is well planned and goes as per diet chart at care home level. The healthcare is prime concern for such children. He is regularly put on ART medication. The balance of food/ medical care has improved the over all growth of this boy. The discipline taught for daily routine in this context is followed by him. He is quite obedient in all respects while undertaking daily routine schedules.
He takes extra care when it comes to look after the younger inmates at care home level. The discipline learned is passed to other inmates with his involvement. At home with parents , he has started his education in Government school. After the admission with us , he is admitted into a private school. The english medium private school studies is also adapted well at his end. He is scoring well in private school. The general knowledge at this younger age is quite impressive. He want to be the topper in his class. We at DESIRE Society are going to give extra care for fulfilling his dreams.
The continued support from like-minded groups over the years can make us to strengthen such children's better living at care home level.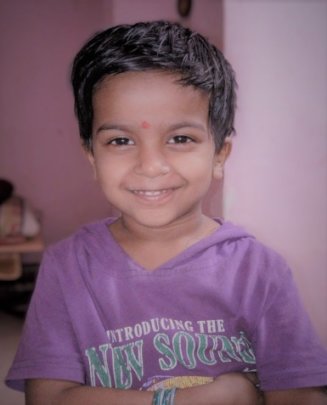 CHILD PROFILE
YEAR OF BIRTH
20-10-2014
ADMISSION DATE AT DESIRE Society
19-01-2019
MOTHER'S STATUS
(Expired)
FATHER'S STATUS
(Expired)
BACKGROUND
Girl is currently 4 years old. She is a very vibrant child. Both her parents were reactive She has an elder sibling who is non-reactive. She lost her mother within few months after her birth. Due to a lot of family issues her father was absconding. She and her sibling were been looked after by her father's mother. However unable to make ends meet for the siblings, her grandmother used to take them and beg on their village streets in order to fill their stomachs. This act by her grandmother was informed by their village neighbour to her mother's sister who lives in city. On hearing this, her aunt then went to the village and brought both the children to her house. On arriving to city, her aunt medically tested both the siblings for HIV out of which she was detected as reactive and the other sibling as non-reactive. She was immediately put on ART treatment at the Municipal Hospital. However her aunt family was willing to look after the non-reactive child but was very unsupportive of allowing her to live with them as she was reactive. Due to this, her aunt faced a lot of harassment from her husband and was even thrown out of the house. Her aunt then came across the ORW of DESIRE Society at the Hospital. After understanding the organization and also since she was unable to look after her own family, with a heavy heart her aunt placed her at DESIRE Society so that she could be looked after well with equal opportunities and would also get a chance to move towards a bright future.
She is a very loving child. After coming to DESIRE Society, she is very happy and also had adjusted well with the other children. She loves singing and also loves to have sweet dishes like gulab jamun, ragulla, kheer, chocolates. She also loves playing with dolls.
FUTURE
DESIRE Society has put this girl into the formal school in this academic year.
Success story of Boy Child
The smiling boy [now at DESIRE Society Hyderabad Care Home ] was at home with uncle & his family. After the demise of his parents [ parents died with HIV ] , Uncle has taken up his responsibility. This boy started falling sick quite often. The tensed relatives took him to Govt hospital.He turned out to be HIV positive too. It was a case of mother to child transmission.
Uncle's poor economic condition led this boy to suffer. The health condition started deteriorating thereby it was difficult for them to take care of him. His uncle started looking for shelter home. The DESIRE Society outreach worker stays in contact with Govt Hospital so they referred him to us.
At the admission time, he was quite weak. We have designed specific diet chart for him which took a while for him to gain strength. The ART drug adherence is maintained very well within scope of care home , IDA Bollaram. The supplementary nutrition kit [ Pediasure as one of component ] is added up to give a balanced diet pattern for such special [HIV] child.
The health condition of this boy improved under the supervision of team of doctor and paramedical staff. This led us to have the confidence of sending him to school. He goes to private school [ SSVN school ; 3rd class] at present with focus on over all development of child.He is pet of his teachers because of his innocent look on face. He is quite regular in doing home-work. He is quite sure of studying well in future too.
He is very talented as part of regional [ TELANGANA REGION ] folk singing which he has grasped by heart. The traditional regional dancing is unique with this boy and this could happen even without any trainer teaching him for same.
The continued support from GLOBAL GIVING over the years can make us to strengthen such children's better living at care home level.
WARNING: Javascript is currently disabled or is not available in your browser. GlobalGiving makes extensive use of Javascript and will not function properly with Javascript disabled.
Please enable Javascript
and refresh this page.