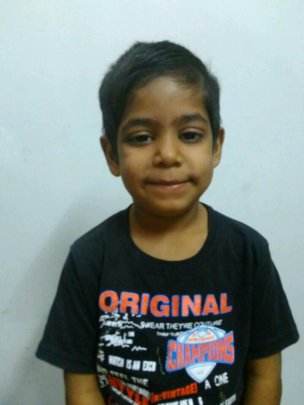 SARTHAK SUCCESS STORY
Sarthak, [5yr old, HIV boy child] was born to HIV positive parents in New Delhi. It is a mother to child transmission case so he turned out to be a HIV positive by birth. His mother got to know about her positive status during pregnancy. After demise of his parents, Sarthak and his brother both are staying at their relatives place for some time.
Such HIV children need special care in terms of nutritive food and medication on daily basis. Being continuously neglected by the society, children's relatives lost hope and not able to find any place for the survival, as they are alone with two HIV children. During his relative's continuous search for the proper care home for HIV/AIDS children, she met our Program Facilitator.
He brought Sarthak and his brother to the DESIRE Society as it is a care home for HIV/AIDS children. DESIRE Society, has pledged to give him and his siblings basic core needs. The nutritional diet is basis of our services to be given to him. He has gained weight after admission. The net result is increase in CD4 count in turn giving them chance to fight against odds of this dreadful disease. The health wise improvement shows the love and care provided to this HIV boy in Gurgaon Care Home level. We are trying to get him enrolled in formal school.
The over- all development of this child is targeted area for us.
E Renkusha Case Study
E Renkusha is an orphan child hails from Regode Village, Narayanked (Mandal) Medak (Dist). Her parents were illiterate and worked as daily agricultural labors. She lost her parents due to HIV at age of 06 yrs. Her maternal aunt discriminated her from own children's then her maternal uncle decided to take her out from the house and give education. Hence he approached various organizations to provide shelter and education. At the point, he came to know about the DESIRE Society; at the same time Sr. Project Associate Mr. Anil visited the village to conduct the medical camp. The relatives enquired about the organization and admitted both the children's Deepak and Rinkusha in DESIRE Society. She was only 09 yrs, when she got admitted to DESIRE Society for care, protection and education. Rinkusha was very calm, quiet and innocent during her childhood. As her maternal uncle wants to provide her education so handed over her to DESIRE Society.
Desire society support to Rinkusha
After the Admission she was under course of Anti Retroviral Therapy (ART) and now is recovering due to the proper attention bestowed by the members of the Desire Society. As we know, education is most important, so she was admitted to Government school at Bollaram. The little girl grew up with care and love of mother from the care takers working society, sister and father at Desire Society. She has been loved and protected by other inmates and now this girl is completed 20 yrs of her beautiful life. She is perusing her career in Degree Second Year in commerce stream. She is very ambitious and wants to do Hotel management. Apart from studies she is very hard working and always help to other inmates with necessary help in studies. She is very good in dancing and artistic works, fond of Cooking, Mehndi Art and Some Useful Project Work (SUPW). She has completed Basic training in computers. The journey from 09yrs to 20 yrs has been successful and admirable.
DESIRE Society is committed to support her to complete further education to acquire the brighter future and also help in all required manner until she gets married and settles in LIFE
Observations:
Rinkusha is very intelligent, hard working, and helpful and well mannered girl.
Situation:
Balraj hails from rural area of Lingarajipet, Mutraja Pally village, Gajwel Mandal , Medak District –Telangana. He is the elder of the two siblings (Ganesh and Kumar) Born to agriculture labors Bala Narsai and Bharathi. Both the couples were infected with HIV and lost their lives due to this deadly virus AIDS & unfortunately Balraju and younger one Ganesh were also infected with HIV during their birth. The grandparents recognized this later. After knowing about the HIV infection to the children the grandparents were in helpless situation to lend their helping hand to these small children's due to poverty and stigma associated with HIV / AIDS. The Grandparents are too old and not in situation to care of these children's, the old parents brought the two children's Ganesh and Balraj to the DESIRE society.They came to know about DESIRE Society from our outreach worker's presence in their community.
Master Balraj at DESIRE Society:
Since the child was admitted on 05th June 2007, the DESIRE Society has been rendering its best for the quality and extended life span for this child. At the time when the" Master Balraj" was admitted he was malnourished, badly required medical attention as he was neglected by his family members due to poor socio economic conditions. His CD4 count was 200cells/ml which was supposed to be at least 500 level. He was offered proper counseling, treatment and medicines for opportunistic infections (OIs) by our medical team. He is also able to receive round the clock health care and monitoring. Master Balraj was put on ART (Antiretroviral Treatment, a lifesaving drug) as her CD4 count was low. He is also put with a balanced diet as ART has got more side effects. Exactly here DESIRE Society has put more attention on planned nutritional diet which truly helped this child to continue drug adherence, thus lead him to gain physical weight and height improvement. After these continuous efforts have put by DESIRE, now Master Balraj health condition is getting stable and heading progress. Improved health condition has blessed this boy to resume his education. Now he is in Degree Second Year while attending a Government Degree College, Located in BHEL Township RC Puram.
"I want to become a charted Accountant by that I want to serve my village people and take care of two brothers" are the words of this innocent Master Balraj. We at DESIRE Society hope Master Balraj should live long and may his dreams come true like a normal boy via contributions from well wishers.
WARNING: Javascript is currently disabled or is not available in your browser. GlobalGiving makes extensive use of Javascript and will not function properly with Javascript disabled.
Please enable Javascript
and refresh this page.