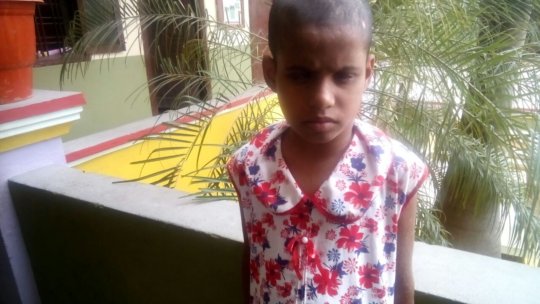 Situation/ Back ground of child:
Partially blind girl child " Tanmay " was traced sitting idle at Film Nagar Sai Baba temple in Hyderabad She was identified by the Tv 5 Journalists. Child is orphan and infected with HIV+ from her parents. Her mother passed away in the year 2013 with the same complication of the HIV+ . She lost father in the year 2016 with the same deadly virus. After knowing about the child situation, TV5 (Telugu language news channel based in Hyderabad) director Balwanth Reddy and his colleagues admitted the child Tanmaya in the DESIRE Society, Institutional care home. As the child is completely Orphan one of the like-minded individual Shailaja, Manager, Nuzen Herbal Pvt LTD came forward and became the guardian of the child.
Tanmay at DESIRE Society ICH ,Hyderabad
Since the child was admitted, the DESIRE Society has been rendering its best for the quality and extended life span for this child. At the time when Tanmay was admitted she was malnourished, badly required medical attention as she was neglected by her family members.The negelected condition arose due to poor socio economic conditions. The CD 4 count was pretty low for her. She was offered proper counseling, treatment and medicines for opportunistic infections (OIs) by our medical team. Tanmay is also able to receive round the clock health care and monitoring at care home level , IDA Bollaram. The child was put on ART (Antiretroviral Treatment, a lifesaving drug) as her CD4 count was low. He is also put with a balanced diet as ART has got more side effects. The DESIRE Society has put more attention on
planned nutritional diet which truly helped this child to continue drug adherence.This led her to gain physical weight and height parameters. After these continuous efforts by DESIRE Society, now Tanmay's health condition is getting stable and heading towards progress.
Consultation for her eye treatment is under process .DESIRE Society is working to bring support for the treatment and for the connectivity of the eye hospital in this regard. We will be needing extra monetary support not only to cover her medical expenses for HIV related medication but eye treatment needs extra care.
Combination of HIV and eye sight issues are dealt with assigning of care taker for her special care. The extra care for food is also on rolls especially to cover her nutritional needs. Special diet chart is maintained for her .The educational status is still put on hold as she needs eye care at first instance.
Hope the combination of special diet and medical focus will make her to stand at her own feet and start attending the school too. The GLOBAL GIVING is platform of giving them a chance of better living in future too.