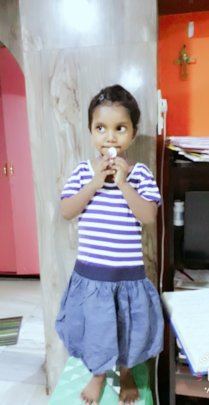 YEAR OF BIRTH
30-06-2013
ADMISSION DATE
22-06-2017
SEX
Female
RELIGION
Marathi Hindu
FATHER PROFESSION
Tailor
BACKGROUND
The baby girl is HIV positive since birth.She has her mother and father and 2 other siblings. Both her parents are reactive while her sisters are non-reactive. One sister lives with her parents while the other lives with her grandmother. At time of her birth, she was not given the dose to prevent HIV due to which the disease was transmitted to her. Since her parents found it difficult dealing with their own health problems and looking also after her had become a tedious task, her mother found DESIRE Society could help her out and also provide better opportunities for her.
She is being treated from Sion Hospital. She is aware that the doctors are trying to make her better. She is studying in the junior KG class in Maharashtra Vidyalaya School in the English Medium. She is not fond of studying, and would rather be playing with her peers. She loves to laugh in class and sing the ABC's.She loves to watch television. She loves watching the cartoon called "Chota Bheem". When She initially came to Desire Society, she was distressed at being separated from her family.
She was and still is too young to fully understand her health condition and the reasons for her removal from home, and misses her parents. Although she still misses her family, she loves to live at the care home.
ART medication is put on her daily routine.Staff keeps a strict vigil in this regard.Nutritive food is given as means to safe guard her from any infections.The redesigned supplementary pack [ Pediasure regular/almonds etc ] are introduced/added to raise her immunity levels.
All of the older girls love to take care of her. The care takers ensure that she adheres to the appropriate medication in order to successfully manage her HIV condition, until she is old enough to have more responsibility and work towards managing it herself.
In this environment, she continues to thrive and grow, and everyone loves seeing her infectious smile. The greater need exists to improve upon living standards within her limited life span. The transition from rented building to our own care home is one of necessary steps involved with help of supporters to give sustainable life pattern.
DREAMS
She dreams of becoming a doctor and wants to give people injections to make them better.