The 8 year old girl [now at DESIRE Society Hyderabad Care Home] was at home with her grandmother. After the demise of her parents [parents died with HIV] , grandmother has taken up her responsibility. The girl was tested and she turns out to be HIV reactive child. The baby was contracted the disease during her birth.
Grandmother's poor economic condition caused this girl suffered yet again. Even, grandmother is old so she wanted child to be protected in the safe hands. The health condition of child started deteriorating; thereby it was difficult for grandmother to take care of her. She started looking for helping hand to accommodate the baby. Thus, the outreach worker of DESIRE Society came in contact with the family of this girl.
At the admission time, she was quite weak physically. Our team had designed specific diet chart for her which took few months for her to gain strength and restore health. The ART (antiretroviral treatment) drug adherence is maintained very well within scope of care home, IDA Bollaram. The supplementary nutrition kit[ Pediasure / Zincovit syrup/Calcimax P syrup are main components] is added up to give a balanced diet pattern for such special [HIV] child.
The health condition of this girl improved under the supervision of team of doctors and paramedical staff. The opportunistic infection of ear infection is under control because of presence of medical-care team. Health gain of this baby has motivated us to sending her to school. Hence, she has started going to private school [ SSVN school close by to care home]. Now our focus is on over all development of child. She is pet of her teachers because of smiley face.
Now she speaks with a confidence and learns very fast from older inmates at care home level. She want to be a teacher in her life, the baby says. " DESIRE Society " stands for fulfilling the dreams of this innocent cute girl.
The continued support from GLOBAL GIVING FOUNDATION over the years has influenced DESIRE Society to serve such children suffering with HIV/AIDS in India .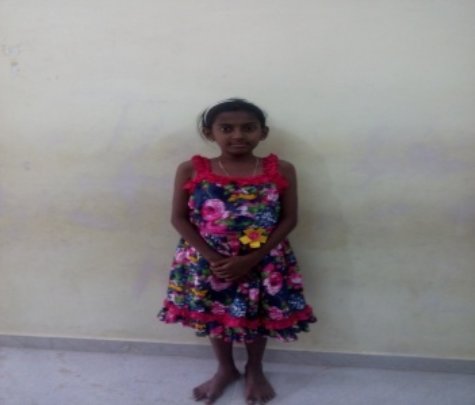 SUCCESS STORY OF SPECIAL CHILD
Background:
Baby girl was born on 31st December 2001 in Mangalore village near Udupi, India. When she was studying Sr. KG in school she fell from the stairs and she got hurt on her backbone. Doctor told that she needs complete bed-rest for three months. After that incident, her parents had taken care of her at home. When baby was in 2ndstandard her father got sick in 2009 when they showed the doctor. Doctor said that he is suffering from TB and liver infection. Her father was on medication. But her father died on 21st Nov 2009. Till next 4 years her mother was taking care of her. In 2014 in summer vacation she had suffered with asthma problem.
After that incident she was hospitalized in Sion hospital, Mumbai. When doctor tested her blood, doctor got to know that she is HIV positive. Doctors had started her ART (antiretroviral treatment) medicines. After few months passed, her mother was unwell and that time she got admitted in Sion hospital. Her mother was not able to take care of Baby and herself so she decided to go to village. Her cousin sister met to counselor in Sion hospital. She had suggested her cousin sister about DESIRE Society to take admission for her. After two months Baby girl came to Mumbai and got admitted at DESIRE Society.
What we did:
We had put her on drug adherence with special nutritious diet. The dedicated care and love extended by team DESIRE and balance of nutrition and medication in time has drastically improved her life pattern. Today the girl is very happy being at care of DESIRE Society and her smile on the face indicates that she is at very right place and is in the safe hands.
Her height/weight is improved after admission in our care home. The care takers took extra care for her.She has set trend for other inmates to follow.
Future of Baby Girl:
Now the baby is very cheerful while having peer group of inmates at care home of DESIRE Society, Mumbai. She has passed class 10th with good scoring. She has inclination in science topics. She is assigned with tuitions to keep same spirit during course of her studies. She is going to study in college now.
She wants to become a scientist in future. DESIRE Society thrives to make realize of baby girl's dream through the support from GLOBAL GIVING platform.
SUCCESS STORY
The boy lost both parents with HIV. It was at tender age that he was left alone and found to be HIV positive child. The family was reluctant to put him in house.
The family stared looking for an alternative solution for him. Our out-reach worker in community was connected for this reason.
We have admitted him in Hyderabad Care Home level,IDA Bollaram a decade back. We have given special attention to him for malnutrition at that point of time. Nutritive diet was assigned to take care in this aspect.
The medical team [ doctor and nurse ] has monitored HIV testing and ART drug adherence pattern on regular basis. Beside ART , the opportunistic infections were treated and he got special attention.At present , he follows the medication to put him on preventive mode.
Supplementary nutrition has added value in their daily intake of food. Diet chart with high protein content is base of his enhanced immunity levels.
He is studying in class 10th and got promoted for next class. He has artistic hand to draw. The sports loving boy has mind set to play khabadi and was part of regional zone champion team as conducted by one of corporate.
He has plan to serve the community in need. The " GlobalGiving" is assigning such child to be able to study and lead descent independent life span in future.
WARNING: Javascript is currently disabled or is not available in your browser. GlobalGiving makes extensive use of Javascript and will not function properly with Javascript disabled.
Please enable Javascript
and refresh this page.