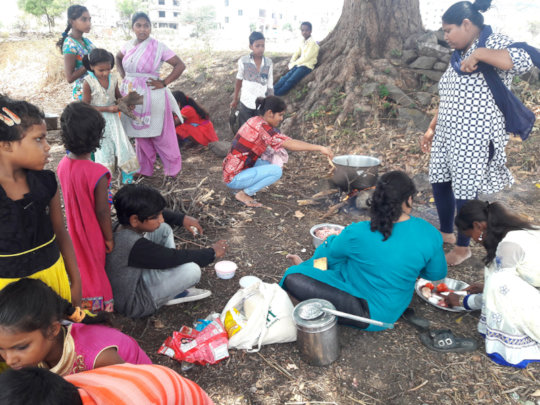 Quarterly Progress Report May 2018 to Jul 2018
Thanks to all our donors who supported and encouraged us to continue Care and School Education of Street Children Project in Pune city. Foundation has conducted following activities from May 2018 to July 2018 for these children :
April / Mid April, May are the months of summer holidays for school children. Results are declared by April end or early May. Schools re-open in mid June. New school admissions are given in April / May & June.
1st May 31st May 2018
To keep the sponsored children engaged and for their further development and to keep their interest alive in school education we arranged month long summer camp in this period for 1200 street children. Our sports teacher arranged various indoor and outdoor sports activities, physical training. These children were taught to make paper flowers, dance, to make various articles from discarded material. They were taught about cleanliness and hygiene. To imbibe good manners and culture, special classes were arranged.
1st May – Indian Medical Council had arranged health check up camp for 200 street children wherein their general health check up, hemoglobin check up etc was done and the medicines were provided to the needy children.
12th May – 60 street children from Phulenagar location from Vishrantwadi area were taken to Rajiv Gandhi Zoo and were given information about the animals they saw in the zoo.
29th May – 70 street children from Khadki area of pune were taken on visit to Science park.
This summer camp was very useful for the children as they learnt many skills, their communication skills and observation skills improved.
1st to 30th June 2018
1st to 15 June – List of newly sponsored children for school admission was prepared and their parents were inquired about certificates needed for school admission.
Applied for their Birth certificates, Aadhar card (Unique Identification Card issued by Govt. of India) and passport size photos were taken.
Children were admitted in various schools.
Transport was arranged for children whose school was at long distance.
School material was distributed.
3rd June – Indian Medical Council (IMA) had arranged general health check up for further 200 street children. World Environment Day was celebrated involving these children where they did tree plantation. Children from Phulenagar performed musical dance and children from Khadki presented drama.
July 2018
Newly admitted children were counseled to regularly attend the school and are accompanied to the schools.
Arranged extra coaching wherein they are taught counting, recognizing alphabets, basic reading, writing and mathematical skills. This is very essential as most of these children had never attended the school and they are enrolled in various classes according to their age.
28th July – Reputed Marathi newspaper Lokmat and arranged magic show for these children.