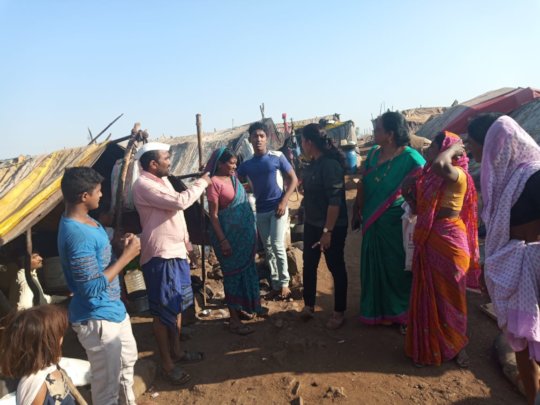 Quarterly Progress Report February 2019 to April 2019
Thanks to all our donors who supported and encouraged us to continue Care and School Education of Street Children Project in Pune city. Foundation has conducted following activities from February 2019 to April 2019 for these children :
February 2019
3rd February – One donor donated notebooks, pens, pencil for 120 children from Range Hills, Khadki, area. 10 children studying in 10th class were given school bags and educational material. There after they participated in group activities.
17th February – 20 children staying on the road at BRT Bust Stop Vishrantwadi area were given blankets, and hygienic material by a donor
19th February – Children from all locations were given information about great king Shivaji along with the information about various forts on the occasion of his birth anniversary.
25th February – Surya Barbal Group arranged hair cutting of 150 children from Phulenagar, Katevasti, BRT bus stop area.
28th February – On the occasion of Science Day children were given information about science and science tests / experiments were shown.
March 2019
3rd March – Health Check Up Camp for 150 children from Phulenagar, Katevasti, Lohgaon, BRT bus stop consisting or HB, General Check up, ENT checkup etc.
4th March – Team Building Games were arranged for the children from Katevasti along with drawing competition.
8th March – All the women from various locations were gathered together and were given information about Women's Day and they were given eatables. Those women who were sending their children to schools clean were felicitated.
13th March – Annual (Final) exams began and the children were given pens and pencils.
14th March – Some children from Pudhari vasti passed with distinction the Pre-Scholarship exam for Std III and Std VI
21st March – All the social workers celebrated the festival of Holi with the children.
31st March – A program 'Khushiyonke Rang' was arranged for the 300 children and they participated in dance and were given school material.
April 2019
1st April – Children having their final exams were accompanied to school and were given guidance about exam paper.
3rd April – Master Rohan Garud was referred for removal of tonsils and was taken to Dr. D.Y. Patil Hospital by our Social Worker wherein he was operated.
9th April – A girl from Range Hills was taken to Sassoon General Hospital for IQ Testing.
15th April – Surya Barbal Group arranged hair cutting of 60 children from Sangvi and Dapodi areas of Pune.
19th April – As most of the children finished their final exams 1 ½ months summer camp is arranged consisting or sports, crafts, drawing, dance, singing and study / academic activities.