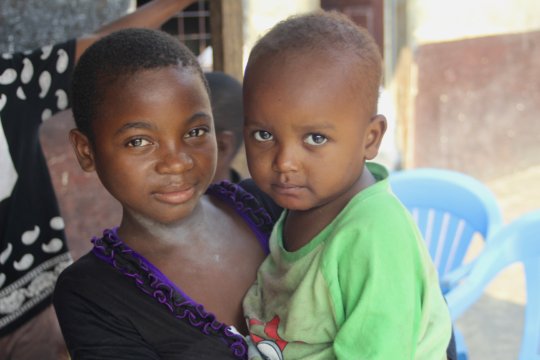 Dear Donors,
Thank you again for supporting Farms for Orphans! We couldn't accomplish this work without you.
The money we raised in the June fundraising drive was well utilized this last month, when I traveled to Kinshasa, Democratic Republic of the Congo, where our current activities are taking place. I traveled with our US-based project partners, Global Orphan Foundation. Here are some highlights.
The first half of this trip was spent meeting with our Congolese collaborators and visiting with our orphanage partners. We met with the director of the School of Environmental Sciences at the University of Kinshasa, whois conducting a market analysis on our behalf. We are looking at the availability of all edible insects sold in Kinshasa's markets throughout the year, an analysis that will help us determine which edible insects we will target next for farming. We also met with our colleagues at the Food and Agriculture Organization of the United Nations and Loyola University Lastly, we meet with the mission office for the US Agency for International Development in Kinshasa; Mbuji Mayi (central Congo), where we plan to expand operations, is one of their priority regions for development assistance. They were very interested in our work and the possibility of collaborating with us once we do start to work in Mbuji Mayi. These partnerships will help Farms for Orphans continue to expand our reach to the millions of orphaned children in DR Congo and beyond.
In between meetings, we visited with three of our orphanage partners. It is always nice to visit with the children! During one orphanage visit, the caregivers were preparing the second (and final) meal of the day. The meal consisted of fufu (a mixture of cornmeal and cassava root), greens and fish - SIX (6) small fish for more than 50 children! This was one of the few days/week that a protein would be provided to the children, and it was not nearly enough to adequately nourish their hungry and growing bodies. These orphanages will benefit greatly from our program and are very excited to get started.
Our second week was spent training representatives from five orphanages on starting their own palm weevil larvae farms. These five orphanages have a combined 1,000 children in their care who will benefit from these farms. Thanks to your support, we were also able to provide all of the tools the orphanages needed to get started ($250/farm kit). We are all so excited to watch their farms GROW!
Last but not least, we're sure you'll be curious to hear that during this trip and for the first time we tried the palm weevil larvae (mpose in Lingala) we're currently farming in DR Congo. They were cooked in their own fat (they have a very high fat content) with spices. They tasted like little breakfast sausages. Delicious!
On behalf of the children, the orphanages, and all of us at Farms for Orphans, thank you again for your interest in our work. You, dear donors, made this happen!
Sincerely,
Amy Franklin
Founder and CEO, Farms for Orphans, Inc.