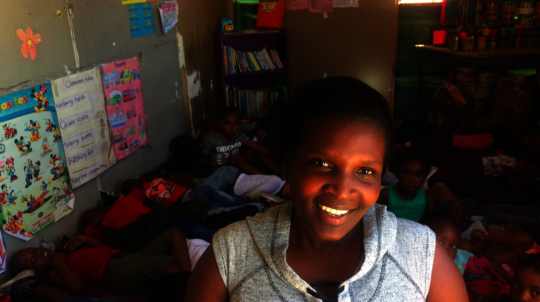 The holiday season has arrived, and here in Cape Town, we are also celebrating the end of a phenomenal school year! The children at the preschools and children's homes with whom we partner are the reason we exist, and we are excited to be marking this special time of year with graduation ceremonies, outings, and other celebrations. Here's a snippet of what we've been up to and what we're thankful for during this season of love, family, and gratitude.
All three of our preschools are currently celebrating their "graduates" as they prepare to move on to Grade R (Kindergarten)! Ubuhle Babantwana just held a graduation ceremony 2 weeks ago for their 10 students who are moving ahead. Blessings Educare is preparing to celebrate their 37 graduates on December 1st. QQ Section preschool took a special year-end field trip to Cape Town's famed V&A Waterfront to congratulate their littles ones on a job well done. All three of these projects look forward to welcoming precious new students in the new year, thanks to the support of our donors.
This month also marks the end of a successful first year for Molo Mhlaba, the STEM-focused elementary school founded by our partners, Thope Foundation. We are proud to lend our support to this one-of-a-kind all-girls school in Khayelitsha, which educated 38 pre-K girls in its first year.
The children's homes with whom we partner continue to thrive as well. Two of the older girls at Bathandwa began serving as assistant teachers in the township this year, after graduating high school. Through this opportunity, they have received funding for college and have registered for the 2019 school year!
We are grateful for your support in making all of this happen, and we'd like to share with you a few other things that our staff, our partners, and the children we serve are thankful for during this holiday season.
I am thankful for Molo Mhlaba, it's a school for little girls. I am thankful for Rethabile, the founder, for opening the girls school. We are very very thankful. — Nasiwe, teacher at Molo Mhlaba

My senses at work, my eyes I use to look and see all the pretty things that surround me. My ears to catch each tiny sound we make and the sound that is all around. My tongue can talk, can taste, can sing about each wonderful new thing. My finger can point, my hand can touch, my nose can smell." — Pre-K student at Blessings Educare

I'm thankful for being alive. And I'm thankful to my team for supporting me. And I'm thankful to the projects for allowing us to work with them and I'm thankful for CHOSA to give me this opportunity. Last but not least, I'm thankful to my father for being a mother and father to me, to raise this wonderful person, me!" — Zukie, CHOSA staff

I am thankful for being a teacher of Kindergarten kids because they are very nice, they are humble kids and I love them because there is more potential I can get from them. They are very friendly and they are good listeners actually. I love them too much." — Nonkosazana, teacher at Blessings Educare
Check out our Thankfulness video to hear more voices from Cape Town! All the best to you and yours during this festive season.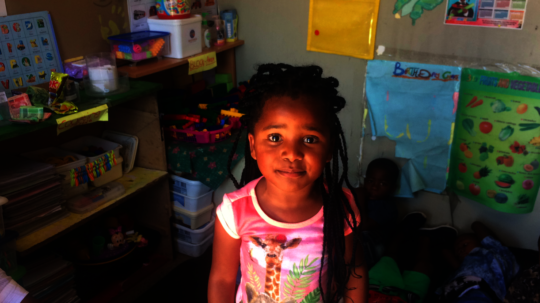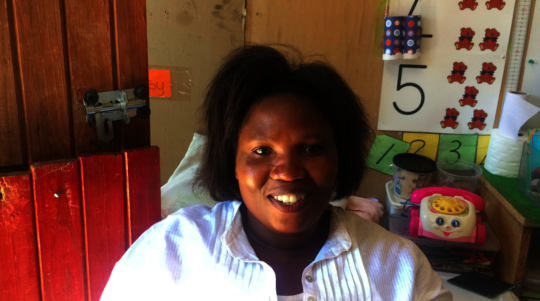 Links: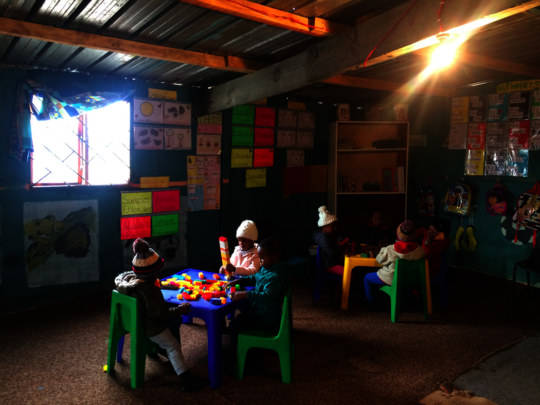 One of CHOSA's partner organizations, Ubuhle Babantwana (which means "beautiful children" in isiXhosa) recently held a successful fundraiser to get their community involved in supporting their work of educating local children. Held on August 9, which was Women's Day in South Africa, they hosted guests from the local community to come and join in the fun of a preschool pageant. The children had been practicing for the pageant weeks before, and did a great job showing off all that they learned on the day. A crowning of Mr. and Ms. Ubuhle wrapped up the successful day and celebrated the power of grassroots community education structures.
CHOSA loves seeing our partner organizations host fundraising events like this, because it is at the core of our mission to develop and build sustainable local organizations that take their own initiative to construct strong community based programs which support South African children. What also makes fundraising events like Ubuhle Babantwana's special is that the rest of the CHOSA community of partner organizations we work with is so supportive. While this fundraising event was for Ubuhle Babantwana, most of the other local projects that CHOSA works with and supports with grants also came to attend and support the fundraising efforts. This shows the camaraderie and team spirit that is built across CHOSA's network, and the special bond that community based organizations have, understanding the journey through vision to growth and impact. CHOSA continues to celebrate our partner organizations and is incredibly proud of the initiatives they have taken to expand their own sustainability to drive change within their own communities to generate positive outcomes for South African children.
Links: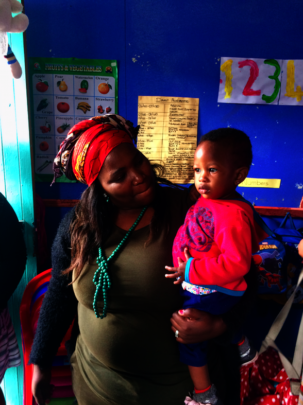 CHOSA was recently able to add another project to our list of partner organisations who we support with unrestricted monthly grants. We are proud to be able to begin funding Blessings Educare Centre located in Delft, Cape Town. We know this will allow Blessings to continue to grow and expand in order to provide preschool education to the children of the local community. Your continuous support of CHOSA's work has allowed this dream to become a reality.
After building a relationship with Blessings in 2016, CHOSA began working with the preschool to find a safe spacious location for the school to grow, after quickly outgrowing the small apartment that initially housed the program. After transitioning out of the apartment and across the street to an open plot, Blessings has grown into the main preschool in the local community. They now have over 100 children receiving care and love on a daily basis from the kind staff at Blessings.
With ambitions of expanding Blessings program from a preschool into also including an after school program to keep children safe after school before their parents arrive home from work, the founder and principal of Blessings, Nomsa, is continuously working hard to create a positive space in her community for the children who also call it home. We believe that the addition of CHOSA's unrestricted grant to Blessings operations will allow her to further expand the current programming she is able to offer, as well as increase staffing to allow the vision of an after school program become a reality. We cannot wait to see where Blessings will go from here!
WARNING: Javascript is currently disabled or is not available in your browser. GlobalGiving makes extensive use of Javascript and will not function properly with Javascript disabled.
Please enable Javascript
and refresh this page.