We are hopefully seeing the light at the end of the tunnel in terms of COVID in South Africa now, and we want to thank you again for helping us be able to be such a responsive organization throughout this time. Through your support we have been able to provide over $20,000 in emergency grants that have helped to cover the cost of PPE, additional food resources, supplementary educational material for learning at home, and continued financial support when other organizations funding was cut. We believe our projects are now positioned to be more resilient than ever, welcoming back more children to access full time programming, adding new activities to their offerings, and scaling to new communities. There is no doubt that this has been a trying time for South Africa, and the world, but we are excited to see children returning to school, laughter and a sense of normalcy all around. Thank you for helping us carry the children of South Africa through these times.
Additionally we are thrilled to share that we were able to raise $487 through our recent Little By Little campaign where we were able to secure an additional $192 in matching funds. These small contributions really do make a BIG difference in the lives of kids. Sponsoring the purchase of school supplies, healthy meals, and after school program resources.

We recently celebrated Heritage Day in South Africa where we saw many of the children from our partner projects dressed up in their traditional cultural attire, celebrating where them and their families have come from and what makes South Africa such a beautifully multicultural country. This day is often enjoyed with traditional dancing, family time and a braai (South Africa's version of a barbecue). Most of our partner projects put in successful community events to celebrate too!
Thank you for being part of our global CHOSA community that continues to prioritise children's right to health safe and supportive spaces to learn and grow! We cannot do this work without you.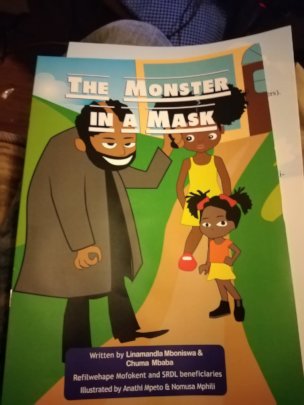 One of CHOSA's newest partner organizations, Sikhululekile Reading Development and Learning (SRDL) Program, gives students in Grades 3 to 5 access to books, notebooks, and pencils to get their creative juices flowing. Much needed after their long hiatus from school in 2020, the opportunity to journal has given the children a chance to reflect on their time at home, dream in a world outside of lockdown, and write stories that are publish worthy. So much so, that one of their stories was turned into an actual book, illustrations and all!
Linamandla had always dreamed of becoming an author once she discovered the joy of writing through her participation in the SRDL program. Writing about what she saw and experienced in her community, at school, and at home, her journal quickly became filled up with stories and drawings of her very own fiction and non-fiction writing. As the tutors in the program reviewed the students' work, Lindamandla's kept standing out and eventually, through a publishing collaboration, she was able to select a story, perfect it, and have it published into hard-copy.

CHOSA's work seeks to keep supporting Lindamandla and many other children just like her by supporting SRDL and other community driven efforts that are creating change in the daily lives of kids. We believe that through investing in their growth and development opportunities inside and beyond the classroom kids are able to thrive with the support of these community based organizations. These everyday heroes who run these projects give hope for the children of South Africa, inspiring them to become whoever they want to be and reach their dreams (even before graduating elementary school like Linamandla!). Thank you for your continuing support in making CHOSA's community development efforts through supporting child focus development projects possible.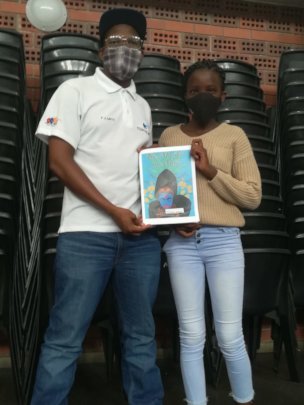 Happy New Year from the CHOSA team! We are continuing to carry hope for the children in South Africa into 2021 and beyond. After a year of adapting and adjusting our work to best meet the needs of our partner organizations during these changing times, we are now becoming comfortable with the current realities of our world and are working hard to keep health, safety, and continued support at the forefront of our work.

During the initial COVID-19 lockdown, many of our projects were forced to remain closed due to government restrictions and shelter-in-place mandates. Today, we are happy to note that all of our projects are back up and running again as we enter 2021. Now that we are looking ahead toward more long-term COVID-19 prevention measures, we have adjusted our efforts from emergency relief support to a greater focus on promoting sustainable support for the "new normal" we all find ourselves in.

In these efforts, we are supporting the additional monthly expenses that projects have accrued in order to keep enough sanitizer and cleaning products on-hand for daily deep cleaning. Additionally, we are helping to support the cost of required COVID compliance officers at schools and children's homes, and providing supplemental food support to boost children's immune systems during this time. We believe that prioritizing these needs - which our partner organizations have identified as key areas where CHOSA can go above and beyond our monthly grantmaking and capacity support - will continue to help more children to thrive during these unprecedented times.
Your continued support of our work has been integral in allowing us to consistently meet the needs of our partner organizations and the children that they serve. Thank you for helping us make this possible, one mask, hand wash, and education pack at a time.
WARNING: Javascript is currently disabled or is not available in your browser. GlobalGiving makes extensive use of Javascript and will not function properly with Javascript disabled.
Please enable Javascript
and refresh this page.