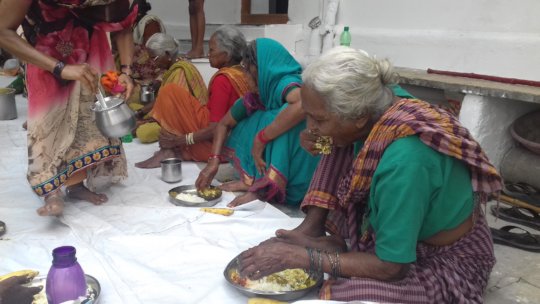 Respected Philanthropist,
We are very much thankful and grateful for recognizing our charity as a most Effective Nonprofit Organization for the year 2020 by GlobalGiving Foundation USA.
11years ago we have started the meal sponsorship program for neglected elderly persons, since then we have been serving unfortunate elderly persons by donating every day nutritious midday meal with your timely donations to our charity. We have been established the old age care center with gracefully maintained kitchen to serve the sanitized meal for the old age women. Because of 2009 floods in Kurnool we have started this initiative. The sons and daughters left their parents at home and migrated to work as daily wage labourers where ever the work allots by mason at construction sites.
At this old age the elderly persons are not able to work as their health not permits at all anymore and living at home itself idle and some of them are not having children & they are living thatched homes. We have been sponsoring 30 old age grandparents age group of 60 to 90 years in the slum of Budhavarapeta, near grave yard, Kurnool and donating nutritious meals for the hapless old age women every day that meal includes steam cooked rice, dhal, sambar, buttermilk, pickle, fruits. Regularly we donate clothes like sarees, blouses, etc. Recently we have celebrated Dussera Festival on 25.10.2020 and provided Branded Sarees, clothes as we regularly celebrate and we make happiness among all the poor old age persons. Elderly parents are very happy and living with dignity able to see happiness on their faces. With this nutritious meal program their health has been improved a lot.
Thank you for donating food to neglected old age women.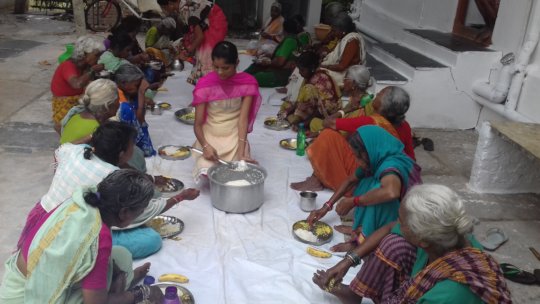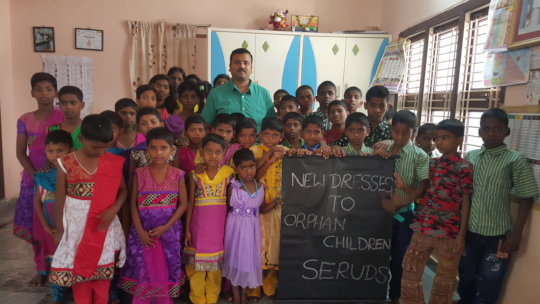 Respected Donor,
Warm Greetings from SERUDS
We are very much thankful for your kindness and humble donations for this noble cause of deprived orphan children.
8years ago started this orphanage with 5 underprivileged girl children of guardians belongs to remote rural village approached us to provide care & support for their bright future. Then as part of our regular child welfare activities we started children orphanage home for the basic education facilities, food & shelter. Now we are serving 60 orphan, street children by providing 3 times nutritious food, quality education, shelter, sports & games, sanitation, hygiene and health care with medical experts for the boys and girls. 6 to 17 years aged children studying from LKG to Degree 1st year in IGMM School, Keshava Memorial High School, KVR Degree College for women.
Nov 14, 2020 we have celebrated a Indian Prestigious Famous Festival DIWALI with orphan, streetchildren provided with sweets, crackers, new dresses and provided nutritious dinner and they enjoyed a lot and seen glow on the faces of children. We are taking care of all the precautions during this Pandemic COVID19. Children are very happy at the SERUDS Orphanage.
Because of you and your timely online donations we were celebrated the festival with the children. Without your timely donations to charity it is very difficult for us to serve these abandoned orphan children for their day to day needs in the children home.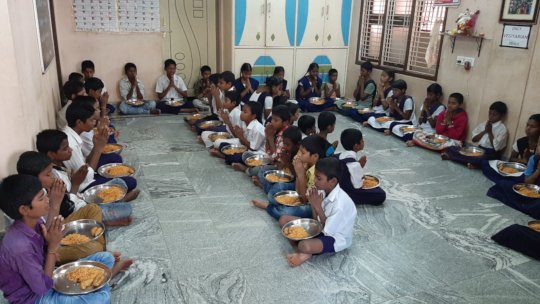 Respected Philanthropist,
Wishes from SERUDS Nonprofit
We are very much thankful and grateful for all your kindness and generous support for the deprived through our charity. We hope all is well and pray for your family in our daily prayers during Coronavirus COVID-19. We are cheerful to share with you that our non-profit recognized as Project of the Month, Top Ranked, Effective, Site visit verified, Vetted charity organization for the year 2019-2020 by the 501c3 tax deductible non-profit GlobalGiving, a 501c3 tax deductible organization in USA.
As part of our regular on-going initiative, the poor patients with diseases and other ill-health problems they come from 4 regions of Kurnool and Mahabubnagar districts to join in the Govt. General Hospital. Due to poverty this is only the chance to them to join in Govt. Hospitals as they are not able to spend money for the private medical hospitals for better treatment. This is very crucial project for the most deprived and needy patients for their nutrition diet. In Rayalaseema region (demographic location), some of the villages are belong to very drought in Kurnool District & suffering people with contaminated drinking water, fluoride. In this situation, Patients and their attendants stay for the time being till they recovered from ill-health.
Pregnant women come for the delivery, after giving births to babies then they go to their home towns. They belong to Below Poverty Line and suffering with starvation during their critical days at hospital. By seeing our activities and information from volunteers in hospital the patients requested us to provide nutritious diet for their good health. As per the desire of poor patients and their attendants for their wellbeing and they requested to sponsor fruits and other diet. We are donating nutrition diet for the poor patients. In every batch we distribute 50 poor patients and with this nutritious diet like milk, biscuits, seasonal fruits, bread for the patients. They even do not have enough money to buy medicines for the diseases. This time we have sponsored nutritious food stuff to the women patients.
Thanking you for sponsoring most deprived patients.
WARNING: Javascript is currently disabled or is not available in your browser. GlobalGiving makes extensive use of Javascript and will not function properly with Javascript disabled.
Please enable Javascript
and refresh this page.