Respected Philothropist
We are feeling proud would like to share with you, this activity selected under Project month of club for March 2019 on GlobalGiving. We are delightful and thankful for your donations by supporting fashion designing courses in Tailoring & Embroidery for economically disadvantaged women and girls through 501c3 Tax Deductible Charity GlobalGiving. With your generous donations we have been conducting skill development training in fashion designing for the empowering women, adolescent girls.
Since 13years, we have been organizing women empowerment programs in skillful trainings to earn sustainable income in slums and rural villages. Since then many of women and girls learnt and started their establishments in fashion designing. They get orders from neighborhoods, does stitching the different type of petty coats, blouses, zari work on sarees, school children uniforms stitching. With this establishment they earn income Rs.6000 per month as supplement income for their family.
With this extraordinary vocational training skill women are able to send their children to schools regularly and providing educational support in time. We have been sponsoring 6 months skills training in fashion designing course for the 25 women in a batch belongs to poorer sections of the communities in Mandlem Village and Praja Nagar through teaching classes, giving raw material like threads, needles, clothes, and scissors. In every batch, course completion certificate and conducting orientation course on marketing skills, escort services to avail the loans from the financial institutions, banks.
With your sponsorships we are helping women & poor girls by conducting vocational skills training in tailoring & embroidery
Respected Donor
We are very much thankful for your good selves for donating to the needy children for education sponsorships. We are glad to inform you that our charity is recognized as Effective, Top Ranked and Vetted Nonprofit organization for the year 2020 by the 501c3 Tax Deductible Charity GlobalGiving USA.
Since 15years we have been providing excellent education sponsorships to the underprivileged girl students to stand on their own feet. Apart from this education material sponsorship we have been providing Para education program skills for the girl children for their bright future. Thank you so much for your donation for charity working for poor girl children studying in Municipal memorial High Schools by giving education material support. Many of the girl children are lacking of timely educational material support as they belongs to below poverty line, and children parents are not able to give them proper education sponsorship in time. Instead of sending to schools, parents sending the girl children to work as domestic servant maids in nearby locations, landlord houses.
Education Sponsorship providing to 8th class to 10th Class and 50 poor girl students benefited including Long & Short Note books, Pens, Writing pad, Sketches, Pencils, Erasers, School Back Pack, Branded New Uniforms, Shoes, Socks. 50 economically disadvantaged girl children benefiting from the educational sponsorship programs.
With this sponsorship of education to girl children are progressing well in their studies. They are expressing sincere gratitude towards your kind gesture. The dropout ratio has been reduced among the girl children. Good impact on the lives of girl children education. Thank you for donating to charity for girl children education sponsorships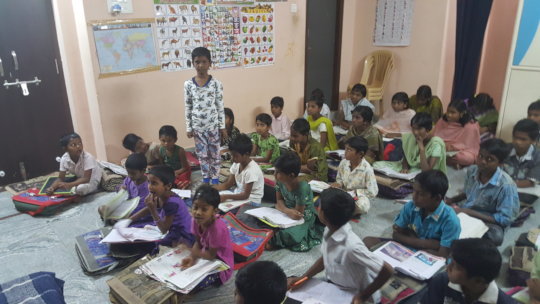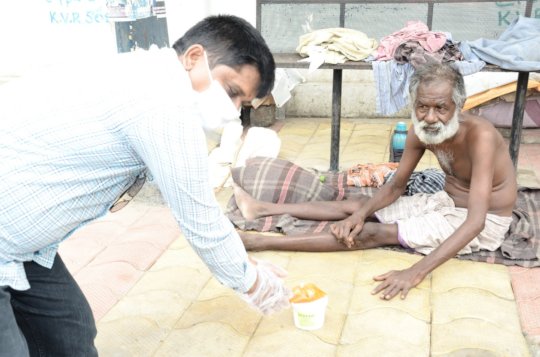 Respected Donor,
Thank you for all your wonderful support for our noble cause.
Our deep concern towards humanity is everyone should not sleep with empty stomach under our zero hunger initiative for the homeless, deprived persons who live on the roads, footpaths, bus stations, railway stations, parks, community halls. As part of our regular on-going activities for the poor we came to know many of the destitute and homeless people are suffering with starvation, malnutrition, without shelter and sleeping on the roads in Kurnool District.
By considering these critical circumstances, we decided to feed at least 50 people every day and feeding homeless people including street children with nutritious food which includes steamed cooked rice pickle, mixed vegetable curry, some portion of curd and fruits. With this nutritious food the homeless persons are very happy and requested us to serve them every day which is very important for us to feed the needy hungry homeless people.
This is all happening with your kindness and generous sponsorship through GlobalGiving, a 501c3 tax deductible charity organization.
Thank you for sponsoring food for needy.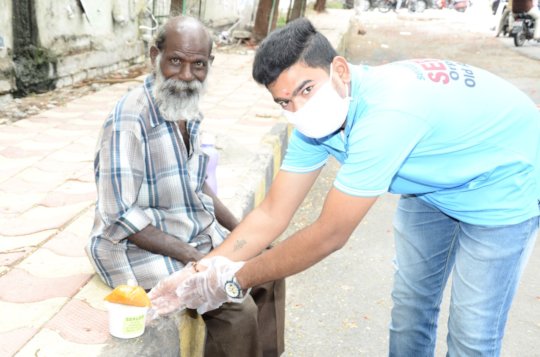 WARNING: Javascript is currently disabled or is not available in your browser. GlobalGiving makes extensive use of Javascript and will not function properly with Javascript disabled.
Please enable Javascript
and refresh this page.