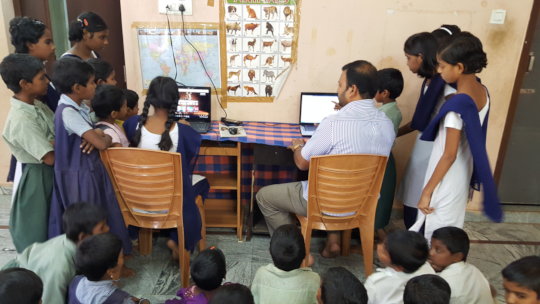 Respected Patron,
Greetings from SERUDS Charity
Thank you so much for sponsoring donations t orphanage to provide skills development training in computers for the abandoned orphan, street children through USA tax deductible non-profit organization GlobalGiving Foundation.
8years ago we have started skills training in computers for children and youth and educating them in the basic computer literacy skills, Desktop publishing, Job works, Printing Options. As the computer skills are playing vital role in every industry. Along with computer skills we have been supporting Market Driven Skills to get sustainable income jobs anywhere in the cities. We have been running an orphanage for the 60 orphan children and this orphan home was started with 5 children. The age group of the children are 7 to 17years and they are studying in different convent school, govt. high school, inter & degree colleges. Along with academic education we have been sponsoring Computer skills training in MS word, MS excel, MS power point, Paint, Internet concepts, life skills, personality development, desktop publishing.
Computer experts designed computer course structure according ages of the orphan students studying in High Schools and Colleges. The children are very happy in the seruds orphanage and they are getting sufficient food, excellent education, study hours, recreation facilities & health care. With respect to all these we are able to do because you are the one who supported us to make it successful. Without your generous donations it is very difficult for us to serve the destitute orphan children in time. Children and youth are getting communication skills, adopting latest technologies related to computer field. We wish them for good future and bright career.
Thanking you for supporting underprivileged children and youth to learn computer skills vocational training. With your support it is possible for their good future.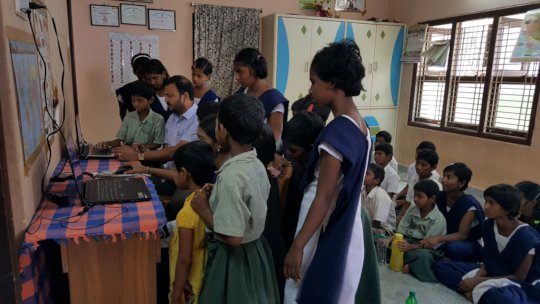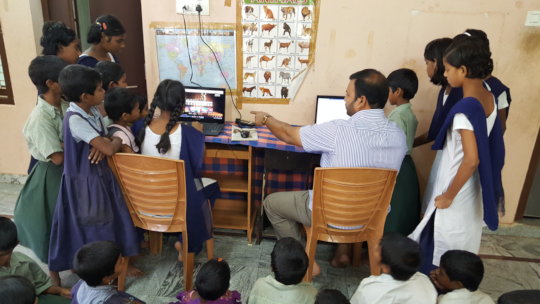 Respected Donor,

Thank you very much for supporting the deprived patients in the hospitals. We are delightful to share that Seruds Ngo recognized as 2020 Top Ranked, Effective, Vetted charity organization by the GlobalGiving.
There is very much need this project for the poor patients who come from different districts of Andhra Pradesh. The poor patients who come & stay in Govt. General Hospitals, Kurnool from the Rayalaseema of AP & Telangana States. In this Rayalaseema 4 districts people come to the Kurnool Govt. The Rayalaseema area is very drought & suffering people with Water. In General Hospital, they do stay for the time being till they recovered. Many of them are suffering with starvation. As per our regular visits to the Hospital we came to know that there is lot of desire towards nutritious diet. The attendees stay in the premises & sleeps at open places of the hospital to look after their patients. We distribute the blankets to them because of this Winter 2020.
Many of the patients and their attendants asked us to donate fruits, biscuits, hot water, bread and other material stuff to them. Considering their request, we are able to donate nutrition diet for the poor patients since 10 years. In every batch we distribute 50 poor patients and with this nutritious diet like milk, biscuits, seasonal fruits, bread for the patients. They even do not have enough money to buy medicines for the diseases. After curing diseases they go to their homes from the hospital. We always wish them for speedy recovery from our charity organization.
Thank you for sponsoring patients by donating nutritious diet.
Respected Donor,
Greetings from SERUDS
We are very much thankful and expressing our sincere thanks to you for donating money to feed the hapless old age persons in Free Old Age Home for neglected elderly people.
Our main motto is to look after to see smiles on the faces of neglected elders and good health. We are taking care of regular health checkups to all the inmates of old age home with the concern expertise in medical profession. According to the doctors we use the medicines for the oldaged persons. We always remember your timely donations for day to day needs of poor old age women in oldage home. 8years ago started old age home with the 5 old age persons came from rural background with lot of troubles in the family. Twenty poor oldage people age group between 60 to 90 years are receiving nourishing foodstuff per day breakfast-lunch-dinner, clothes for festivals & whenever required. This is all happening with your sponsorships.
We go to the rural villages & slums in our observation many of the families having disputes and without any reason quarrels in between daughter-in-law and mother-in-law finally son forcefully join his mother in the old age home, even though when mother doesn't accept to live in old age home. We only persuade always to lead the enduring life with dignity. After coming to old age home they socialize with other inmates of the home. They forget about their kith and kin and they lead residual life peacefully in seruds oldage home. By timely help in our old age home, we are able to see their healthiness have been improving and having hope on their remaining lives. Now the older people are very bold and having good strength. We got confidence on them and having hope on their remaining lives.
Thank you very much for donating poor old age women in free old age home, otherwise very difficult for us to serve the destitute and needy.
WARNING: Javascript is currently disabled or is not available in your browser. GlobalGiving makes extensive use of Javascript and will not function properly with Javascript disabled.
Please enable Javascript
and refresh this page.