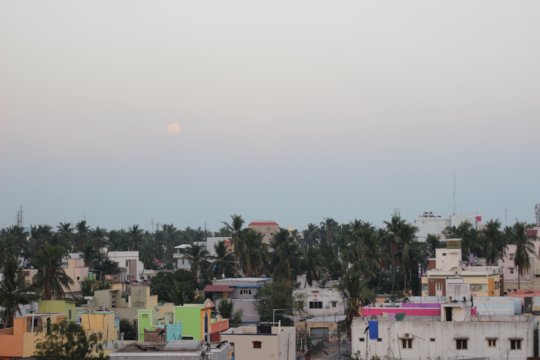 The sun is setting in Chennai, and the moon rises over rainbow-painted buildings. Palm trees sway in a breeze that still smells like the afternoon rain, and the air is full of the sounds of car horns, street dogs, and voices.
Today, another home visit is coming to an end.
"What are your hopes for this program?"
Every mother is asked to answer this question at the end of her application interview for our program. Each mother is different. Some have finished secondary school and others have only completed 5th grade. They live in different homes, have different tastes, and show different personalities. They talk about what they love about their children, what they fear and who they go to, if there is anyone, for support.
But they are all living in poverty (less than $2 per person per day), and they all share the same questions and dream the same dreams.
"I want to gain practical knowledge about what my son needs."
"I would like to know what children with autism need, so I can work with my son and help him improve."
"I want to get more training and counseling about children with disabilities, so I can help and teach other mothers who are having a child with a disability."
"I want to know more about my child's disability."
"I hope I can have more social interaction with other mothers because of this program."
"I hope in this program I can interact with other women in the same situation as me."
"I want to learn more about ADHD so I can understand how to help my daughter."
In January, these women will meet together for the first time. They will get to know each other, share their struggles and successes, and learn together. As they complete our unique program curriculum (you can read the details in the document attached to this report), they will also begin learning marketable skills such as jewelry making, tailoring, and beautician services.
Thank you for believing in this program and investing financially in Priyam Global. I don't know if there is anything better than giving people what they want most, and what they are willing to work for: education, knowledge, and skills.
Feel free to read our 2018-2019 program timeline for a deeper understanding of how our program works and how each piece fits together.
Gratefully yours,
The Priyam Team
Attachments: