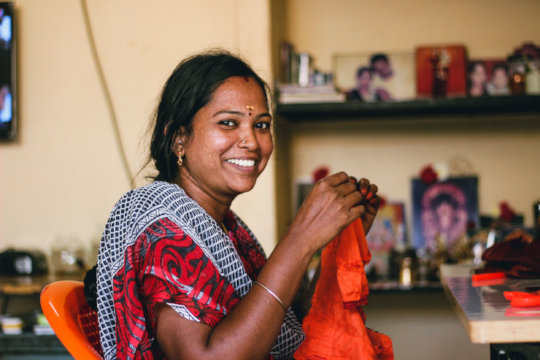 "We became like a family," she said. "We helped each other. We shared our problems."
Radha's face lights with her trademark smile as she says this. She is holding a length of vivid orange fabric, eager to demonstrate her new tailoring skills on the machine that she worked for last year in our first pilot of the Mothers Access Health, Livelihoods, and Advocacy (MAHLA) Project.
After completing nine months of training in tailoring and jewelry making, and sixteen weeks of one-hour classes on topics ranging from nutrition and hygiene to self care and creative methods for managing challenging child behavior, Radha saved half of her stipend for the last few months of the program to buy her sewing machine. Priyam Global matched 50% of the cost, and Radha received the machine during the October 2017 MAHLA graduation ceremony. Nearly 200 people, including other special needs families and the director general of a nearby hospital, attended the ceremony.
Radha says that while she has increased her family's monthly income by about 25%, she wishes that she could do more. "I had a dream of making a group of mothers from our program who collectively rented a small shop and took sewing jobs together." They could earn more that way, but she says that there weren't enough mothers in the 2017 program who were interested in joining together.
There are several reasons for this. First, three of the seven mothers from the 2017 pilot program are now employed full-time by our partner school Hope as teacher's assistants, in part due to the dedication they showed in the MAHLA program. One of the mothers has moved to her extended family's village, and the remaining two live too far away from Radha to make the sewing collective worthwhile.
Following my meeting with Radha in January 2018, we have developed two solutions.
First, we will support the 2017 MAHLA Project graduates to meet monthly for a shared meal and conversation facilitated by our social worker. All of the mothers say that they miss their group and the time that they shared, so this was a simple solution.
Second, as our 2018 MAHLA Project cohort has 18 mothers enrolled, we are taking a more organized collective approach to their income-earning endeavors: they will form two collectives, with a shared bank account for each collective. This allows them to be more eligible for government women's empowerment grants, and with greater numbers they have an increased chance of being able to do something like what Radha dreams of, and go in together for the rent costs of a sewing shop.
Radha will be invited to join one of the 2018 collectives. This way, she can expand her client base beyond her immediate neighbors.
Founder's note
It was so good to be able to follow up with the mothers from our first pilot. To be honest, I was nervous as I prepared to visit their homes. Did we make any lasting change? Was all of this worth it? Are they doing alright, since the program ended?
Following up at the end of a program can be scary, which is perhaps why many organizations avoid it. Change is difficult, and hard to measure. But my visits showed just how worthwhile these follow up visits are. Although the monthly income has increased due to the mothers' graduation from the program, it didn't increase as much as we hoped. But we are learning, and there are several possible ways forward. Earning something is certainly better than earning nothing, and if we hadn't visited we wouldn't have known to create the monthly reunion meetings, or had the idea of incorporating last year's graduates into this year's collectives.
Most importantly, I got a glimpse of the change that is really hard to measure: the light in a mother's eyes. The mothers who graduated in 2017 are different women than those who first enrolled in October 2016. Those mothers were quiet, reserved, and uncertain. A year and a half later, they possess a new inner light that truly shines. They have learned confidence, and they have experienced their own strength and capacity.
So, does our project model still a work in progress? Undoubtedly.
But has our work thus far made a difference? Yes. It absolutely has.
Thank you all for donating so generously in 2017. We are currently in need of several new monthly donors to support our growing project costs. If you are able to and would like to pledge any amount per month to Priyam Global, your money will be well-spent. Thank you!
Click here to set up a monthly donation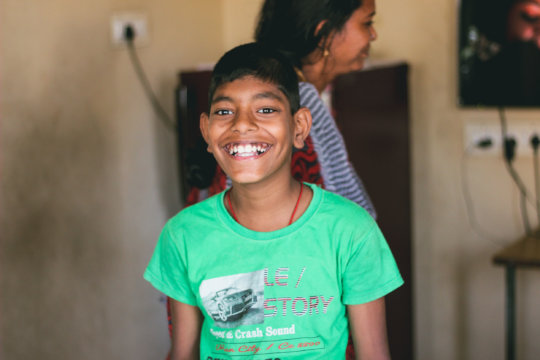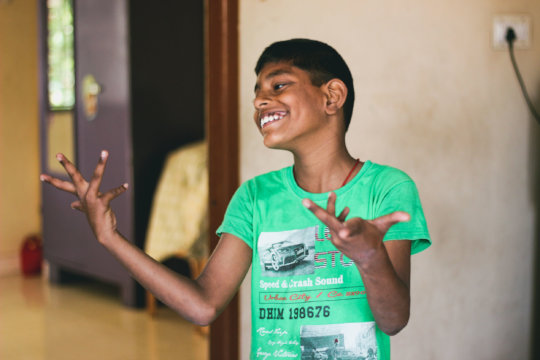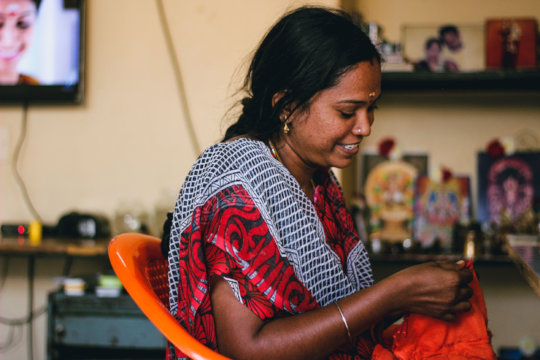 Links: