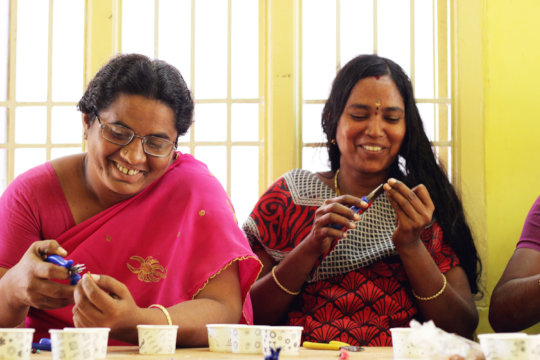 In the rush of program management, planning, and implementation, it is really easy for me to forget to stop and reflect. Where have we been? Where are we going? Partnering with GlobalGiving has been really helpful to us as an organization, and to me as a leader, in many ways. One in particular is the way that GlobalGiving incentivizes partner organizations to continually learn and grow in areas of engagement and effectiveness.
Recently, I completed a GlobalGiving exercise designed in three simple sets of questions to help organizations reflect on how they prioritize listening, acting, and learning as they move forward with their work. I have shared it below, in hopes that it will give you a glimpse into our work, why it matters, what it can accomplish, and the commitment that we have to always listen, act, learn, and repeat.
Read time: 5-8 minutes

Listen: What is a need, challenge or obstacle that your organization has faced? How did your organization identify it?
When we were designing our first pilot (2015–2016) of our targeted support program for mothers of children with severe disabilities in poverty in India, we visited the homes of nine mothers; of these, seven would eventually enroll in our first pilot. Based on information gathered during pre-visit interviews and during our home visits, we knew that the majority of mothers felt incredibly overwhelmed by their caregiving responsibilities - in addition to caring for a high-needs child while having relatively low knowledge about their child's disability or needs, almost all of the mothers were also solely responsible for maintaining their households, as is the custom in traditional Indian culture. Fathers earn income, and mothers maintain the household. All of the mothers wished that they could earn income to supplement their family's needs, but they did not have anyone to watch their child while they were at work, and their child's needs varied so much that any work opportunity needed to be very flexible and supportive.
During our first pilot program, most of the women were mothers who had enrolled their child for 5 hours each day at our partner special education school. However, there was one mother who was a widow, and who lived too far to enroll her child in a daily school. Her son was almost 18 years old and had severe cerebral palsy. His mother had no way of earning income and no wheelchair to give her son some mobility, so she relied on extended family and her son spent most of his time on a bed. When we visited this mother in her home, I was struck by how blank her expressions were; she never smiled. She said she had no friends, and although her father was supportive, she worried constantly about the future – what would happen when her father was gone? We invited this mother to our program, thinking she would be excited at the possibilities it would offer. We assumed that her extended family could watch her son for a few hours each day while she enrolled in the program. The plan was that we would pay her transportation across the town to the center each day.
However, she told us something unexpected: her family was also very poor, and as they knew she would be earning a small cash stipend in the program each month, they would expect her to pay them for watching her son. So, her earned income would go towards paying for care for her son rather than towards buying what they need and building up some savings.
Act: What actions did your organization take to address this issue?
I was determined that this mother would be able to enroll in our program. She was clearly depressed, and her son spent all of his life on a small bed in a tiny dark hut. Both of them deserved a better life. We had already allocated money for transportation, but now it seemed that her son would have nowhere to go while his mother was learning job skills, health education, and building relationships with other mothers.
When I asked our partner school if her son could spend those hours in the school, they said this wasn't possible because they were understaffed to provide for all of his needs. So then I suggested that her son come to the center with her, but the mother responded that he was very attached to her and if she was nearby, he would constantly demand her attention and she would not be able to engage in the program.
This may seem like a simple solution, but it finally occurred to me to create a special line in the budget to hire a part-time caretaker who would accompany the son to the school each day and be with him at all times. When I suggested this, there were no other barriers to the mother attending, and she agreed to enroll.
What did you learn from your experiment? What will you do next based on these results?
The lessons I learned from this challenge shaped how we approach our program model.
First, I learned firsthand that one of my favorite sayings – "everything is figure-out-able" – is true. Marie Forleo, a well-known businesswoman, coined this phrase, and I truly believe in it. There is always, always a solution.
Second, I learned that when designing a program for real people, especially those who are facing a lot of challenges, a one size fits all approach is never appropriate. I wanted to be fair in how I designed the program, but I realized that some mothers in our program were facing greater challenges than others, and thus a greater level of support was entirely appropriate. This experience strengthened my resolve to design a program in which no one would face challenges that we overlooked. This is particularly important to us because the families we work with are consistently families who have been overlooked by other programs, initiatives, and projects because their needs are so complex.
The mother in this story completed all twelve months of our first program. At the beginning, she seemed withdrawn and nervous. Three days a week, however, she showed up to our center determined to learn. When making jewelry was difficult for her and a few other mothers, we learned that they had poor eyesight, which (perhaps again surprisingly) was not something we considered! We were able to arrange free eye care for her and the other women who needed it. When the mothers began to learn tailoring, this particular mother began to shine. She had a talent for sewing, and began to help other mothers learn the techniques. She began to smile more easily, and her confidence steadily unfolded. When her son became sick, she was able to use money from our emergency medical fund. When she graduated from our program, she used her saved cash stipends to put forward 50% of the money needed to buy a sewing machine and Priyam Global matched the other 50%.
Shortly after graduation, she moved to a rural area to be closer to her family and to build a small home on a plot of land nearby. She took her son, her daughter, and her sewing machine with her, leaving us with one of the most important lessons we have learned: To fulfill our commitment of creating a program that provides women with the psychological space and relief to plan for their future and change the course of their lives, we must stay curious, aware, and creative.