Case Study of a Beneficiary
Case Study
Name of the Child : P. Kalidass
Age : 11 years old
Address : Melavellur
Silaiman (Via)
Thiruppuvanam (Post)
Sivagangai (Dt)
Tamil Nadu, India.
P.Kalidass is a HIV/AIDS infected child. His age is 11 years old but his growth is terribly affected due the HIV/AIDS infected and not able to take rich nutrition food. His father died due HIV/AIDS infection. His mother is also living with HIV/AIDS positive.
The HIV/AIDS test showed that his CD4 is very low. He is not able to take nutrition rich food due to poverty and dysfunctional of his family. Grace Peter Charitable Trust is helping through this project. Now he is taking vitamins, minerals and protein rich nutrition food and he is very happy to go to school regularly.
Attachments:
Project Id and Title:
# 9157 - Nourishment for HIV/AIDS Infected Indian Children
Financial Assistance Through:
GlobalGiving – On Line Donation
Grace Peter Charitable Trust has arranged a function to distribute Nutritious food to HIV/AIDS infected children on 13-02-2012 in Grace Peter Charitable Trust office Madurai as a public function.
As you aware that the Grace Peter Charitable Trust has embarked on an ambitious program to help HIV/AIDS infected children through our project since 13-02-2012.
Through this project we are providing nutritional support, health monitoring and counseling for these vulnerable children.
This project not only improved the children's health but also their learning skills. Now the target children are happy and going to school regularly.
Nutritious food packages
1. Rice
2. Nutrition flour
3. Dhal
4. Dry Date fruits
5. Cashew nut
6. bottle Vitamins and minerals Tonics
7. Cash per month for purchasing vegetables, eggs and fruits(This items have to purchase daily)
Links:
Attachments: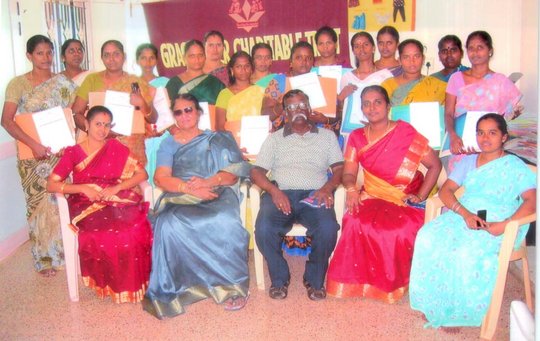 As per the donation received from the Global Giving Foundation the Board of the Trustees of the Grace Peter Charitable Trust Madurai, decided to conduct the Dress Making and Tailoring Course for women at Kannanenthal village in Madurai district from 06-09-2010 to 05- 03-2011.
The Grace Peter Charitable Trust, Madurai had undertaken to conduct six months long Tailoring Course for women in order to generate income growth. Twenty deserving women were selected to under go this training. Mrs.A.Grace is an expert trained tailoring instructor was appointed to teach not only the practical lessons but also theory in Tailoring Course. The Trainees were taught A to Z techniques in the Tailoring Course and the trainees were examined often about their progress in techniques on the tailoring course. The trainees were examined finally in the Theory practical and they were awarded Course Completion Certificates at the end of the Course. So a grand Course Completion Function was arranged on 05-03-2011 and the trainees were advised to make the best use what they learnt during the six months long training Course. The trainees were awarded beautiful Certificates at this Closing Function.
Feedback from a beneficiary:
My name is Mrs.S.Nagavalli coming from a poor family. It was very useful and great opportunity to increase my family income. Now my family is very happy and joy.
Artificial Jewellary Making Course for Women
The Board of the Trustees of the Grace Peter Charitable Trust Madurai had arranged Artificial Jewellary Making Training Course for the benefit of the poor Women. A month long course was conducted with the help of Master Trainer Mrs.A.Sankari. Various types of designs on Artificial Jewellary were taught by the Master Trainer. Twelve selected Women beneficiaries attended the Course. A function was arranged to distribute the completion certificates to all the participant trainers. Mrs. Elsie Edwin the Chairperson of the Women Advisory Committee of GPC Trust was the Chief Guest and she distributed the certificates. Mr. S.R. Vijaya Kumar Managing Trustee welcomed the gathering and the presidential address was given by Mrs. P. Amarjothi Radhabai Mrs.Shanthi Grace Secretary GPC Trust proposed a Vote of Thanks.
Feedback from a beneficiary:
My name is Mrs.R.Rajaselvi coming from a poor family. I thank Grace Peter Charitable Trust for giving me an opportunity to learn artificial Jewellary Making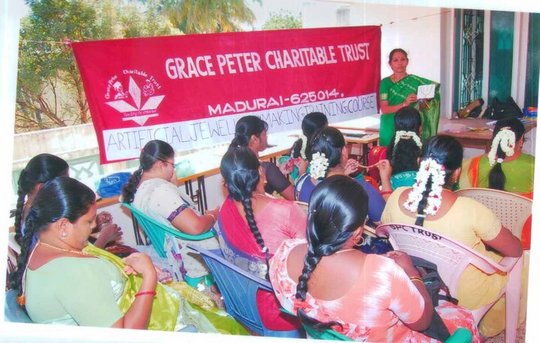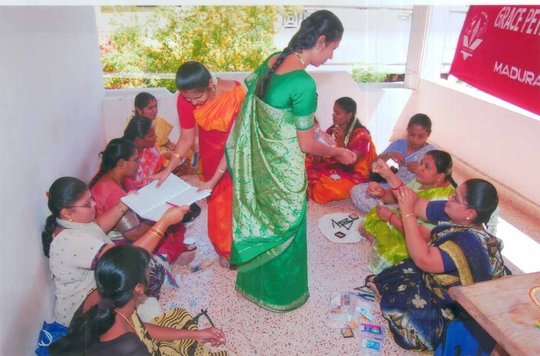 WARNING: Javascript is currently disabled or is not available in your browser. GlobalGiving makes extensive use of Javascript and will not function properly with Javascript disabled.
Please enable Javascript
and refresh this page.