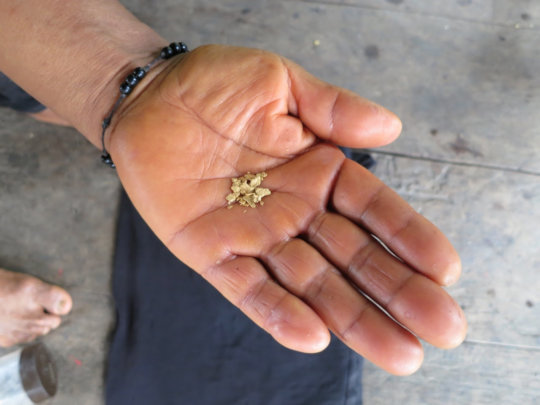 Recently, the problem of gold mining in Cofan territory has received international media attention. The Guardian recently published an article on the threat posed by mining in the Cofan community of Sinangoe, which lies far up the Aguarico River in the Andean foothills. For more than four centuries, nonindigenous people have invaded Cofan land in search of gold and other minerals. The confrontation in Sinangoe is just the most recent example of how outsiders seek to profit from Cofan territory and end up destroying its forests and rivers while imperiling the health of its indigenous inhabitants. For the past two decades, the Cofan Survival Fund has been instrumental in confronting miners and working to expel them from Cofan territory. Many Sinangoe residents learned how to protect their territory during their time in the Cofan Park Guard Program. Your continued donations to this program helps Cofanes working in the nearby community of La Sofia to mobilize its residents to oppose the mining companies that threaten to pollute their rivers with mercury. With your help, the CSF can once again send groups of Cofan rangers throughout the Cofan homeland to confront miners as well as settlers, loggers, and commercial hunters. It all takes money, though—please consider renewing or increasing your donation to CSF today!
Links:
A lot of what goes into making the Cofan-run park guard program successful is the day-to-day, unglamourous, administrative work. For instance, the Cofan Survival Fund has a full-time lawyer who maintains the pressure on the Environmental Ministrey to disburse "Socio-Bosque" funds to the Cofan Federation and maintain this important program. Socio Bosque is a national carbon credit program for conserving forest in Ecuador. The lawyer, Freddy, also helps the members of the Cofan Federation keep all their paperwork legal in order to receive these funds, and makes sure that communities are using a portion of the funds for conservation efforts.
All this effort pays off when one can see a beautiful Harpy eagle like the one shown in the photo on the Zabalo river, which is protected by the Cofan park guards.
Links: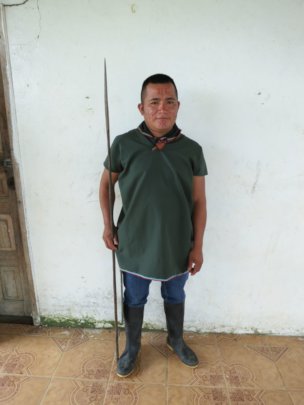 In December, 16 new women and men park rangers from the province of Carchi in Northern Ecuador will be trained to patrol and conserve that section of Cofan terrioritory. Most of the training will be financed by Ecuadorian provincial governments, but the funds raised thus far through Global Giving have helped to pay expenses associated with organizing the course. The course is geared to working with men and women who already have a very solid background in the region- so things like survival training, camping skills, and general abilities to work are not in question. Rather, we emphasize skills such as organization of logistics, health and nutrition, first aid, environmental law, GPS and map-reading skills, ecological monitoring, situation control, and law enforcement mechanisms. Our trainees (we have over 120 graduates working around the country) almost never carry arms, so things like how to handle dicey situations become very important!
WARNING: Javascript is currently disabled or is not available in your browser. GlobalGiving makes extensive use of Javascript and will not function properly with Javascript disabled.
Please enable Javascript
and refresh this page.