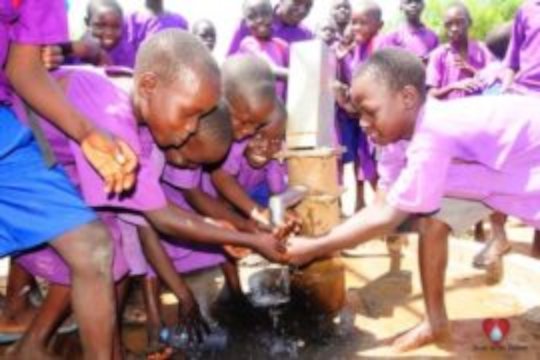 A severe water crisis that hit Soroti district in Eastern Uganda is affecting classroom attendance in schools across the district. A decline in pupils is visible in all government aided schools especially in rural areas.
Last year, SCOEN launched a fundrasing campaign to avail water for Akaikai Primary School on Global giving, there was positive response from various donor that SCOEN wants to thanks so much for sacrificing they money for we know every penny accounts.
As a result, the old borehole is now functional and the tap water process is under way, since the government is construct (turmacing) the Soroti Moroto road, the local government advice to wait until the road construction is done. Then the tap connection kick start.
Number of partners have come including the Local government and world vision. This therefore covers all the project budget.
The inspection report for the first week of the school term obtained from all the 79 government schools in Soroti indicates that on average about 40 percent of learners have not reported at all. Soroti District Inspector of Schools Simon Emoru Enangu says the drought has terribly affected enrollment in schools.
Enangu warned parents against holding their children at home saying this may affect the learner's ability hence poor performing.
Philemon Oryada, the head teacher of Akaikai primary school in Soroti district says enrollment of pupils at this school had dropped by over 24 percent. Oryada says the school used to register over 1,000 pupils within the first week of the school term. However, today, as the second week comes to an end, only 600 pupils are actively attending classes. He hope the attendance to increase in the coming year.