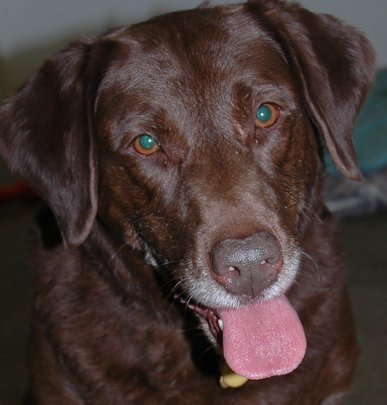 This beautiful girl was found wandering the streets as a stray: This beautiful, large (72 pound) Chocolate Lab had been found as a stray in 2007. The animal control driver scooped the Lab up and delivered her to a local Humane Society where she was assessed. She was determined to be one year of age, unspayed, no identification,and in need of treatment for kennel cough. As her health improved, the shelter performed a temperament test and noted: very shy and unsure of strangers. The staff named her Sasha.
Sasha finds her way to Project POOCH and gets a fresh start: A month later, Sasha was transferred to Project POOCH and became known as Lady. She was taken to be spayed, microchipped, vaccinated, and dewormed. She weighed in at 62 pounds.
Lady's Project POOCH handler trained her to pass the Canine Good Citizen test, walked her several times a day, played with her, brushed her teeth every day, and gave her a weekly massage. Lady soon lost her shyness and demonstrated her love of people.
A couple falls in love with Lady: Then a couple came to meet her to consider adoption. They filled out the application and answered the question: Why do you wish to adopt a dog from Project POOCH. "We lost our dog of 14 years together and we are missing the kind of relationship you can have with a dog buddy. We also support the ideals and goals of Project POOCH."
Since home visits are required for our dogs, a day and time was scheduled for Lady to be taken on a car ride 150 miles away in hopes it would be the forever home she deserved. Her handler/trainer gave her a bath followed by a fragrant conditioner before saying goodbye. He had packed Lady's "going home" suitcase with several day's food, a favorite toy, and one of her blankets. The final touch was a beautiful color coordinated scarf around her neck.
Our executive director was the designated driver and she knew it was often difficult for a dog's handler/trainer to say goodbye so she made a practice of turning away so the youth could have some privacy as he loaded his dog into the vehicle and said his goodbyes.
Two weeks later, a letter from the adopters came to Lady's handler/trainer:
"Dear Mykel,
Lady has now been with us for two weeks and after the first two hours, we had fallen in love with her. We thank you for all the training and care you gave her. We take her for a 30-40 minute walk each morning and then a rousing game of fetch. We keep her bedding clean and nice and she doesn't chew it.
When she is in the back yard and spots a squirrel, she goes into the most beautiful stance and very seldom barks which our neighbors appreciate. In the evening we all sit out on the patio so Lady can get affection and listen to us talk about the day.
She has a very attractive quality--she doesn't beg for food. Our goal is to insist that guests respect her good behavior and not wreck her training by giving her food off their plates. Lady would like to help me type on the computer and change my bad spelling but hers is worse. We take breaks every 45 minutes and go outside for a ball game.
Around 8 or 9 at night Lady and I go for another walk. The mild summer evenings are so delightful and to share them with Lady is a wonderful way to end the day.
Our life with Lady is marvelous and we deeply appreciate the love, talent and time that you have invested in her. We look forward to many years together and we know we wouldn't have this wonderful dog in our life if it wasn't for you, your colleagues, and the Project POOCH people.
With gratefulness--Lady and her family"
Fast forward six years: Lady needs yet another leash on life as her family gives her up.
Project POOCH is there for her.
Six years later, we received an owner surrender form from the family. The question: Why are you surrendering your dog? "I have moved to another state for work. I have not been able to secure suitable housing for Lady. She has been living with my daughter who is unable to care for her."
Another question Project POOCH asked: How often does your dog get walked on a leash? The answer: RARELY.
Lady's family had given up on her and no longer cared for her.
Lady was soon brought to Project POOCH by the adopter's son. She weighed in at 93 pounds! He handed us the leash and walked away.
It was heartbreaking…
…to have Lady returned after six years but we decided to put her on a strict diet and make sure she got the exercise she needed to burn off calories.
Brian, Lady's new handler, took the task of getting Lady back in shape as a serious goal.
Her previous handler had left corrections so Lady got a new handler. He began keeping a diary in which one of the entries is as follows: "We have just returned from our morning walk. Lady and I enjoyed a slow jog around the perimeter of the upfront units. You can notice a considerable difference in her behavior and demeanor when she is exhausted from exercise, which makes me feel the need to take her out even more so. For the duration of my stay at Project POOCH today, I will brush her teeth and fur, clean out her ears, and give her a bath."
Lady's luck turns around! Little by little, Lady began losing the extra weight. Four months after Lady came back to Project POOCH, she was at her goal weight of 60 lbs., and a couple with another older Labrador Retriever came to look at Lady for a possible adoption.
Lady went right to them and let their other dog do a brief sniff test to make sure the two dogs were compatible. Everyone stood around with the fingers crossed behind their backs. When the family said: We would like to adopt Lady it was a happy day.
Lady finds her 3rd and FOREVER home! The day of the home visit came very soon because Lady had passed the Canine Good Citizen test. A week after the adoption, we received an email which read: "Lady is settling in just fine. Yesterday she was sunbathing on the back deck and today she sat on the front porch where I watered our hanging baskets. She has decided she doesn't need to jump in the pond anymore and the trips to the beach suit her just fine. She and our other dog get along great."
Recently we received another update and photo of Lady on Facebook in response to a photo we posted of her in a campaign to raise funds through GlobalGiving. She is a much loved and integral member of her now forever family: "This is our Lady dog! We're happy to be celebrating our one-year anniversary of adopting Lady! She's happy laying out on our deck, meeting new friends at the dog park and playing chuck-it. And she really loves going to the beach! Thanks Project POOCH for our special dog."
Her new family is thrilled Lady is theirs! Three times really is a charm!
Every day the dogs in our care is working with the young men in our program. Together, they are striving to be the best versions of themselves they can be. Your donations are critical to their ability to build the relationships necessary to their success; and to providing the support, resources, guidance, and training they need to prosper and thrive no matter how many times it takes. We hope you'll consider making a gift on GlobalGiving's Bonus Day, Wednesday, October 15th, between 6am and 9pm Pacific Time. Your gift could be matched at 30% and will give a dog like Lady the extra chance at a forever home and a youth the opportunity to make that chance happen!! THANK YOU!