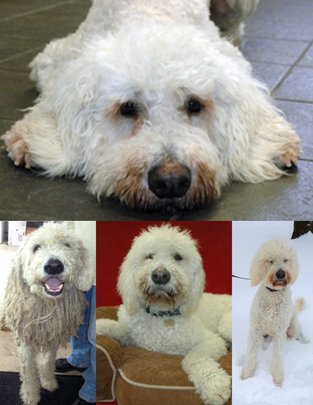 Robi is a handsome Komondor who was with us for almost 8 months! He came to us in a need of a little grooming as his long cords, naturally formed by his fur, had become matted (see lower left of pic). As with every dog in our care, the young men working at Project POOCH, Inc., gave Robi the time and attention he required.
Being a Komondor, Robi had some special needs. His fur can be very difficult to maintain as it can take days to dry, holds dirt, and can become matted. This is why you see Robi sporting a puppy cut to help keep him clean. Keeping his fur clipped and clean became a top priority in maintaining his overall health and wellbeing.
Komondors are a large breed with males weighing an average of 80 lbs. They were originally bred as independent protectors of livestock. As such, Komondors like Robi are independent thinkers who can be stubborn and domineering. Robi would definitely need a special home with a human companion equipped and ready to work with him, socialize him, and provide him with plenty of exercise and love.
Robi's trainer worked diligently with him, teaching him basic commands, so that he, like all the dogs who come to Project POOCH, could pass his Canine Good Citizen test. Robi succeeded, proving he is a gentle, loving soul, who just needed and wanted gentle, consistent guidance, companionship and love.
One day, a woman came in to meet Robi after seeing him online. It was love at first sight! She just knew they were meant to be together.
Just days after Robi went to live with his new mom, we received this email:
"I absolutely love Robi. He's such a gentle giant, a puppy at heart, and a great companion for Pharoah and me. He's enjoying our walks, running around in the backyard, watching the koi (he barks at them when they splash), sleeps like a baby, and is eating well. He wakes me up in the morning by putting his head on the bed and breathing in my ear....so quiet and sweet. I plan to regularly visit his POOCH trainer (and everyone at Project POOCH). He raised a fabulous dog and I'm eternally grateful to him. Robi and I are a perfect match!
All is better than I imagined. He's a wonderful companion and unlike any other dog I've ever loved. Everyone is having fun with him."
Robi's trainer, and all of us at Project POOCH, were thrilled his patience and efforts paid off, and that after a long wait, Robi finally found the forever home he deserved!
We are so grateful to those who support our work. It is amazing the big impact a little love, attention, compassion, and kindness can have on the lives of the dogs and youth in our program. Your support makes this possible. Thank you.
Links: