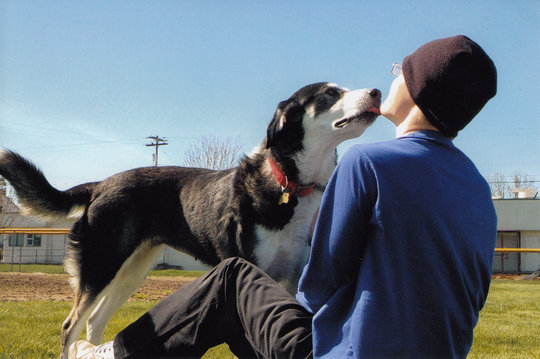 Often we share stories of success about POOCH doggie alums who've found their forever homes. This time we'd like to share a story about a POOCH youth's success. This is, after all, our raison d'être! So, it's with swelled chest and lots of pride we share the story of M.
M. participated in Project POOCH from 2005-2006. It wasn't the longest a youth has been in our program, but the impact—on dogs and on him—was overwhelming! Project POOCH recently sat down with this now very accomplished young man and learned how Project POOCH affected his life and the path he's since followed.
If there's one word to describe M., it's optimistic.
He has what seems to be a permanent smile on his face. Where he is today as opposed to where he was several years ago certainly gives him ample reason.
During his time at Project POOCH, he worked with and helped adopt out six dogs: Cash, Zeus, Jasper, Max, Sophie, and Emma. It may be a few years since he was in our program, but it took him no time to rattle off these names. His experience and his time with these dogs clearly have left a lasting impression!
His most memorable dog? Emma. She was a very scared dog because she'd been tied up for several months before ultimately finding her way to Project POOCH. The key to her success? Socialization. That's what this really all boils down to: making friends, learning to trust, and learning to play well with others. M. said he liked that Project POOCH was helping dogs who were like him and the other youth—individuals who'd gotten lost along the way, had slipped through the cracks, and who were in danger of being forgotten by society altogether. He understood where dogs like Emma were coming from. And he related to their plight.
The difference he knew he'd be making inspired him.
M. tried his hand at anything and everything that needed to be done at the kennel, from helping build walkways, to landscaping, electrical, and record keeping. He's proud of the fact he helped build POOCH's beautiful meditation garden, a place where the youth can take a moment and reflect in what is otherwise a hectic day.
Today, M. is following a path Project POOCH clearly helped set him on. He's a dog trainer. Not only that, he's a trainers' trainer. He attributes Project POOCH for helping him achieve the success he has enjoyed so far. According to him, Joan Dalton handed him the job application, gave him a Safeway card so he could buy food, bought him clothes for his interview, and set him off to a brighter future. A brighter future he has built indeed!
M.'s advice?
"Give people the opportunity you would ask for if you were in the same situation."
"Learn as much as you can and say yes to opportunities to learn, grow, and better yourself."
"Stay positive."
The youth learn many new things during their time with Project POOCH.
They learn the values of patience, compassion, responsibility, and respect for all life. They also gain real life work experience—training dogs, understanding dog behavior, customer service through working with potential adopters, computer skills, record keeping, and how to be reliable, hardworking employees.
M. took what he learned at Project POOCH and directly applied it to his post release career, one at which he is excelling. M. said it took him half the normal time to complete the trainer's course because he'd already learned so much at Project POOCH. This is indeed the fulfillment of our mission—youth learning skills at Project POOCH that help them find a job and succeed in life. And in M.'s case, continue to work with the very animals who taught him patience, compassion, and trust: dogs in need of training so they too can have a better life.
We are indeed proud of M.'s success and you should be too! After all, it's because of your support, youth like M. have stories with a happy ending!
_________________________
We hope on the upcoming Bonus Day on May 13th, you'll consider making another life-changing donation to our project, Change the Lives of Troubled Youth & Shelter Dogs, between 6 am and 9 pm Pacific Time so together we can create even more happy endings…. for youth and dogs. ALL gifts will be matched on this special Bonus Day!
Links: