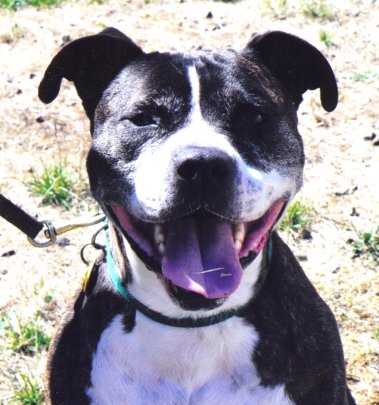 The impact of Project POOCH's program reaches farther than just the dogs and youth at MacLaren. We recently learned awesome news of a special dog, who, while not a direct participant in our program at MacLaren, was indeed touched by the work we do.
Dodger came to our attention a few years ago when Project POOCH youth, "Bud"1 transitioned to a facility in Florence, Oregon. The skills Bud learned at Project POOCH landed him a work-release job at the Florence Area Humane Society (FAHS), where he met the not-so-artful Dodger. Bud worked with Dodger, completed his program and eventually moved. Because POOCH Alum were working with Dodger, we listed his profile among our available dogs…
…Sadly, not every dog has his day as quickly as we hope. Dodger remained at the FAHS facility while Project POOCH helped him gain more exposure through our website…
Fast forward to 2016…
Recent POOCH Alum, S. is relocated to the same program in Florence. Because of his work at Project POOCH, he too was given the opportunity to work with the dogs at FAHS. One of those dogs was of course, Dodger. S. ramped up Dodger's training, and as a result of Dodger's improved skills and behaviors, Dodger was moved to a facility in a more populated area. Within a couple of weeks, Dodger's dream of a family and comfy, loving home, finally came true!
We are so happy for Dodger, and for S. who never gave up on him, worked with him, loved him, and helped him along his journey to happiness and success. A journey, paralleled by that of S. himself. To say this youth is happy is an understatement. When we spoke with S. on the phone, you could hear the pride and joy in his voice, and the HUGE smile across his face when he talked about Dodger. And of course, Dodger's smile says it all. That, is indeed priceless!
This is an example of how a village came together to help a dog finally find a loving home to call his own. We are so honored to have been a part of Dodger's success, and because of your support, POOCH Youth like Bud and S., are able to pay it forward as they move forward in their lives. THANK YOU for helping POOCH Youth and Dodger fulfill their dreams. Together, our "village" has made a difference and had a huge impact on society!
_______________________
You ARE making a difference and effecting lifelong positive change in the lives of the youth and dogs who are impacted by Project POOCH. Thank you for all the support you have given. We are so grateful and lucky to call you our friend.
Wednesday, March 16th, is a GlobalGiving Bonus Day where YOUR gift will be matched! If you haven't had the opportunity to make a gift in a while or would like to make another life-changing gift, we would greatly appreciate it. EVERY gift makes a difference – and makes dreams come true!
Thank YOU again from all of us at Project POOCH!
_____________________
1Due to confidentiality, names have been changed to preserve anonymity.
Links: