We wanted to share the awesome news about Jet, a handsome Black Lab, who was with us for 9 months.
Jet finally found his forever home!
During his time at Project POOCH, he and his youth trainer worked to master his basic commands like sit, stay, and come, and successfully pass his Canine Good Citizen test. Jet is a rambunctious and gorgeous dog with a personality as big as he is. It took his youth trainer a lot of work, perseverance, patience, consistency and trust-building to help focus Jet's energy. We couldn't believe this beautiful Black Lab was having such a hard time attracting a new family. It would probably be an understatement to say his energy was holding him back.
But that didn't stop his trainer from dedicating his time and energy to his buddy. Every day, Jet received the love, socialization, time, attention, and training he needed to keep him happy and healthy and ready for when that magic moment came.
Last month, that moment finally did.
The perfect human companion for him found him online and came to visit. And she was impressed!
As his new mom said: "He's a fine canine!" A fine canine indeed… all 85 goofy, loving, and playful pounds of him!
Jet's story is a reminder of how hard the youth work to successfully adopt out the dogs in their care. They never give up hope that a dog will find their forever home, just like we don't give up hope on the youth building a better life.
Jet's leaving was bittersweet for his trainer. After all, they spent 9 months together bonding, growing, learning, and being friends. Jet's trainer is due to release soon. How fitting it is he was able to witness Jet—his pooch who'd waited the longest—go home.
We are so proud of his efforts and his patience. Thanks to his personal commitment and love for Jet, Jet is now happily enjoying life in a loving home!
From Jet's mom on the ride home:
"Jet had a great time riding in the car... slept most of the way, but when we slowed down, he checked out the scenery. Fantastic K9!!! Here's a pic of him in our car on the way home with his head out the window sniffing the air... Pure delight!!!!"
_______________________
We love happy endings and we know you do too! Each time a dog goes to their forever home or a youth achieves a milestone while in the program, or sends us an update on their life after release, we are reminded just how lucky we are to do the work we do and to have generous, kind, and caring folks who support us. Thank YOU!
P.S. Don't forget, today is a GlobalGiving Bonus Day where your donation could be matched at 50% if made before matching funds run out! Please consider making another life-changing gift today.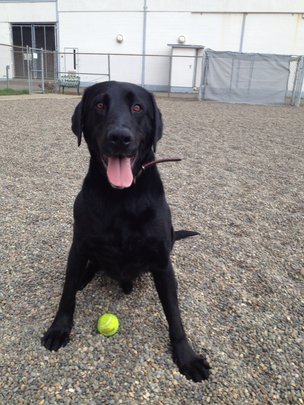 Links: