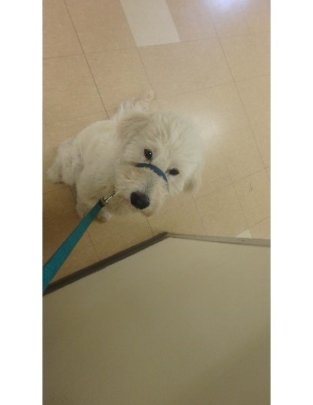 Project POOCH Skills Utilized for Good of Community
S. is a Project POOCH alum, who was transferred to a minimum security facility known as Camp Florence. Camp Florence allows the youth to leave the facility during the day in order to work for local businesses and individuals in the community. One of the supervisors at Camp Florence explained to S. that his autistic daughter would soon be receiving an autism service dog. This supervisor knew of S's background in dog training, and suggested that S. volunteer to raise puppies that will become service dogs.
Immediately, S. sought approval from the Oregon Youth Authority and applied to volunteer that very day. S. was accepted into the program and received a labradoodle puppy named Quimby. Quimby and S. are inseparable – Quimby sleeps in a crate next to S's bed, and even goes to work with S. They attend group puppy training sessions in Tualatin each month.
S. pays for the majority of Quimby's expenses with money he earns at his job, while the expenses that are classified as "educational" are paid for by the Oregon Youth Authority. The skills S. learned at Project POOCH have given him the ability to train an autism service dog – a highly specialized task – that S. is now doing for the good of the community.
Both Quimby and S. will be leaving this fall. Quimby will go to his new family as a full-trained service dog, and S. will leave Camp Florence, as he is preparing for life on the outside. We are confident that Quimby has received the best training possible, and we are thrilled that S. has continued to use the skills he learned through Project POOCH to better the community.
This is why we are huge believers in second chances. We are so honored to have been a part of Quimby's success, and because of your support, POOCH Youth like S. are able to pay it forward as they move forward in their lives. THANK YOU for helping POOCH Youth achieve their dreams. Together, through work with dogs, life behind bars can have a huge positive impact on society!
_______________________
You ARE making a difference and effecting lifelong positive change in the lives of the youth and dogs who are impacted by Project POOCH. Thank you for all the support you have given. We are so grateful and lucky to call you our friend.
Wednesday, June 15th, is a GlobalGiving Bonus Day where YOUR gift will be matched! If you haven't had the opportunity to make a gift in a while or would like to make another life-changing gift, we would greatly appreciate it. EVERY gift makes a difference – and makes dreams come true!
Thank YOU again from all of us at Project POOCH!
_____________________
Links: