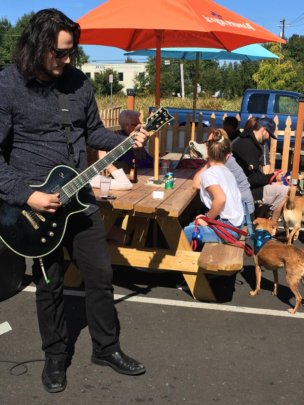 Jeff, former POOCH youth, started working in our outreach office this summer and has been a really valuable asset to our team. He not only helps with our record keeping and keeps our office organized, but he also assists at some of our local community events. Most recently, Project POOCH partnered with Stickmen Brewing Company in Tualatin for our third annual dog wash. This is a yearly fundraiser that we do right outside the brewery where guests can make a donation to Project POOCH in order for their pet to receive a bath. Jeff assisted at this event by playing guitar for the attendees, and his music was a big hit. It was a perfect day all around with sunny weather, delicious food and beer, good music, and adorable dogs receiving lots of love and attention.
In addition to working for Project POOCH and playing guitar in a local band, Jeff helps a restaurant with their social media marketing strategies and studies at Portland Community College Sylvania Campus. He serves as the Program and Events Director on the college campus, and despite being so busy and taking on multiple responsibilities, he still manages to be an A-student.
Jeff still has a passion for working with dogs and is studying to take the test to be a professional dog trainer. With his enthusiasm and dedication, we're confident that he'll pass the test and be an excellent trainer. We're happy that Jeff is continuing to work with dogs because the POOCH dogs adored him.
There is no doubt in our minds that Jeff will continue to succeed in all he does. We are so greatful that he has chosen to give back to Project POOCH, and his hard work is very much appreciated. With his determination and positive attitude, we can't wait to see what's next for him! Jeff is a great example of what POOCH youth are capable of. Thank you for your continued support of our project.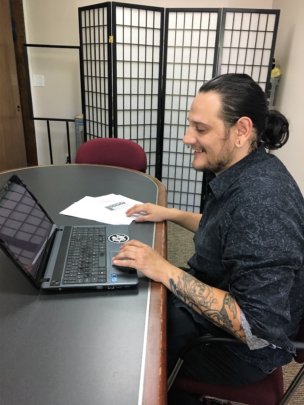 Links: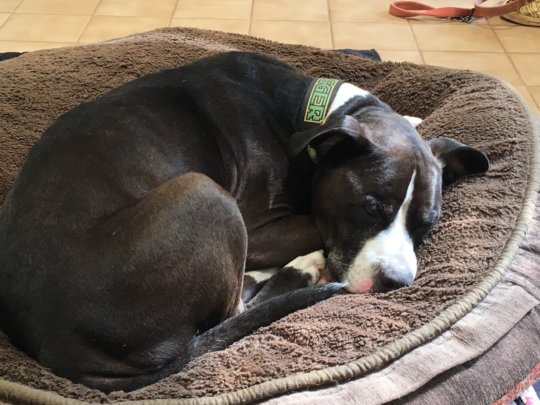 Rusty is a 6-year old Pitbull Mix who has had one of the longest stays at Project POOCH with no potential adopters in sight. He is incredibly lovable and has bonded with this trainer and caregiver, Daniel, during his long stay.
To make the long kennel stay less stressful for Rusty, he often gets to spend the night in Daniel's living unit. Rusty loves spending the night away from the kennel, and is very popular among the incarcerated youth.
On a recent overnight stay, Rusty cried out in pain as his stomach started to visibly swell. Daniel recalled his training on stomach torsion and asked Project POOCH staff to take Rusty to the nearby veterinarian. Stomach torsion occurs when the stomach becomes overstretched by gas content and rotates; the dog can die if surgery is not performed immediately. Daniel and the other youth were afraid Rusty would soon die if he didn't get immediate help.
This occurred during rush hour, and the veterinary clinic was almost closed. Staff agreed to stay open until Rusty arrived. Rusty was rushed into an X-ray which returned a definitive diagnosis of stomach torsion. Rusty then had to be transported to an emergency clinic for the surgery, which took another hour. The emergency clinic was waiting on standby and ready for surgery upon Rusty's arrival.
Rusty was immediately taken in for surgery. "No guarantees he will make it," was the prognosis. Four hours later, Rusty made it safely through the surgery and spent the next two weeks recovering in foster care.
The veterinary surgeon told Project POOCH that Daniel had saved Rusty's life by recognizing the symptoms of stomach torsion.
After Rusty's surgical sutures were removed, Rusty was adopted. We couldn't be happier that this sweet dog has finally found his forever home.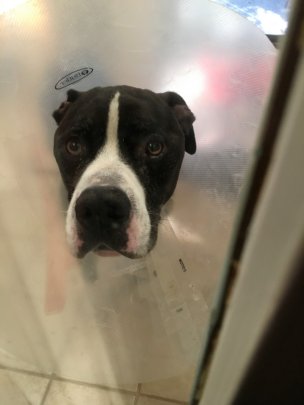 Links: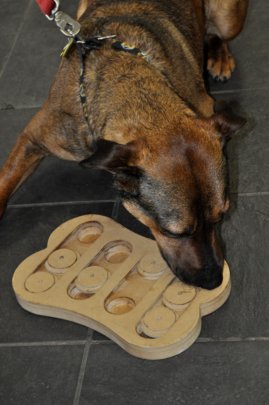 Zorro entered Project POOCH from a different shelter that was unable to place him. The incarcerated youth bonded with him from the moment he came into the program. Zorro did a great job of making everyone feel unconditionally loved.
One couple with another dog came to look at Zorro and thought he would be the perfect match for their family. A home visit was scheduled, and Zorro initiated a game of chase with his new dog friend. When Zorro entered the house, he refused to walk on the floor and had to be pulled on a rug to travel from the porch to the living room. Zorro's file and previous training were reviewed, including instructions on how to use hand signals and treats to keep up with his obedience training. The next step was to see how the two dogs got along overnight. A good report was received the next morning.
Unfortunately, a phone call came the next week and Zorro had attacked the other dog when the two dogs were alone in the house. Zorro was returned.
Zorro's first shelter took him back and again tried to find him a home. They decided that Zorro would be taken to a veterinarian to be humanely put down. The veterinarian looked at Zorro and was rather taken aback when Zorro licked his face. The veterinarian refused to euthanize such a sweet dog. Project POOCH personnel decided to meet the other shelter manager and bring Zorro back to the correctional facility.
Just recently, a prospective adopter saw Zorro's video on our website and took a liking to the sweet boy. He decided to adopt him, and has a home where Zorro will be the only dog. It has been a long journey for Zorro, but the youths and Project POOCH were delighted to have finally found the right home for this beloved dog.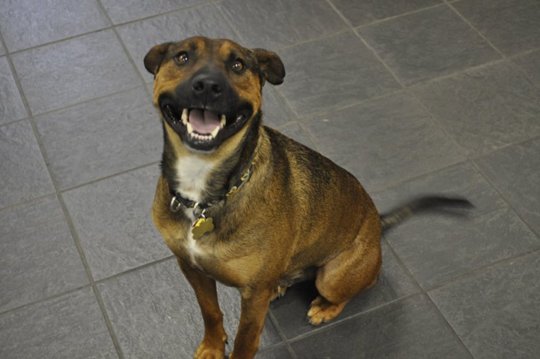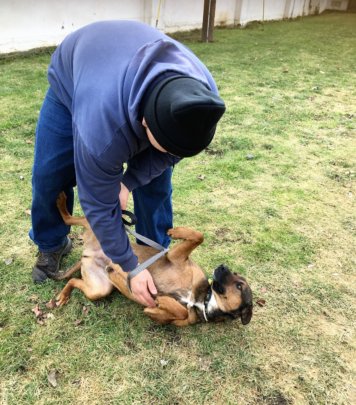 Links:
WARNING: Javascript is currently disabled or is not available in your browser. GlobalGiving makes extensive use of Javascript and will not function properly with Javascript disabled.
Please enable Javascript
and refresh this page.