Seeking out dogs for inclusion in Project POOCH is a standard practice, as all POOCH dogs come from other shelters. Recently, we came across Chrissy. This little dog would obviously be a costly intake, but she pulled on the heartstrings of program director Joan Dalton. "We'll take her," Joan decided, knowing that we could offer Chrissy a brighter and healthier future.
This Miniature Wirehaired Dachshund Mix had clearly been used as a breeding dog for quite some time. Chrissy's previous shelter informed us that she had just given birth to a litter of puppies. Chrissy is about seven years old, and needs to be spayed. Upon entering our program, Chrissy came into heat, necessitating that she wait a while longer before her spay. In addition to this surgery, Chrissy is also scheduled for some intensive dental procedures. During her veterinary exam, we learned that Chrissy has some of the worst teeth the veterinarian had ever seen, further confirming her rough past.
All of these procedures are costly – our adoption fee rarely covers the full costs of the services provided by Project POOCH; in Chrissy's case, it is certain that we will lose money by bringing her into the program.
However, the benefits are manifold and outweigh the financial burden of these procedures. It is extremely valuable for the youth in the program to learn how to care for dogs in various medical states - Chrissy is providing such experience for the youth. As for Chrissy, she enters Project POOCH in poor health knowing only a lifetime of breeding, but she will leave Project POOCH happy and healthy, bound for her forever home. Chrissy's disposition is no worse for the wear, as her trainers report that she is very sweet and affectionate.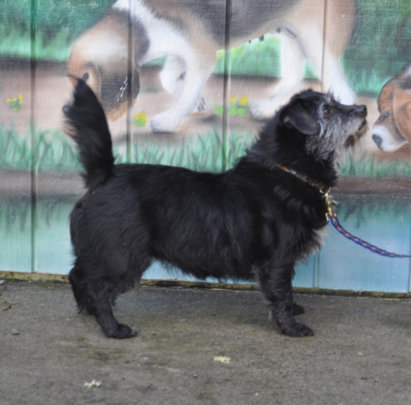 Links: