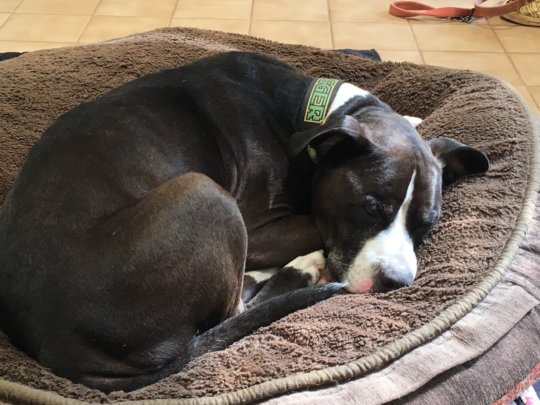 Rusty is a 6-year old Pitbull Mix who has had one of the longest stays at Project POOCH with no potential adopters in sight. He is incredibly lovable and has bonded with this trainer and caregiver, Daniel, during his long stay.
To make the long kennel stay less stressful for Rusty, he often gets to spend the night in Daniel's living unit. Rusty loves spending the night away from the kennel, and is very popular among the incarcerated youth.
On a recent overnight stay, Rusty cried out in pain as his stomach started to visibly swell. Daniel recalled his training on stomach torsion and asked Project POOCH staff to take Rusty to the nearby veterinarian. Stomach torsion occurs when the stomach becomes overstretched by gas content and rotates; the dog can die if surgery is not performed immediately. Daniel and the other youth were afraid Rusty would soon die if he didn't get immediate help.
This occurred during rush hour, and the veterinary clinic was almost closed. Staff agreed to stay open until Rusty arrived. Rusty was rushed into an X-ray which returned a definitive diagnosis of stomach torsion. Rusty then had to be transported to an emergency clinic for the surgery, which took another hour. The emergency clinic was waiting on standby and ready for surgery upon Rusty's arrival.
Rusty was immediately taken in for surgery. "No guarantees he will make it," was the prognosis. Four hours later, Rusty made it safely through the surgery and spent the next two weeks recovering in foster care.
The veterinary surgeon told Project POOCH that Daniel had saved Rusty's life by recognizing the symptoms of stomach torsion.
After Rusty's surgical sutures were removed, Rusty was adopted. We couldn't be happier that this sweet dog has finally found his forever home.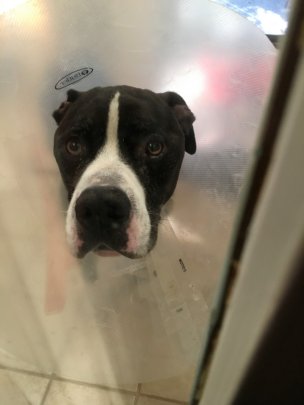 Links: