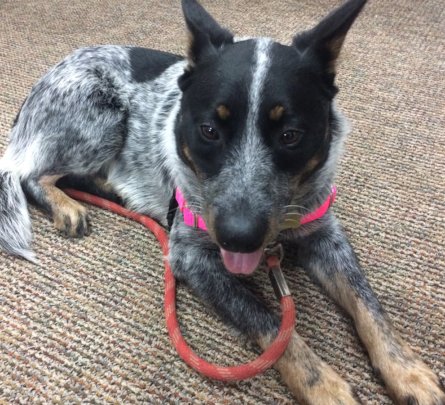 Jack, a former Project POOCH youth, grew up in the foster system and went from home to home, never learning to fully trust people. While serving his 70 month sentence at MacLaren, he discovered Project POOCH and a new found hope: "I loved dogs. They were the only ones I had ever trusted. They didn't care who I was or what I did. They loved me no matter what. So working with dogs sounded good to me. I thought it would be a great outlet. The dogs wouldn't be deceptive. My interactions with them would be genuine. I wouldn't have to wonder if they liked me or not."
Thinking back on his first day at Project POOCH, Jack remembers being warned about an aggressive cattle dog named Frank. Frank was a biter, and there was a chance that he would have to go back to the Humane Society where he came from. This struck a chord with Jack who had also gone from home to home growing up. Jack recalls, "I asked Joan if we could give him a chance. She agreed that I could work with him and he became my dog." Jack made it his mission to understand Frank's behavior so that he could correct it. He initially went to Frank's kennel and just sat beside him, not touching or interacting with him, as Frank did not trust people. It took a lot of patience and dedication, but eventually the two formed a bond and began to interact more.
Once this bond strengthened, Jack began working with Frank on some of the behavioral issues. Jack remembers helping Frank overcome his fear of being brushed: "He loved playing tug-of-war, so I got his rope and brushed him while we were playing. Before you knew it, he no longer minded being brushed because he associated it with something fun." Jack always made sure to reward Frank for his progress, however small that progress was. It took time, but Frank became less fearful and aggressive. Jack remembers the day that Frank found his forever home and recalls, "I was real excited for him when he got adopted. It proved he was able to overcome his shortcomings so he would be adopted into a good home where he would be loved and taken care of." While Jack successfully made Frank adoptable, Frank taught Jack the importance of patience and persistence.
Jack has ended up just as successful as Frank. After serving his sentence at MacLaren, he began working for an importing business. Soon after, he joined the army and was deployed to the Middle East. Currently, he is working on his Bachelor's Degree in Environmental Studies and aspires to own a farm where he will live with his wife and family dog. Jack's story is a powerful example of the human-animal bond. Jack and Frank both inspired behavior changes in one another, and they both live happy lives as a result.
We recently received a letter from one of our youths, and it reminded us of why we do what we do. His letter was titled "A Joyful Experience:"
***
Dear Ms. Dalton,
I would like to thank you for giving me the wonderful experience of working here at Project POOCH. While here at POOCH, I have gained an abundance of valuable work experience. Most of all, I learned how to train and groom dogs. While working with dogs, I learned the importance of patience, which I had trouble with before I was employed here. These dogs have also taught me one of the most valuable lessons of all, the value and respect of another life. While working at POOCH, I have adopted out five dogs, and am working on my sixth. These dogs ranged from easy (Elka) to challenging (Missy - the border collie). Although, no matter the difficulty level of the dog, each one made me a better trainer. I want to thank you for giving me the opportunity to work here at Project POOCH.
Sincerely,
Andrew
***
We love hearing success stories about both our youth and our dogs. It brightens our day whenever we receive a letter like Andrew's, explaining the ways in which the program has made a difference. We know that when Andrew gets out of MacLaren, he will be able to apply his acquired skills in the real world in order to benefit the community. We strongly believe that with the right resources, everyone is capable of change and success, and this even extends to our pooches themselves.
Many of our dogs, like Missy, the challenging border collie that Andrew worked with, just needed some extra love, patience, and training in order to become adoptable. Missy is doing very well in her forever home and is a beloved member of her family, just like the other dogs that Andrew trained and adopted out. It's incredible to witness the positive behavioral changes and increased hope in our youth and dogs alike, and that is what keeps us going. Thank you for your continued support of our project and for making a different in the lives of Andrew and Missy.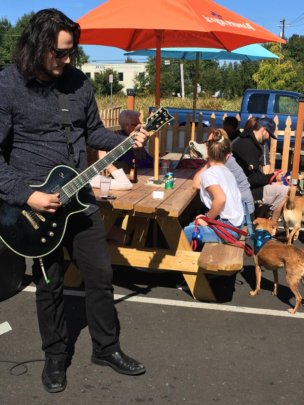 Jeff, former POOCH youth, started working in our outreach office this summer and has been a really valuable asset to our team. He not only helps with our record keeping and keeps our office organized, but he also assists at some of our local community events. Most recently, Project POOCH partnered with Stickmen Brewing Company in Tualatin for our third annual dog wash. This is a yearly fundraiser that we do right outside the brewery where guests can make a donation to Project POOCH in order for their pet to receive a bath. Jeff assisted at this event by playing guitar for the attendees, and his music was a big hit. It was a perfect day all around with sunny weather, delicious food and beer, good music, and adorable dogs receiving lots of love and attention.
In addition to working for Project POOCH and playing guitar in a local band, Jeff helps a restaurant with their social media marketing strategies and studies at Portland Community College Sylvania Campus. He serves as the Program and Events Director on the college campus, and despite being so busy and taking on multiple responsibilities, he still manages to be an A-student.
Jeff still has a passion for working with dogs and is studying to take the test to be a professional dog trainer. With his enthusiasm and dedication, we're confident that he'll pass the test and be an excellent trainer. We're happy that Jeff is continuing to work with dogs because the POOCH dogs adored him.
There is no doubt in our minds that Jeff will continue to succeed in all he does. We are so greatful that he has chosen to give back to Project POOCH, and his hard work is very much appreciated. With his determination and positive attitude, we can't wait to see what's next for him! Jeff is a great example of what POOCH youth are capable of. Thank you for your continued support of our project.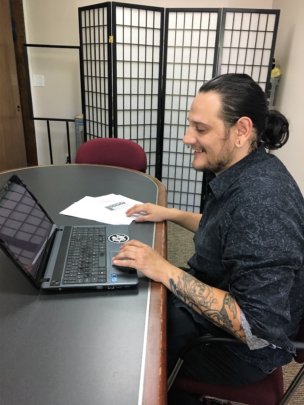 Links:
WARNING: Javascript is currently disabled or is not available in your browser. GlobalGiving makes extensive use of Javascript and will not function properly with Javascript disabled.
Please enable Javascript
and refresh this page.