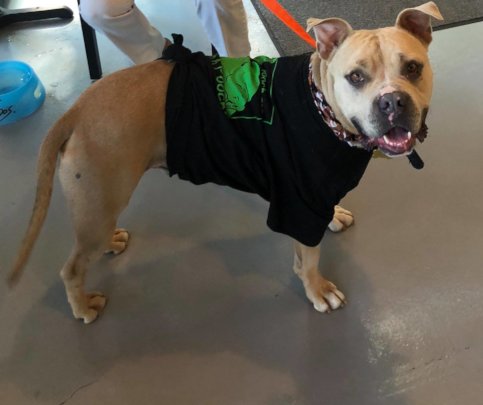 One of our favorite accomplishments during our 25th year of service to incarcerated youth and adoptable dogs came in a four-legged, tail wagging form. On May 15th, a volunteer from a shelter in Modesto, California reached out to us asking if we could take in King, a 5-year-old Pit Bull Mix. The community that King lived in was overcrowded with pit bulls, and people simply did not want to adopt them—with King living in a busy shelter with hundreds of other dogs, the volunteer knew that King would have a better chance with us at Project POOCH. Along with her inquiry, the volunteer sent videos of King playing and interacting beautifully with kids and other dogs. That was when we knew we had to consider taking him. This sweet boy deserved a chance.
At Project POOCH, we like to involve the youth in our program at MacLaren Youth Correctional Facility in the dog selection process as much as possible, so we brought some pictures of King down to the correctional facility and read the youth his bio. They got so excited about the opportunity to work with such a sweet, handsome dog that we knew we had to say yes to King. Pit bulls are often marginalized in the same way that many of our youth are, so our youth were immediately drawn to this adorable boy and able to relate. At Project POOCH, we like helping the "underdogs," or the dogs who are less likely to be adopted due to breed, age, personality, or health issues, so King was a great fit for our program.
With the decision to save King made, we had a lot of planning to do to prepare him for the long journey ahead of him! We soon learned that getting a dog from California to Oregon would not be easy. Before King could cross state lines, we had to work remotely with a veterinarian in King's area to make sure that he received all the necessary vaccines and health certificates for his travels. Luckily, the same kind volunteer who introduced us to King's plight took him to his vet appointments and even dropped him off with the transporters of the Rescue Express Bus, an animal transport service that takes dogs from overcrowded, high-kill shelters to areas where they will be able to thrive. Thus, King began his long, 14-hour journey to a new life.
King was scheduled to arrive at the bus stop in Tualatin in the middle of the night, where POOCH founder Joan Dalton was eagerly awaiting his arrival. Between providing basic care for the animals being transported and traffic, transport timelines can often get messy. We were soon notified that the bus was running behind schedule, so Joan patiently waited in her car for a few hours not knowing what to expect. Just after dawn, with Joan's excitement brewing, the bus rolled up, and off came King, with a big smile on his face and his tail wagging, even after such a long journey.
King still had one more leg left in his arduous adventure! It was time for him to make his way to the Kennel with Joan. It's a couple months since his arrival, and King has settled in nicely. King is currently living happily with the youth, who train him, groom him, feed him, and play with him daily while he awaits his forever home. He is doing well with his training that he even gets to go back to the living units with the youth, where he sleeps at night. King absolutely loves following the youth around wherever they go, and he even tried agility for the first time while at Project POOCH. He recently represented Project POOCH at an outreach event at Fido's Tap House in Tualatin, where he made so many new friends. King passed his canine good citizen test and is now just waiting for the right family to take him home. Three potential adopters came to look at him last week, and we are confident that he will find his forever home soon.
Thank you to each and every one of you whom have supported Project POOCH and our mission for the past 25 years. Without you, we would not be able to rescue dogs like King, who may not have had a chance otherwise. Because of your kindness and generosity, we are not only able to take dogs from local shelters in the area that are deemed "unadoptable" and turn them into great pets, but we were also able to rescue dogs from other states where the need is greatest. Because of your support, our youth are able to learn patience, responsibility, and compassion by working with dogs of different breeds, sizes, ages, and personality types. Here's to 25 more years of helping dogs and youth!