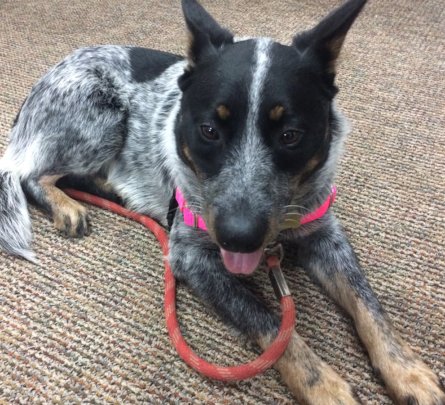 Jack, a former Project POOCH youth, grew up in the foster system and went from home to home, never learning to fully trust people. While serving his 70 month sentence at MacLaren, he discovered Project POOCH and a new found hope: "I loved dogs. They were the only ones I had ever trusted. They didn't care who I was or what I did. They loved me no matter what. So working with dogs sounded good to me. I thought it would be a great outlet. The dogs wouldn't be deceptive. My interactions with them would be genuine. I wouldn't have to wonder if they liked me or not."
Thinking back on his first day at Project POOCH, Jack remembers being warned about an aggressive cattle dog named Frank. Frank was a biter, and there was a chance that he would have to go back to the Humane Society where he came from. This struck a chord with Jack who had also gone from home to home growing up. Jack recalls, "I asked Joan if we could give him a chance. She agreed that I could work with him and he became my dog." Jack made it his mission to understand Frank's behavior so that he could correct it. He initially went to Frank's kennel and just sat beside him, not touching or interacting with him, as Frank did not trust people. It took a lot of patience and dedication, but eventually the two formed a bond and began to interact more.
Once this bond strengthened, Jack began working with Frank on some of the behavioral issues. Jack remembers helping Frank overcome his fear of being brushed: "He loved playing tug-of-war, so I got his rope and brushed him while we were playing. Before you knew it, he no longer minded being brushed because he associated it with something fun." Jack always made sure to reward Frank for his progress, however small that progress was. It took time, but Frank became less fearful and aggressive. Jack remembers the day that Frank found his forever home and recalls, "I was real excited for him when he got adopted. It proved he was able to overcome his shortcomings so he would be adopted into a good home where he would be loved and taken care of." While Jack successfully made Frank adoptable, Frank taught Jack the importance of patience and persistence.
Jack has ended up just as successful as Frank. After serving his sentence at MacLaren, he began working for an importing business. Soon after, he joined the army and was deployed to the Middle East. Currently, he is working on his Bachelor's Degree in Environmental Studies and aspires to own a farm where he will live with his wife and family dog. Jack's story is a powerful example of the human-animal bond. Jack and Frank both inspired behavior changes in one another, and they both live happy lives as a result.