Project POOCH is often asked how we teach responsibility, patience, and compassion for all life to the youth in our program?
Responsibility begins with youths walking their dogs two times a day, supervising outdoor play time, training their dogs, and taking care of each dog's basic needs like food, fresh water, clean bedding, bathing and grooming. Responsibility also entails organizing dog training equipment, maintaining dog progress reports, and completing assigned tasks.
Patience with a dog teaches youth the importance of being patient with themselves. Since we use only humane training methods and high value treats, some dogs may not be into food. It is up to the youths to be patient and figure out what motivates each particular dog they are training.
While walking back to their living units, POOCH youths noticed a crow with an injured leg. They insisted that we delay walking back for lunch on their living units so that they could help the injured crow. One of the youth took off his jacket and threw it over the crow to keep it still so that the bird could be put in a dog carrier and taken to the local veterinarian. The bird survived and was returned to campus where the youth nursed it back to health. I had just witnessed compassion in action.
It is our hope that the lessons the youth learn in Project POOCH not only teach them to compassionately care for animals; but also how to care for and raise their own children using positive methods.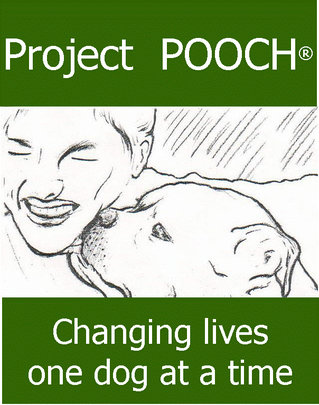 Links:
For 18 years, Project POOCH (Positive Opportunities--Obvious Change with Hounds) has paired incarcerated young males with dogs from shelters. The mission of Project POOCH is to teach: responsibility, patience, and compassion for all life.
The youth work with their dogs daily teaching positive reinforcement so that the dogs can pass the Canine Good Citizen test before being adopted out to the public. In the process, the youth learn about themselves and how to be good citizens when they return to society.
Over the years, Project POOCH has helped youth transition from incarceration back into everyday life and aided in helping them become responsible, active members within their communities. We are proud to say that a former POOCH youth joined the military and is now serving his country in Kuwait. He says: "POOCH was truly a life changer for me, thank you for the support over the years."
Teaching youth to take care of, and work with the shelter dogs, provides both dog and human with a positive experience; in some cases the first time either might have experienced unconditional love! As a result of this pairing we find that the feeling of unconditional love stays with the youth when they leave behind a life of incarceration. Another former youth frequently asks for a visit from the dog he trained while in the POOCH program.
A random study on 100 of our former youth showed zero recidivism. Our mission is to save ONE dog and ONE youth at a time!!! With patience and compassion we will continue working with both in the years to come!!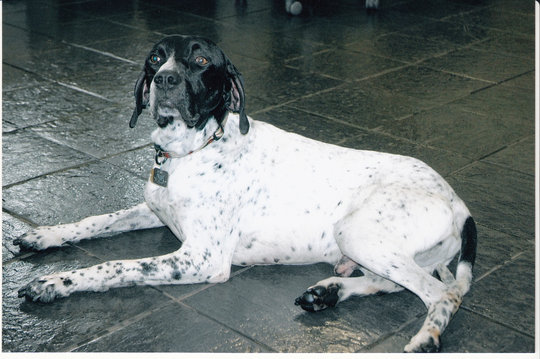 Bowe aka. Splatt – English Pointer
Bowe was found wandering as a stray on the streets of Riverton, Utah. In May 2011, he was picked up by the Riverton City Animal Control. The facility is a small animal shelter that caters to a town of about 38,000 people. Bowe came to be with Amara Christenson and the team at Riverton Animal Control and stayed with them for nearly 2 months. During that time Bowe became a favorite of the workers' and volunteers there.
As the months rolled by, sweet Bowe was not finding a home, so Amara sent an e-mail blast to all of her contacts and it was Amanda from Amelia's Angels Rescue who forwarded us the e-mail. A transport of eight other dogs were being brought from Utah to Seattle, Washington within a few days and would be picked up by another Animal Rescue group based out of British Columbia, so we all had to act fast!! This transport was being organized by two very dedicated ladies from Tooele Animal Outreach Dog Rescue, Denise and Marci. Denise and Marci had never done a transportation trip before and this was their first time. They were planning on leaving Utah on a late Friday and being in Seattle area by Saturday afternoon. Using their own personal funds along with a few donations that they had received, they set out on their long journey. Project POOCH coordinated with Tooele to have one of our volunteers pick up Bowe in Seattle and bring him into our program.
Bowe has completed our program and has found a loving home with a family who adore him. He has a new brother that is a German Shorthair by the name of Elvis, and they are inseparable!!! Bowe has become a permanent resident of the State of Oregon with his new family and is healthy, happy, and thriving.
Links:
WARNING: Javascript is currently disabled or is not available in your browser. GlobalGiving makes extensive use of Javascript and will not function properly with Javascript disabled.
Please enable Javascript
and refresh this page.