This year marked the 20th anniversary of Project POOCH! We celebrated this landmark event last month with our annual fundraiser, POOCH in the Pub 2013. Two former youth from the program spoke at the event about how Project POOCH changed their lives and what they are doing now. One is currently pursuing his master's degree and raising a family. The other has just returned from military duty in the middle east and is now beginning film school. Attendees enjoyed an evening of food and fun while supporting youth and dogs in need. One guest wrote, "The testimonial from the two graduates of the program was by far the highlight; very moving." Thank you to everyone who donated and attended!
Links: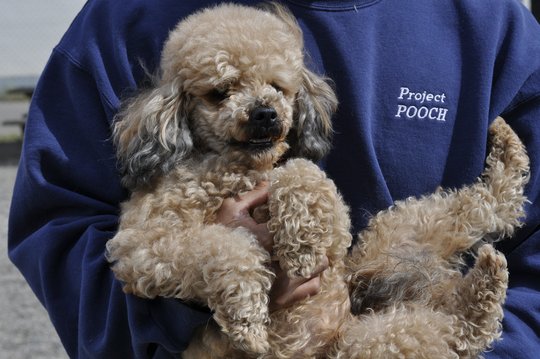 Seventeen years ago, Gabriel was barely a teenager when he became incarcerated. He took to working with dogs that had issues because he also had issues. Like many teenagers who get locked up in a correctional facility, they find the consistency and learning that every behavior has a consequence is a good thing. How to trust humans after being abused takes longer.

After joining Project POOCH (positive opportunities--obvious change with hounds), Gabriel learned that dogs are non-judgmental and they made him smile when they greeted him upon arrival at the kennel. One of Gabriel's favorite dogs was Bandit. Bandit taught Gabriel to trust because Bandit was trusting Gabriel. Gabriel learned that caring for a dog is much like caring for a child--they require that their physical and emotional needs be met if they are to thrive and become healthy in body and mind.

With children of his own now, Gabriel practices many of the lessons he learned by working with dogs. He is employed and plans to continue his education.

Help us help more youth and dogs by donating to Project POOCH.
Links:
Male juveniles who have been incarcerated in the Oregon Youth Facility train unwanted shelter dogs to become loving family pets. We were founded 20 years ago and have positive outcomes to report regarding the trained dogs that have been adopted by families:
Lynette adopted Odin, a Husky. Odin recently passed away of cancer and Lynette shared her feelings with Project POOCH: Odin was with me for six years and became my best friend who made ME a better person. I am so thankful that the youth taught Odin love along with his training.
Sampson, a Pointer mix, came from Amelia's Angels Rescue in Utah in 2011. Sampson was recently lost to an aggressive form of cancer. His family shared the following: Sammy spent the best years of his life camping, running on the beach and the high desert. He loved taking walks, baths, and just hanging around his forever home. We wish to thank all those who stepped in along the way to give Sammy more time. Sammy truly found his forever home and will always be with us.
Hannah, a five-month old Border Collie mix, was recently adopted by a couple who volunteered for Project POOCH in the past. They sent an email to Hannah's trainer, Stephen: We couldn't be more happy with Hannah. She and Allie, the cat, are getting closer to becoming friends. Stephen, thank you so much for all your work and training with Hannah. I was pleasantly surprised when she sat by her food dish and waited for her meal. We are delighted that you taught her to return the ball after we throw it. She is a member of our family due to the fine work done by her handler at Project POOCH.
Links:
WARNING: Javascript is currently disabled or is not available in your browser. GlobalGiving makes extensive use of Javascript and will not function properly with Javascript disabled.
Please enable Javascript
and refresh this page.