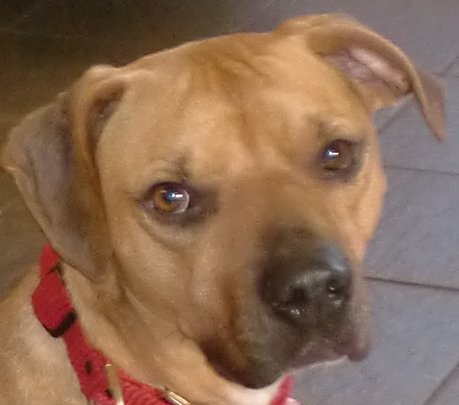 Meet Rusty—a handsome boy with the odds against him. He came to Project POOCH, Inc.®, from another shelter where not much was known about him because he was a stray. He had been there two months when Project POOCH found him. This sweet and friendly guy wasn't attracting potential adopters—neither at the shelter where we found him nor at Project POOCH.
That's where our unique program comes in!
It affords the dogs, and the youth, the promise of a better future. At Project POOCH, we have no time limits on how long a dog stays with us. We're in it for the long haul, keeping hope alive, and remaining committed to each dog and youth in our program.
We NEVER give up hope that a brighter future is just around the corner.
Our mission is to help build that brighter future. Every day, the dogs and youth in our program work together, forge a bond, and help each other find their way to happier futures.
The youth at MacLaren are dedicated to the dogs, like Rusty, in their care. To hear the youth talk about the dogs and the transformation in their own lives will make your heart skip a beat. They understand that while Project POOCH has given them a chance to better their lives, they in turn, have been entrusted to do the same for dogs like Rusty.
It took over 3 years for Rusty to find his forever family. Rusty loved people, but not cats or other small furry creatures. Each day at Project POOCH, Rusty was fed, walked, socialized, trained, and most of all, LOVED. He went on several home visits to see if he was the right dog for the potential adopters, but there was always a furry creature around the corner so he was returned to Project POOCH. Rusty's lucky break came after 3 years in Project POOCH. Happily, he is now in his forever home!
Project POOCH, Inc., provides a special opportunity for dogs and youth to heal each other; to remind each other compassion, kindness, respect, and unconditional love do exist and that they deserve all this and more.
As one person wrote us:
I was inspired and amazed by the hard work and dedication. I saw many wonderful talents – but most of all, I saw the kind-heartedness of young men who have at their core the love to heal themselves and inspire others.
Thank you for your support! Your gifts give so much more than you can imagine, and have a lifelong impact on all those touched by Project POOCH, Inc.'s program.