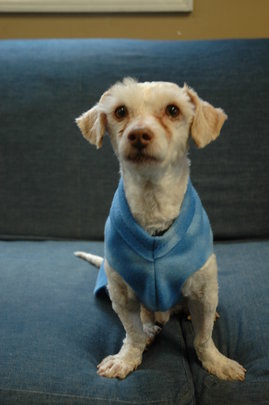 Poor litte Oscar. When animal control picked him up, he looked more like a miniature sheep dog than a poodle mix. His hair had grown over his eyes clear down to his nose. He was so matted he looked more like a Brillo pad than a dog. When he arrived at POOCH, every single item on his evaluation form was marked "unknown."
Danny, one of the more experienced youth, was confident he could work with Oscar successfully. His first task was to groom him. Oscar had to be shaved almost down to bare skin. Danny asked if we could get him a sweater, and Oscar wore that sweater day and night until his hair had grown back.
While Danny had trained more than 12 dogs, Oscar turned out be more of a challenge than he expected. Oscar absolutely hated to be groomed. He particularly didn't like his ears, mouth or feet touched. He wasn't very cute with very little hair and tear-stained eyes, but Danny patiently worked on the problem areas.
Fortunately, Danny discovered that Oscar would do almost anything for a treat. He also responded beautifully to praise, and soon became quite a show off. Despite his beauty-challenged problem, Oscar soon became a Project POOCH favorite. A fast learner and a people pleaser, he mastered tricks quickly. He craved interaction with people and cuddled up next to anyone sitting on the sofa. However, if a stranger came in, Oscar jumped off the sofa and charged them, which meant Danny had to work on this issue.
When people came to consider dogs for adoption, Oscar might as well have been invisible. He was just too ugly. He stayed month after month, learning new tricks and being the companion of his trainer and others in POOCH.
After eight long months, a couple decided to adopt Oscar. Although Danny wanted Oscar to find his forever home, he was sad when Oscar had to leave. Danny encouraged the adopters to bring Oscar back for regular grooming and anny additional training he might need. POOCH offers lifetime training for our dogs, which provides an opportunity for the youth to know that their dog is in a loving home, much like the one they wish for themselves.
Danny was thrilled when the adopters sent an email: "Oscar's been doing great. We've found he'll do almost anything for a taste of peanut butter. He expects to be treated like the king he is. He goes on frequent walks and gets pushed around in a cart at the building supply store. He's the happiest dog in the world and gets many compliments on how well behaved and handsome he is. I'm so gald he knows he's not "just a dog" and that he is family. I cannot begin to describe how thankful we are to have him as part of our family."
*Youth name has been changed for confidentiality purposes.
Links: