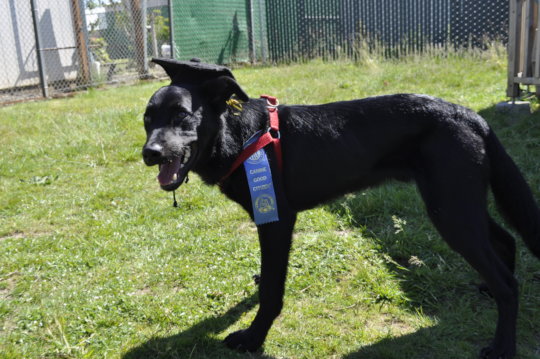 Buckley arrived at a county animal shelter, malnourished and suffering from an upper respiratory tract infection, at only six-weeks-old. This sweet puppy weighed just over 6 pounds, and it was clear that he needed some immediate medical attention. The veterinarian discovered that Buckley had a persistent right aortic arch, leading to a rare medical condition called Mega-Esophagus. Little Buckley's esophagus was enlarged and unable to properly pass food from the mouth into the stomach, causing regurgitation after every meal. The vet performed an operation that made it possible for Buckley to digest his food, but for best results Buckley would have to either eat his food from an upright position or eat multiple small servings throughout the day. For his entire life, Buckley would need extra attention around meal time in order to be healthy and happy.
For the next several months of his life, Buckley went from home to home, never quite settling in before being surrendered to the shelter yet again. While Buckley had all the characteristics of the perfect companion dog—he was affectionate, loyal, intelligent, and playful—his special needs proved to be too much to handle for most people. He would be able to keep his food down for a few days at a time and then regurgitate again, leading to frustration and hunger. In May of 2017, after he was returned once again, Buckley's shelter reached out to Project POOCH. They knew that despite Buckley's medical condition, he still deserved a chance at a happy life and that Project POOCH would be able to give Buckley some stability as well as the special attention he needed. At Project POOCH, our mission is "learning: responsibility, patience, and compassion for all life," and we could not think of a better way to teach our youth the importance of this mission than to take Buckley in and care for him.
When Buckley first arrived at Project POOCH, it was a learning experience for everyone. However, it didn't take the youth long to completely fall in love with their new four-legged friend and also learn what he needed in order to digest his food properly and prevent the regurgitation. Their relationship with Buckley was similar to that of a father and a baby. They trained him to use a Bailey chair, a device that positions dogs upright during meal time, allowing for smoother digestion. They would put a bib on Buckley and then serve him a "mush," which they made themselves—from kibbles, wet dog food, and water—four times a day. They made sure that Buckley relaxed comfortably in his chair after his meals to digest before he did any kind of physical activity. They also trained Buckley to quickly pass his Canine Good Citizen test. In return, Buckley provided them with unconditional love every single day…for nearly two years.
While Buckley's fellow dog friends at Project POOCH came and went, Buckley had a harder time finding his forever home. After a year at Project POOCH, only a few people had expressed interest in adopting Buckley, and for various reasons, none of the homes were quite right for him. Buckley needed an experienced, dog-savvy family that would be home frequently to carefully monitor his eating. Despite all of this, Buckley continued to greet the youth with a huge smile and wagging tail every single morning, teaching them the value of positivity and perseverance even during difficult or disheartening times. Buckley was even a runner up in contest held by a dog food company that showcased "underdogs" needing adoption, and he won a year's supply of free food as a result. The nutritionist from the dog food company provided guidance on the kind of food that would be good for Buckley and how to prepare it for Buckley to succeed. The youth implemented this new strategy and perfected his feeding routine, while also doing all the regular doggie things with him, like walks, play time, and cuddles.
In January 2019, a young man called Project POOCH expressing interest in adopting Buckley. This man impressed us with all the knowledge he had about Mega-Esophagus. He had done his research on the condition and was aware of the extra attention Buckley would need during his meals. He strongly believed that Buckley deserved a chance and was excited to dedicate his time and energy to this special boy. POOCH founder Joan Dalton conducted a home visit, and the bond between Buckley and his future dad was incredible from the very beginning. It was clear that Buckley was right where he needed to be. The day the youth said goodbye to Buckley was one of the most bittersweet days we have had at Project POOCH. While they were happy that Buckley would finally get the life he deserved, letting go after almost two years of amazing memories was tough.
However, the youth continue to receive frequent updates on Buckley's life and pictures of him living the dream in his forever home. His dog dad had a custom Bailey chair built for him, and continues to use a bib while feeding him. Buckley enjoys daily trips to the park and is absolutely adored by his Chihuahua fur-brother who follows him around all day. When we see the happy smile on Buckley's face, we can't help but smile too.
Just like many of the Project POOCH youth, Buckley had a rocky start to his life—countless trips to the vet, hunger-filled days, an invasive surgery, and several journeys from one home to another. However, he continued to greet the youth with his huge smile and wagging face every morning, showing them the value of perseverance. The youth went above and beyond to give Buckley the best life possible while he awaited his forever home—and all of their patience, responsibility, and compassion paid off.