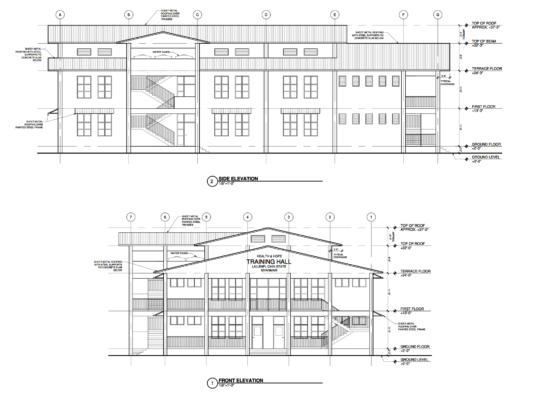 We're delighted that we've made signficant progress with the redesign of the training centre over the last few months.
In September 2017, Health and Hope UK contracted the services of eMI-World, a leading network of specialist design professionals to provide architectural design and structural engineering support for the rebuilding project. The team, based in Delhi, have extensive experience in designing buildings in resource poor, mountainous areas, including in the earthquake prone regions of Nepal.
While the site clearance was underway in Lailenpi , western Myanmar, eMI-World set to work developing the architectural designs, foundation plans and structural engineering drawings. The draft plans were submitted to the team in Lailenpi who appointed a government approved engineer to draw up the detailed costs.
After numerous drafts and a redesign of the building to match the anticipated budget, we are delighted with the final design which will incorporate a multi-function training facility, dormitories and training hall into one building.
As funds are acquired for the building of a separate dormitory, the ground floor of the training hall will eventually transition into further classrooms, with internal walls able to be removed to create a larger multi-purpose area if required.
Roads to Lailenpi have only just been reopened after the monsoon rains and December is a key time for the team to transport materials to the remote town. Following this, eMI-World will be sending a field engineer to support local labourers with engineering expertise, also providing training and overseeing building quality control.
As of the end of November 2017, we have received, or have commitments in principle for 76% of the budget for this ambitious project, and are now looking to raise the final £65,000 based on the revised budget.
We are so grateful for your investment into the training centre. Properly designed, the building will last for generations and will ensure that all of our projects in health, education and food security, have a base from which to centre their activities. Thank you so much for your support!