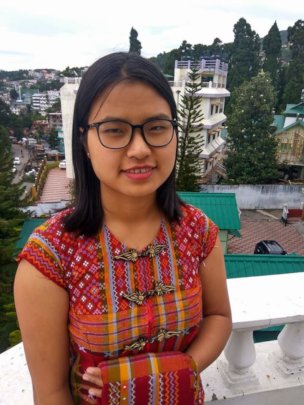 Khai Rili was born in Lailenpi Town, Chin State, Myanmar. She is the second eldest of five siblings. Her father is a church leader and her mother works in the post office. As a little girl, Khai Rili dreamed of becoming an arhitect, although she didn't know that was it was called at the time. Thanks to your support for the Freedom to Education project, Khai Rili is on her way to fulfilling her dream - this is her story...
"I went to primary and middle school in Lailenpi. In Myanmar, Grade 9 and 10 are very important as they are considered the gateway to college or university. Due to this, my parent's worked very hard to support me to undertake my studies at the age of 15, in Hakha, the capital of Chin State. This was because, in terms of school facilities and teachers, the education system in Hakha is of far higher quality than in Lailenpi. I was able to work hard and, because of my parents' support, I passed grade 10 with good marks.
After passing my matriculation exam I was very enthusiastic to continue my study in India, so that I could improve my English. As I am from Lailenpi town, where Health and Hope Myanmar's office is based, I am very familiar with their work, and seeing the returning students speak very good English, receiving university education, gaining in their confidence and skills whilst remaining humble and with so much love for others, inspired me and made me determined that one day I will also be like them.
However, education costs are so high that we could not afford it. Even though my parent's are both employed, their salary is very low and with it they have to provide for all the basic needs of the family, as well as to support the education of my other brothers and sisters. Thanks to the support of the Freedom to Education Project (FEP), I was able to study in India and I have now completed Class 12 successfully. This is possible only because of the love, support and prayer from my family, FEP students, the Health and Hope team and many more who have given me the opportunity and inspired me to work hard. Now, my dream is to continue my study in Bachelor of Architecture.
Ever since I was a little girl, I have always been interested in drawing and designing houses and gardens. I used to try building small house with sticks, but in these days I did not know that engineers or architects existed, it was just a way I enjoyed playing and having fun in my free time. When I was a little older, I saw my grandfather building roads and houses in and around Lailenpi Town. I used to help by serving tea to the workers and carrying lunch to my grandfather during the day. I really enjoyed spending time on the construction site; helping the workers and watching them build the roads and buildings. At that time, when asked what I would like to become, I used to say 'Engineer!', but my friends and relatives always told me that engineering is a manly profession and not for girls so I should consider going into a different career, but it never stopped me from knowing what I wanted to become.
As I got older I heard about doctors, nurses, teachers, business men and engineers but I did not know that these professions have so much branches and sub-specialities. I came to know about Architecture only after studying here in India. I started researching this profession and finding out about the work that they do. Now I know this is exactly what I would love to do and was similar to what I used to play at when I was a little girl!
No-one from Lailenpi is trained in engineering or Architecture. We build roads and houses without any planning and as a result we sometimes destroy the landscape and natural beauty of our land. My future plan is to help plan the development of villages, towns and cities from the initial stage and onto transforming them into beautiful liveable areas, enhancing the landscape and natural beauty of our land. I want to ensure roads and houses are built which will not be easily destroyed by landslide and earthquakes and to preserve and protect our rivers, streams and forests etc. My elder brother and four of the other FEP students are also studying civil engineering in India and in China. Together I believe that we will be able to make a huge contribution to the development of our land, state and country."
Thank you for your continued support. It is making such a difference to the lives of young people like Khai Rili!