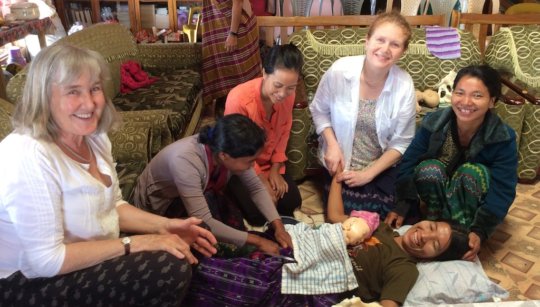 "I never hoped or expected that I would have the opportunity to attend such professional training... Before, we didn't even know how important it was to wash our hands! Now, the hardest and most difficult parts of childbirth have become simple and less stressful for me. I feel so much more confident." Hlau, Traditional Birth Attendant
Frances and Maaike, our two specialist trainers from Birthlink UK, have just returned from Chin State, Burma, brimming with excitement about their fifth visit to Health and Hope's training centre. They had spent eight days helping women in Chin State gain knowledge of the birthing process and increasing their skills in midwifery care.
Maaike reports: "It was an arduous four day journey into the jungles of Chin State, but we do it gladly. Fifty-two Traditional Birth Attendants (TBAs) came for the training, some having walked for a whole week across the mountains to attend.

We were so pleased to see old faces again, with just over half of those in attendance returning for the second phase of training. I think one of the most rewarding things for me is to see the incredible change to traditional practices since our last visit. Mother to baby skin-on-skin contact following birth is now a universal practice. This helps to regulate breathing, maintain temperature, initiate feeding and protects the baby from infection. In the absence of medical support, TBAs now understand the mechanism of delivery of the placenta and are encouraging natural separation rather than pulling. This has radically reduced the incidence of haemorrhaging.
Hand washing and infection control are well understood. TBAs have been practising listening to the baby's heartbeat during pregnancy and delivery, using the equipment that Health and Hope supplied."
Mrs Lakhu, a pregnant women from Lailenpi, was examined by the team during their training. She was so grateful for the work of the TBAs: "Health and Hope's work is a life-giver for women in our community. Before the TBAs were trained by Health and Hope, I had so many complicated deliveries. During my last pregnancy, I was very weak and thought that the baby was not healthy. I was so worried I nearly started walking to the nearest hospital which is four to five days journey. But the TBA reassured me from her training that the baby was healthy. She had learnt so much, that my last pregnancy was so smooth and she helped me give birth without any problems or bleeding. We named our daughter Grace and till today, she has been healthy.
All of the women here in the village have come to realise how wonderful is the knowledge and training that comes from Health and Hope to our community. We appreciate the TBAs so much."
Thanks to your support, these fifty-two TBAs have been equipped with life-saving skills to help women like Mrs Lakhu in villages across Chin State. In addition, each TBA left the training with a 'birthing kit' containing the essential equipment for supporting women through pregnancy and labour. The next step will be to issue TBAs with a clean delivery kit for each pregnant women that they assist.
"There have been so many valuable changes in practice since our first visit. We have also seen an overwhelming increase in confidence in the returning TBAs who now proudly model best practice to their peers. We are so looking forward to returning to Chin State. We truly get back as much as we give out." Frances, Midwife, Birthlink UK
We are so grateful for your support to this project and for the impact it is having on the lives of many families across the region.

On behalf of all at Health and Hope: Thank you!