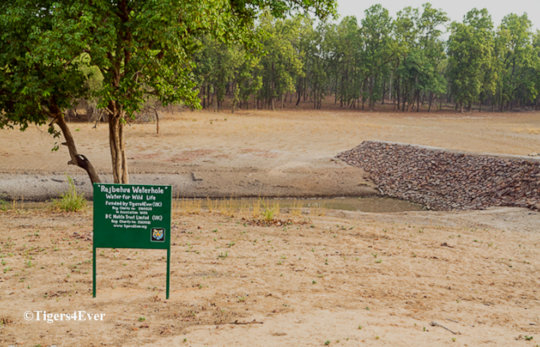 In the last three months there hasn't been any rainfall at all in Bandhavgarh, one by one the natural water sources such as rivers and streams have run dry. Every year, the drought season seems to be getting longer whilst the monsoon rains are getting shorter and lighter. Climate change is certainly evident right now in wild tiger territory. Thankfully, our efforts over the last 18 months have ensured that wild tigers and the other animals which share their forest home have permanent year round water supplies even when the rivers have run dry.
Our representatives in India recently spoke to a crew of filmmakers in Bandhavgarh who told them that without the Tigers4Ever waterholes they wouldn't have seen any tigers to film over the last two months. It is good news that our waterholes have helped the filmmakers to get footage to bring wild tigers into your living rooms but more importantly it is better news that for 32 wild tigers and countless other wild animals we have helped to reduce human-animal conflict. Our waterholes have kept the tigers and other animals out of the villages where they would eat livestock and crops respectively, and importantly at this time of year, as peak poaching season approaches, our waterholes are helping to keep tigers and other animals safe from poachers' snares and traps and would be poisoners.
In our last report, we told you how the solar powered borehole pump which we installed in the Tala Zone of Bandhavgarh National park was working so well that was filling two waterholes simultaneously, well the news is even better. We recently learnt that our solar powered borehole pump is so efficient that it is currently filling two additional waterholes simultaneously bring the total number of waterholes benefitting from our latest project to four. These additional waterholes are within 1km (0.6 miles) of the pump, but nonetheless are providing much needed water for wildlife in this period of extended drought. This continues to give greater availability of water for wild tigers and their prey including one tigress and her four cubs we mentioned in our last report. This is especially important as the cubs grow because she needs to kill large prey frequently and the waterholes ensure that there is plenty around. We recently learnt that she had killed seven large prey animals over a period of days which meant 6 tigers including the cubs' father didn't go hungry. This also helps to avoid tiger-tiger conflict from encroachment into other tiger territories and keeps her cubs safe. The more waterholes we can provide for wild tigers and other wildlife the more chance we have of reducing human-animal conflict as the drought season takes hold, too.
Since our last report on our waterhole project we have received £620 (US$830) in new donations so we are starting to look for the next permanent wildlife waterhole location in Bandhavgarh, whilst we continue to raise funds which will enable work to start.
We launched our campaign to provide permanent water resources for tigers and other wildlife eleven months ago and have managed to raise £1128 ($1457) of our £10,560 ($14,000) target and the hot dry season has really taken hold with daytime temperatures already exceeding 48°C (118.4°F) and natural water sources dry. Our four waterholes in the Tala range plus the two waterholes constructed this time last year in the Magdhi range are now providing year-round permanent water for just under a third of the total number of wild tigers in Bandhavgarhplus countless other wildlife. In time we would like to ensure that every wild tiger in Bandhavgarh has access to safe drinking water year round, but for now we are focussing on providing another waterhole in a critical need area which will help up to 15 tigers including their cubs, bringing the total number of tigers helped to 47. Ideally we would like to construct this waterhole before the end of 2019 but in order to do this we must raise sufficient funds before the end of September but we still need to raise another £9432 (US$12543) in the current campaign to make this possible.
The effects of climate change are even more evident in Bandhavgarh right now, with shorter drier monsoon periods and longer extreme drought conditions being just two of the annual events. There are other consequences of this for tigers too, as natural water sources dry up, herbivores delay breeding because the conditions to support new-borns are not ideal, in time this will impact the tigers' prey-base reducing food availability for a growing tiger population and ultimately leading to increased human-tiger conflict. In other parts of India, there have been increasing numbers of reports of tiger deaths due to tiger-tiger territorial conflict and tiger cannibalism in one national park where tigers have killed and eaten up to 17 other tigers in 2019 alone. We want to act now before the impacts of climate change and harsh conditions affect Bandhavgarh's animal population too, but to make a real difference which will count we will need your help.
Permanent water resources for wildlife are essential for reducing human-animal conflict; as water disappears, prey animals enter villages in search of water and consume precious crops. Predators, such as tigers and leopards follow the prey into the villages as they hunt for food, but when the prey runs away tigers kill domestic livestock, which doesn't runaway instead. Once a tiger has found easy prey such as livestock it will have a tendency to return to the village over and over again in search of food…. Human-tiger conflict results and the tiger (and its cubs) are at increased risk of retaliatory poisoning, from disgruntled farmers, as a counter-measure to prevent this recurring. We need to ensure that the increasing population of wild tigers in Bandhavgarh has sufficient water year round to sustain it and its prey base. Our waterholes for wild tigers and other wildlife continue to be of critical importance in reducing human-animal conflict, especially as the hot dry season takes hold.
With the lives of 32 wild tigers including cubs already being saved by the permanent wildlife waterholes we funded between February 2018 and June 2019, we now have the opportunity, with your help, to increase this number to 47 tigers saved, which would be amazing as it is almost half the current number of tigers in Bandhavgarh. We have already identified a potential site for our next waterhole project, where there are limited natural water sources but an abundance of tigers exists, as 2 tigresses with young cubs have neighbouring territories and it could additionally help up to reduce tiger-tiger conflict between four dominant male tigers who's territories are precariously close to each other. Providing such a permanent wildlife waterhole could save the lives of 15 plus wild tigers in addition to countless other wild animals which form their prey base and share their forest home.
Tiger numbers in Bandhavgarh are on the increase due to improved cub survival rates, but as mentioned in our previous reports, territorial space is at a premium and tiger-tiger conflict is becoming more frequent. It means that we need to ensure that adequate water is available to sustain an appropriate prey-base without the need for tigers to increase the size of their territories in search of food. We're also looking at other ways to reduce human-animal conflict through projects to restore depleted tiger habitat, including tree planting which will complement our current waterhole project: https://goto.gg/34315. These projects will need time to help to stabilise prey numbers and lead to future young tigers needing smaller territories. So for now, we are focussing on what we can do to make the most difference this year. We hope we can build upon the success we've already seen with the waterholes funded in 2018 and 2019 by funding at least one more waterhole before the end of 2019, but we cannot do this without the funds to complete the work. We need to raise sufficient funds before the end of September which means another £9432 (US$12543) in the current campaign to make this possible. We will look again at offline fundraising activities to boost funds too but hope that some of you will sign up to donate monthly and help us at: https://www.globalgiving.org/projects/water-for-bandhavgarhs-tigers/?show=recurring. Even if you can only afford a single donation, why not donate now, and if you are a UK taxpayer you can make your donation worth 25% more to Tigers4Ever at no extra cost to you by adding Gift Aid at: https://goto.gg/34315.
If you feel able to help to make a difference for these precious wild tigers: £10/US$13 could help us to drill 1 metre (39.5 inches) of borehole, whilst £75/US$107 can help to pay wages to clear a site in preparation for a new waterhole to be constructed. All donations, however large or small, will help to reduce human-animal conflict and the risk of wild tigers perishing at the hands of humans.
I would like to thank you on behalf of the wild tigers, which we are keeping safe; and on behalf of the wider tiger community in Bandhavgarh, which benefits from providing equipment and labour for our waterhole projects; we couldn't do this without you.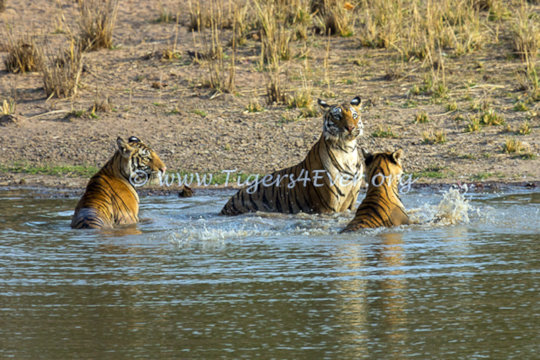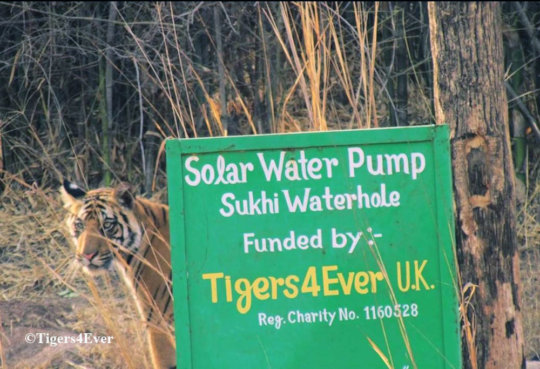 Links: