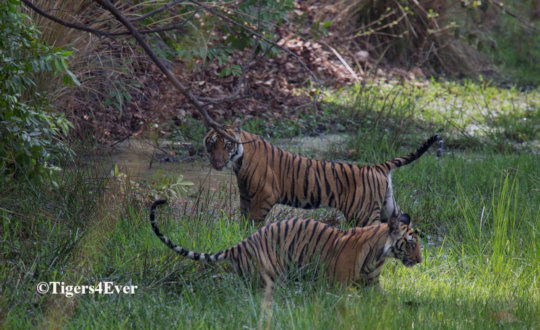 We launched our campaign to provide permanent water resources for tigers and other wildlife just six months ago, at a time when 99.5% of the annual rainfall in Bandhavgarh was falling. This was quite deliberate because major projects such as waterhole construction take time both to fund and construct. Although our campaign has been live for almost half a year we've only managed to raise £450 ($510) of our £10,560 ($14,000) target and the hot dry season is just around the corner.
We have, however, been able to start work on our latest waterhole construction, just 6 weeks ago thanks to a generous offline donation from one of our supporters in the UK. This donation has made it possible for us to start work on providing a solar-powered borehole pump to source an existing waterhole which had dried out completely in each of the last two years. In the next few days, the mechanics will put the finishing touches to the solar borehole system and water will be pumped 76.5 metres (210 feet) to the surface to ensure that the 12 wild tigers including cubs and countless other wildlife dependent on this waterhole will not have to enter villages in the nearby buffer forests in search of drinking water next year. The workers are even working on New Year's Day to try to get this project complete before the onset of 5 months of searing heat and no rainfall. Phase 2 of the project will see a dry-lined waterhole constructed at the heart of the existing natural waterhole to reduce water loss in the dry season due to soak away and evaporation as the mud bakes into dry sand. We anticipate that this work will be completed by mid-February subject to appropriate funds being in place. The dry-lined waterhole will cost in the region of £1770 ($2330) to complete construction, dependent on size and whether machinery is needed or just locally sourced manual labour, much will depend on the speed at which the natural water levels recede.
Those of you familiar with our previous report will remember that once again the monsoon in 2018 brought inadequate rainfall for the fourth successive year. This has also been coupled with some unseasonably low temperatures in December leading to speculation about the impending onset of the hot dry season. In 2018, many natural water sources were already completely dry by February, so we are trying to work with a similar timetable in mind. Once we have completed work at the latest waterhole site, we will look to raise funds for a second waterhole to be constructed during the hot dry season. If you live in the UK, you may have recently seen the wild programme "Dynasties" which followed the lives of a tigress and her four young cubs in Bandhavgarh; in the programme you may have seen the main waterhole in the tigress's territory become dry. If you did, then you will be delighted to know that Tigers4Ever's latest waterhole project is at the site of this waterhole as we are determined that it will not run dry for a third successive year. Permanent water resources for wildlife are essential for reducing human-animal conflict; as water disappears, the prey animals enter the villages to look for water and consume the precious crops whilst they are there. Predators such as tigers and leopards follow the prey into the villages as they look for food, but when the prey runs away the tigers kill domestic livestock to gain an easy meal. Once a tiger has found easy prey such as livestock which doesn't run away it will have a tendency to return to the village over and over again in search of food…. Human-tiger conflict results and the tiger (and its cubs) are at risk of retaliatory poisoning to stop this recurring countless times. For this reason, our waterholes for wild tigers are of critical importance especially as the hot dry season begins.
The permanent wildlife waterholes we funded between February-April 2018 have already helped to save the lives of 15 wild tigers including cubs, with your help we can help to save to lives of up to triple this number of tigers which would be quite an achievement in itself.
Thanks to your amazing support we have raised £450 ($510) during the first six months of fundraising, which has helped us to fund drilling the first 50 metres (162.5ft) of a borehole for our current waterhole project. We haven't lost any tigers to poachers since October 2017 and one of our waterholes helped to save the 3 orphaned cubs of a poached tigress, so we want to ensure that our efforts are maintained. As we mentioned above, when water is in short supply human-animal conflict increases as herbivores wander into villages in search of water and eat the crops whilst there; then tigers follow in search of food and kill livestock which doesn't run away. We have already identified another possible site for our fourth waterhole project, where there are limited natural water sources but an abundance of tigers exists, as 2 tigresses with young cubs have neighbouring territories. Providing a permanent wildlife waterhole in an area like this can save the lives of up to 15 wild tigers plus countless other wild animals which share their forest home.
At present, tiger numbers in Bandhavgarh are on the increase due to the numbers of cubs surviving to adulthood. As mentioned in our previous report, this causes problems as territorial space is at a premium and tiger-tiger conflict becomes a more frequent occurrence. As a result, we are continuing to look at other new projects to help to restore depleted tiger habitat, including tree planting schemes which will complement our current waterhole projects: https://goto.gg/34315. In time, these will help to stabilise prey numbers meaning that future young tigers may need smaller territories. We hope we can build upon the success of the two and a half waterholes funded in 2018 by funding at least one more waterhole before the end of the hot dry season in early June 2019, but we cannot do this without the funds to complete the work. We need to raise £10110 (US$13420) so that we can start work before the natural water resources run dry. We will look again at offline fundraising activities to boost funds too but hope that some of you will sign up to donate monthly and help us at: https://www.globalgiving.org/projects/water-for-bandhavgarhs-tigers/?show=recurring.
If you feel that you would like to make a difference for these precious wild tigers: £10/US$13 could help us to drill 1 metre (39.5 inches) of borehole, whilst £75/US$98 can help to pay wages to clear a site in preparation for a new waterhole to be constructed. All donations, however large or small, will help to reduce human-animal conflict and the risk of wild tigers perishing at the hands of humans.
I would like to thank you on behalf of the wild tigers, which we are keeping safe; and on behalf of the wider tiger community in Bandhavgarh, which benefits from providing equipment and labour for our waterhole projects; we couldn't do this without you.
Links: