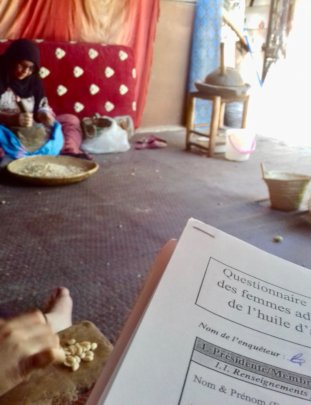 We started the project in the field last November with an agronomist undertaking a preliminary survey with Berber women working in nine cooperatives. The overall objective of our project is to improve the health of local Berber women - the true custodians of the endemic argan forest - and their families, as well as that of their animals and their environment by addressing specific health challenges at the interface between humans, animals and the ecosystem.
WE HAVE ALREADY OBTAINED SOME REALLY IMPORTANT PRELIMINARY RESULTS.
The first phase which consists in an in-depth One Health diagnosis of challenges at the interface is an absolute pre-requisite step to enable us to understand the interconnectedness between the human, animal and environmental health components. Our preliminary survey has already identified that important zoonotic diseases (diseases transmitted between humans and animals) affected livestock kept by families living in the argan forest and therefore represented a great risk for people handling these animals. These diseases include:
- Bovine tuberculosis which is transmitted to humans through the consumption of contaminated milk or contact with infected animals. It is a very insidious disease with non-specific signs which control requires to diagnose infected animals accurately.
- Brucellosis which is also transmitted through consumption of contaminated milk and contact with infected animals but can be prevented through vaccination.
- Rabies which is always fatal once symptoms have appeared but is one of the most preventable zoonotic disease through vaccination.
We also found that parasitic diseases were common in livestock and decreased their productivity while some were zoonotic and also represented a risk for people.
The women we interviewed did not seem to be aware of those risks. Over the next few months, we need to find out more about the transmission patterns of these diseases in the herds kept by families as well as the most appropriate preventive and awareness programmes to develop. We will also prioritize the most challenging health issues affecting women living in the argan forest.
WE REALLY NEED YOUR HELP TO CONTINUE.
We are actively seeking more funds to complete the first phase of the programme as indicated on our fund-raising chart.
WHY NOT TRY YOURSELF ARGAN OIL?
If your donation exceeds $US300, you will receive as a thank you gift a 50ml bottle of 100% organic argan oil (cosmetic) produced by the women we are working with. It is very difficult to find truly pure and organic argan oil but this one has been produced under the strictest quality controls.